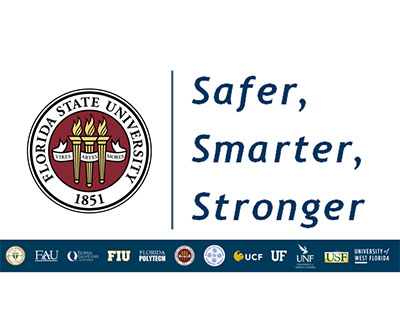 Joined by police chiefs, mental health counselors, medical school deans, and student leaders, the Board of Governors and presidents from all 12 of Florida's public universities came together on Wednesday to rally support for additional mental health counselors and law enforcement officers, raising the State University System's research profile, and rewarding university performance.
The rally marked the kick-off of the Safer, Smarter, Stronger initiative, designed to demonstrate the return on investment for each of the System's top priorities. Speakers included Board of Governors Chair Tom Kuntz, Senator Gary Farmer Jr., University of West Florida Student Veteran Timothy Jones, UF Researcher Dr. Glenn Morris, Florida State University First Generation Student Genevieve Bell, and Vice Chair Ned Lautenbach.
"Florida recently ranked top in the country for higher education in U.S. News & World Report, an achievement that inspires all of us to continue striving toward our goals," said Board of Governors Chair Tom Kuntz. "By putting measures in place to optimize student retention and success, and by positioning our universities to be more competitive in research, we're priming our state to meet its full economic potential."

During the rally, Florida Senator Gary Farmer Jr discussed the importance of funding mental health services for students. He was followed by UWF Veteran Timothy Jones, who was diagnosed with PTSD, and said it's because of mental health counseling and community support that he'll be graduating this spring. Information on student mental health is available here.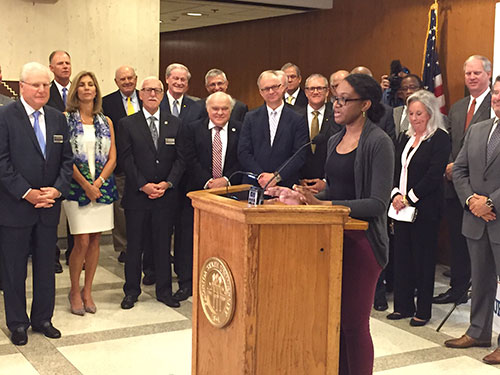 Dr. Glenn Morris, Jr., M.D., M.P.H & T.M. Professor and Director of the UF Emerging Pathogens Institute, discussed the leadership of UF and other institutions on addressing Zika and other diseases.
"Universities are at the front lines in addressing some of the world's most pressing problems, including critical work on understanding how to prevent, and treat, human diseases," said Dr. Morris. "The emergence of infections such as Zika are an unfriendly reminder of why we must continue to invest in research, and pursue the discoveries and inventions that make all of our lives safer and better."
Florida State University Student Genevieve Bell, who is earning a doctorate in neuroscience, also addressed the group about her experience as a first generation student. Recognizing the Legislature for proposals to raise the state match on first generation scholarships, she said she would have never been able to pursue an education if it wasn't for financial assistance.
State University System Chancellor Marshall Criser said, "Safer, Smarter, Stronger is more than just a slogan, it is a description of what we are accomplishing for our higher education system by working together with the Governor, the Legislature and the universities. We all know that the strength of Florida's higher education system is directly tied to the success of our students and the prosperity of our state."
The Board of Governors' legislative budget request is here.