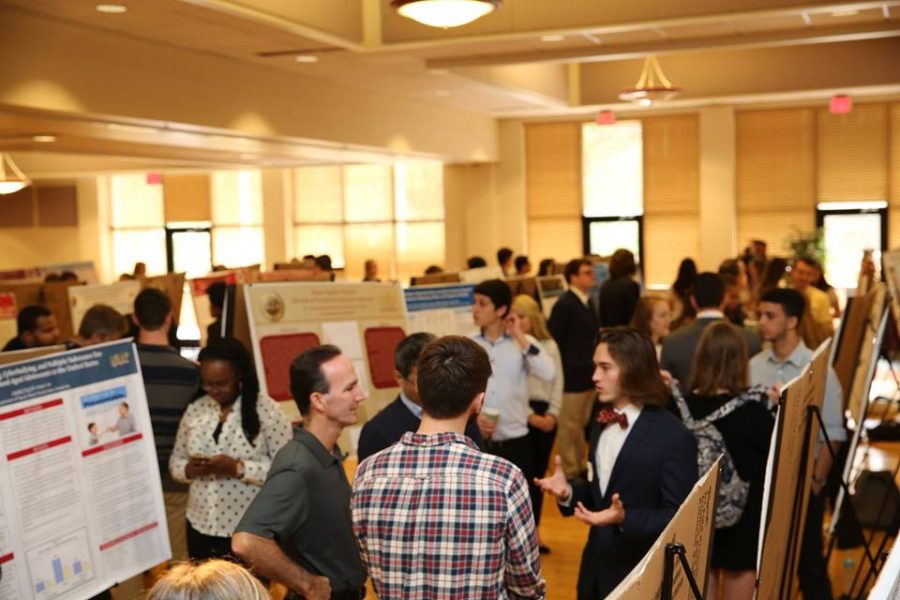 Florida State University undergraduates were in the spotlight Tuesday with more than 350 students presenting original research or creative works at the 17th Annual Undergraduate Research Symposium.
"Undergraduate research speaks to the core mission of Florida State University and is a key component of the university's new strategic plan," said FSU Provost Sally McRorie. "These students are conducting groundbreaking work in partnership with our talented faculty that pushes their disciplines further."
To participate in the event, students had to apply by submitting an abstract explaining their work — conducted under the supervision of a Florida State University faculty member or doctoral students — and findings to FSU's Office of Undergraduate Research. This year's application yielded presentations on sexual cyberbullying, the treatment of gypsies, Alzheimer's disease and the ancient use of freshwater mollusks.
"Today we're seeing all the hard work that students have put into their research and creative projects," said Latika Young, interim director of the Center for Undergraduate Research and Academic Engagement. "Today is a celebration for all these students to share with each other, share with the faculty and share with the community the important work that they've been doing this past year."
The event also kicked off the first Student Innovation Celebration — two weeks of events designed to celebrate the innovative and entrepreneurial student of FSU students.
For students who participated in the research symposium, this was their first experience with conducting and presenting research results to the public.
Lauren Moran, a freshman from Colorado, said she always thought of research as something done in a test tube, not something that applied to her psychology degree.  For her research, she examined both student and instructor engagement in a series of courses that are required as part of the general education curriculum and what strategies might facilitate better learning outcomes.
"Just redefining my idea of what research is and getting that experience is hugely beneficial," said Moran, who plans to continue working on research as an undergraduate.
To view the full program, visit the Center for Undergraduate Research and Academic Engagement.