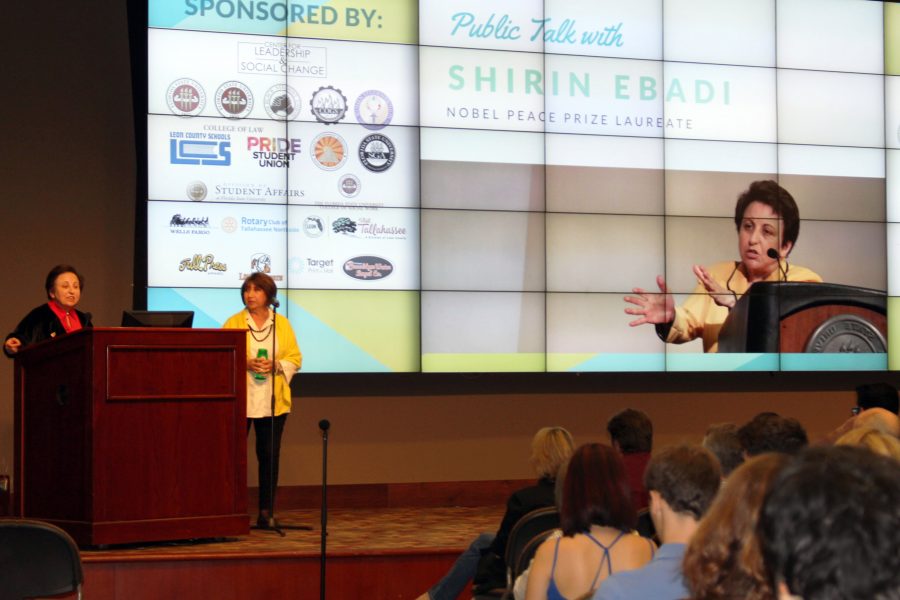 Acceptance and inclusion are the keys to changing the world Nobel Peace Laureate Shirin Ebadi told audience members during her public talk Friday, March 17, to kick-off the weekend-long PeaceJam Southeast Conference at Florida State University.
"To rectify the problems we face today, we need to begin to accept and know about our cultures, religions and different persons," Ebadi said. "Value all cultural diversity."
Ebadi made history when she became the first female judge in her home country of Iran in the late 1960s.
In the wake of the 1979 Iranian Revolution, all female judges, including Ebadi, were removed from their jobs and assigned clerical work instead. Because of this, she proceeded to get a lawyer's license and went on to become one of the most well-known lawyers in Iran as she fought for human rights.
In 2003, Ebadi was awarded the Nobel Peace Prize for her efforts to promote peace and women's rights in Iran and throughout the Middle East. Because of escalating threats from the Iranian government, though, Edabi has lived in exile in the United Kingdom since June 2009.
Referencing her history to give context to her insight, Ebadi discussed what she believes are the two main issues within society today.
The first is the problem of blaming the wrongdoings of people on an entire culture instead of on the wrongdoers themselves, she said. The second is the misunderstanding of people's different interpretations of a religion, particularly her own religion, Islam, and making a general assumption based on those interpretations.
"We never talk about the violence that happens in Kosovo as a Christian guilt," she said as one of many rebuttals to why all Muslims are blamed if only a certain number engage in mischief.
Ebadi urged participants to look within themselves to enact the change we seek in the world.
"Before the wall is built in between our hearts," she said, "Let's destroy it."
Now in its ninth year, PeaceJam Southeast, which covers Florida, Georgia, North Carolina and South Carolina, is housed at FSU's Center for Leadership & Social Change. About 600 people attended the conference, including 400 student participants, their advisors, 90 FSU student mentors and other staff.
PeaceJam is an international education program built around Nobel Peace Prize Laureates who work personally with youth to pass on the spirit, skills and wisdom they embody. The goal of PeaceJam is to inspire a new generation of leaders who will transform themselves, their local communities and the world.