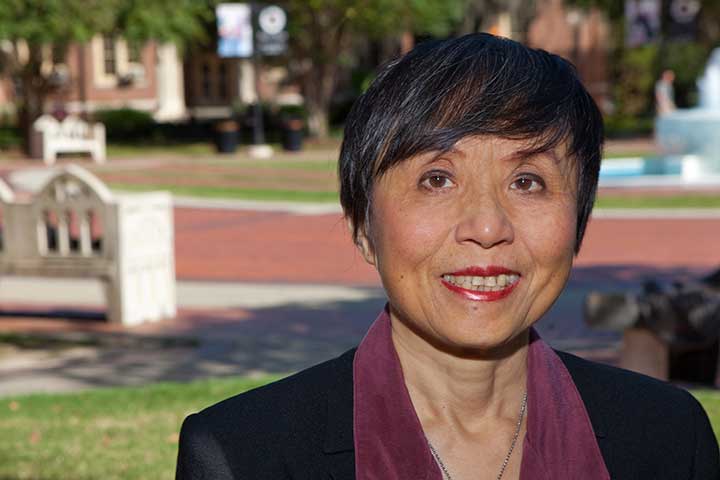 Florida State University researcher Amy L. Ai, has been selected as a fellow of the American Psychological Association's (APA) Division 56, Trauma Psychology.
Ai, a professor in the College of Social Work, has been elevated to fellow status based on her unusual and outstanding contributions with national or international impact in the area of trauma psychology.
"It's quite an honor for me," Ai said. "The division is filled with leading national trauma and traumatic stress experts. For them to approve my work, although quite different from their traditional research is inspiring. It means they recognize my expertise in an innovative dimension in this division."
The American Psychological Association is the leading scientific and professional organization representing psychology in the United States. The association boasts over 117,500 members which includes researchers, educators, clinicians, consultants and students nationwide.
Ai was trained as a psychologist and behavioral scientist at the University of Michigan for her joint Ph.D. Since 2011, she has been affiliated with FSU's College of Art and Science (psychology), College of Medicine (social medicine and behavioral science), and College of Nursing as well as an associate of the Pepper Institute on Aging and Public Policy within the College of Social Sciences and Public Policy. In the classroom, Ai teaches advanced research to doctoral students and cultural diversity to undergraduates.  
Ai is interested in how people rise from the ashes after they have experienced trauma and adversities, beyond a pathological consequence or post-traumatic stress disorder (PTSD). Using mixed methods, Ai's research addresses personal and massive traumatic events, existential crises and positive psychology. 
She has published extensively on research outcomes from major collective crises in recent U.S. history including traumas associated with the Sept. 11 terrorist attacks in 2001 and Hurricane Katrina recovery in 2005. Her current research addresses the lifelong detrimental impact of childhood trauma on Latino Americans. 
Ai is already a fellow in three other APA divisions, but she knew that trauma psychology would be a natural fit. In order to be considered, she had to have the support of at least one other fellow within the division along with two other fellows outside of Division 56.
In his letter of nomination, former APA CEO Norman Anderson, a Division 56 Fellow and a member of the Institute of Medicine, wrote, "Dr. Ai is known as a national expert on the interface between spirituality, traumatic experiences, and psychological well-being.  In her early research, she discovered that open-heart surgery is a life-altering medical trauma for many middle- and late aged patients, which can lead to existential struggle and post-traumatic growth."
Trauma psychology, in particular post-traumatic growth, is an area Ai said is very close to her heart. 
"I have seen so many people who are traumatized in my life," Ai said. "In a national study, they found that most Americans have a traumatic experience in their lifetime, but only 7 percent of people end up having a diagnosis of PTSD. This is important to study ­— how we can stand up as Americans, as a strong people together, even though we encounter all types of trauma historically and today." 
Her work in the trauma arena has led to invitations for her to serve as a Senior Fulbright Specialist to Germany, and subsequently another specialist to China. In 2016, she received the most prestigious appointment of the Fulbright Program, Distinguished Chair, on trauma-informed practice and leadership development. Ai also will lead a delegation to the University of Shanghai in 2017 to help establish a research institute on disaster trauma and crisis management.