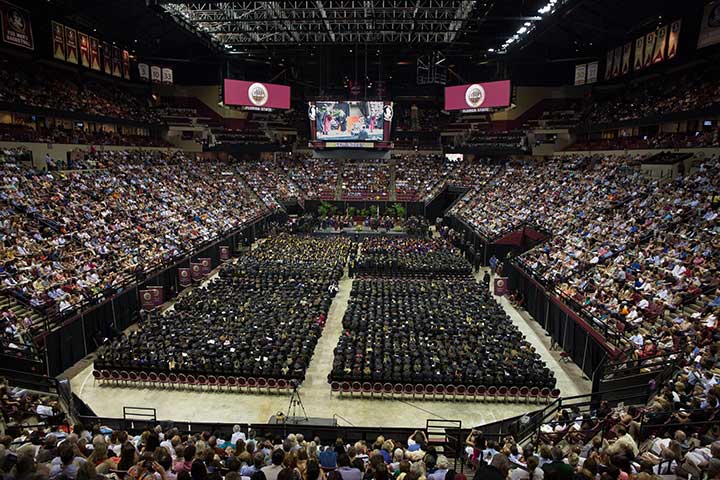 Florida State University alumna Nancy McKay drew from her own successful 30-year career in the beauty industry to encourage graduates starting the next phase of their journey at the university's summer commencement ceremony.
McKay, now CEO of Nest Fragrances, delivered the commencement address Saturday, Aug. 6, at the Donald L. Tucker Civic Center. President John Thrasher presided over the ceremony as the university awarded degrees to nearly 2,500 graduating students.
McKay opened her remarks congratulating the graduates for making it this far.
"Just sitting here today demonstrates your resilience and determination to set a goal for yourself and achieve it," McKay said.
McKay, who earned a Bachelor of Science degree in social sciences from FSU in 1978, reflected on her own graduation experience. She remembered being asked what she called an exhausting question: "What are you gonna do?" She said in retrospect the question she should've been thinking about was the one she posed to FSU graduates Saturday, "What do you want to be known for?"
With that thought in mind, McKay shared three guiding principles that she has used throughout her career and life.
McKay's first guiding principle is to be known as someone who gets big things done.
"Ambition matters," she said. "Ambition does not have to mean that you want the next job, it means you have to think bigger than your job description and add value to what you do."
McKay was named Nest's CEO in January 2015. Since then, she has led the company through a period of increased prominence and growth as a producer of body, bath and home fragrances.
Throughout her career, McKay gained a reputation for growing and strengthening the brands she has been affiliated with, including Clinique, Donna Karan, Tommy Hilfiger and Michael Kors Fragrances. The FSU Alumni Association honored her in May as one of four FSU Women of Distinction to receive the inaugural Inspire Award.
The idea has always stuck with McKay. She shared with graduates one of her favorite quotes with a similar sentiment by Maya Angelou, "I've learned that people will forget what you said, people will forget what you did, but people will never forget how you made them feel."
Of the 2,410 Florida State students graduating this summer, about 1,500 participated in Saturday's ceremony.
Rob Burnet, an economics major from Miami, said he was looking forward to exploring after graduation.
"I don't have a set place I want to be, I'm looking forward to seeing the world," he said.
Carla Yerovi, a hospitality management major from Pembroke Pines, Fla., is a proud Ecuadorian-American, who reflected on the moment.
"It's a big accomplishment, I'm the first one in my family to graduate," she said.
Both students said what they would miss the most is the people they've met at Florida State.
"Florida State has become my home, I've had some of the best experiences of my life, met some of the greatest people, it's become like my identity almost," Burnet said.
During the ceremony, Thrasher and Provost Sally McRorie recognized FSU professor Joseph B. Schlenoff, a world-renowned pioneer in the creation of thin films through polymer science, as the 2016-2017 Robert O. Lawton Distinguished Professor. It is the highest honor given by the Florida State University faculty to one of its own.
Schlenoff, the Leo Mandelkern Professor of Polymer Science in the Department of Chemistry and Biochemistry in the College of Arts and Sciences, has spent his entire professional career at Florida State, starting as assistant professor in 1988.