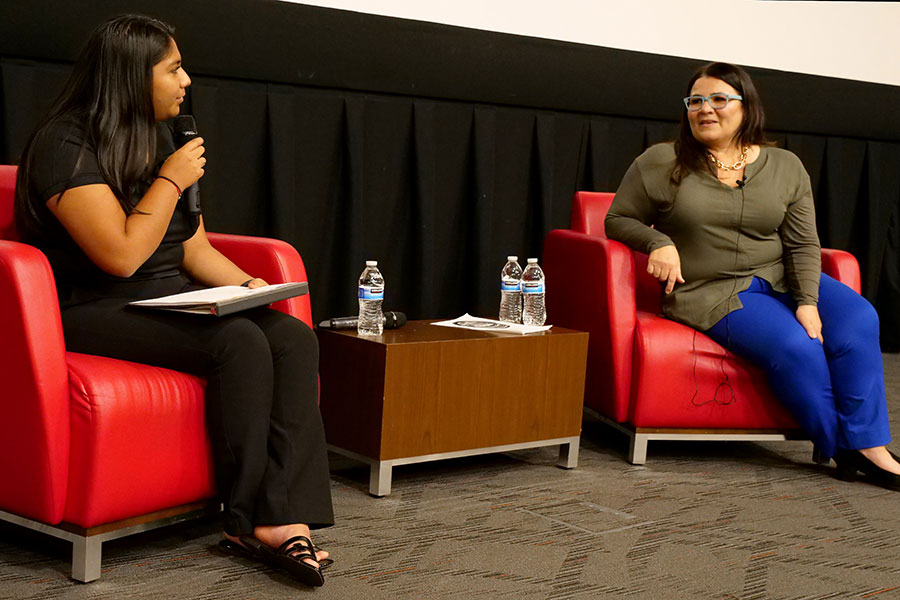 Filmmaker Denise Soler Cox urged Florida State University students to embrace who they are, in both words and actions.  
"I want to invite you to tell the truth, be your authentic self," she said. "Why? Because that's when the magic happens. That's where transformation lives."  
Soler Cox made her comments at FSU's Student Life Cinema this month during a showing of her film, Being Eñye, which examines the experiences of first-generation Latinos balancing two aspects of their identities in two worlds. 
The screening happened as part of FSU's fourth annual Hispanic/Latinx Cultural Celebration, a month-long university-wide series of events that coincided with Hispanic Heritage Month, which ended Oct. 15.  
The celebration recognized the culture and contributions of Hispanic and Latinx individuals to the FSU community and beyond. It's planned and hosted each year by FSU's Office of Representation, Inclusion and Student Equity at the Center for Leadership & Social Change, in partnership with the President's Council on Diversity & Inclusion; the Office of the Vice President for Student Affairs; the Office of Equity, Diversity & Inclusion; the Hispanic Graduate Student Association; the Hispanic/Latinx Student Union; and the LatinX Faculty/Staff Network. 
For much of her life, Soler Cox believed her power resided in the secrets she held. As she embraced her story and sat down with others as they shared their own stories for her documentary, she realized that wasn't the case.  
"I realized that acknowledging the truth of my lived experience had power that I had no idea about," she said.  
Soler Cox referred to her new way of moving through the world as "heart open." 
"It means that I feel deeply now, more deeply than I have ever felt in my life, which I spent a lifetime avoiding," she said. 
Her film explores a feeling she shared with many Latinos she interviewed — the experience of not feeling American enough or Latino enough as they move through various communities and spaces in their lives. 
Stefany Moncada, the chair of the Hispanic-Latinx Cultural Celebration Committee and a former program coordinator in the RISE Office of the Center for Leadership & Social Change, emphasized FSU's fortune in having students from all over the world, with different backgrounds, ethnicities and experiences. That diversity inspires the need to think intentionally about belonging, she said. 
As it planned this year's event, the cultural celebration committee emphasized the shared foundations of the Hispanic-Latinx community — food, music and a good time, to name a few — but also kept in mind the myriad factors that influence community members' individual experiences: "how we feel, the spaces we go into, what we look like, how we speak or don't speak a language," Moncada said. 
Moncada said she often has heard students say, "I don't necessarily feel like I belong here." 
"At some point, they all seem to struggle with belonging and finding the niche that works for them," she said. 
But the act of speaking up about those feelings of isolation can create connections among others with similar concerns, even across identities and experiences, Moncada said. 
"That's how you build community — sharing stories, experiences," she said. 
Awards 
At the beginning of the Soler Cox program, Lenore Pearlstein, publisher of INSIGHT Into Diversity magazine, presented FSU President Richard McCullough with the university's ninth consecutive Higher Education Excellence in Diversity (HEED) award.  
 The ceremony also included presentations of the Rosalia Gonzales Award, which honors outstanding contributions of students to the FSU community related to sharing and upholding the principles and ideals of the Latinx culture. Sierra Turner, director of the Office of Student Equity and Inclusion, presented the award to one undergraduate and one graduate student. 
Jonathan Oliva-Infante, a junior majoring in political science, received the undergraduate award. He serves as chapter president of Sigma Lambda Beta and is involved in the Mexican American Student Association, the weightlifting club and the Center for Academic Retention and Enhancement, or CARE. Oliva-Infante's nominator cited his commitment to partnerships across Latinx student organizations to create a more connected community and bridges with other organizations to foster opportunities for education and inclusion.  
The graduate award went to Michelle Torres-Chavarro, a bilingual speech-language pathologist and a doctoral student in the School of Communication Science and Disorders. She completed her bachelor's and master's degrees at FSU, and her research and teaching has focused on improving speech-language services to Spanish-speaking children and families. She has also published on the topic of providing bilingual speech-language services in the journal Seminars in Speech and Language. 
Also, David Rodriguez received the Hispanic-Latinx Distinguished Service Award, for FSU employees who demonstrate a commitment to fostering growth and diversity among the Latinx cultural identity through teaching, research or service.  
Rodriguez is a digital services librarian whose work focuses on web accessibility, digital media stewardship, repository management and open-source technologies. Rodriguez has been a leader on diversity and inclusion issues for FSU Libraries, serving as the chair of the Diversity and Inclusion Committee. He also serves as a member and leader of the university's Latinx Faculty & Staff Network, and his service includes co-drafting proposal to create a Latinx Studies Institute at FSU.