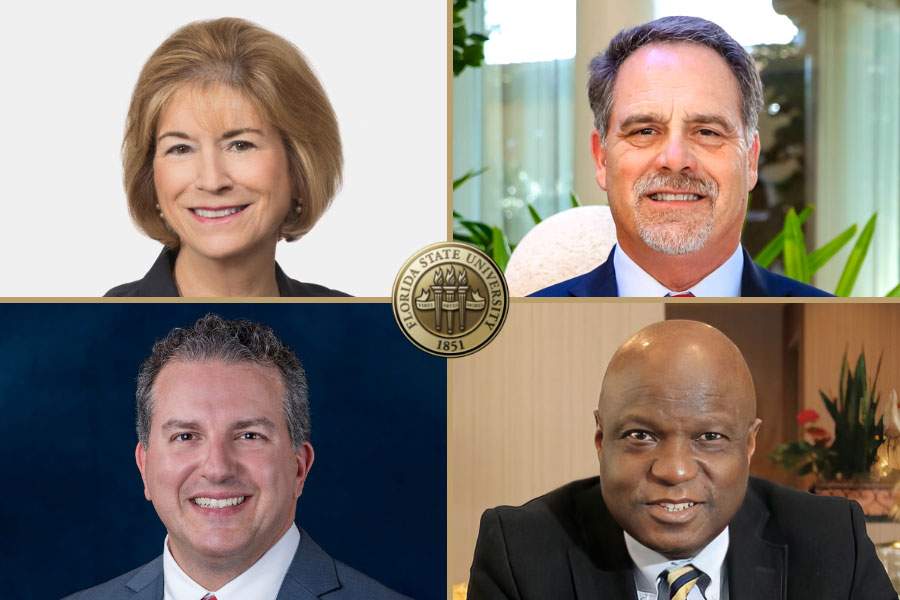 ---
Four graduates of the Florida State University College of Social Sciences and Public Policy have earned the college's 2022 Distinguished Alumni Award.  
The college will celebrate the honorees – Cecelia Bonifay, Daniel M. Gropper, Jimmy Patronis and Nigel Parkinson Sr. – during its annual Distinguished Alumni Gala on Nov. 18. 
"This is the college's highest honor for alumni, and I am proud to recognize this year's Distinguished Alumni for exemplifying the impact great graduates of the college make," said Tim Chapin, dean of the college. "Each has been a leader within their field, making lasting impacts on the communities they work in." 
The award acknowledges graduates for their professional achievements, contributions to society and support of the college and university. 
Here is a look at the College of Social Sciences and Public Policy's 2022 Distinguished Alumni Award winners:
Cecelia Bonifay, M.S.P., J.D.
Bonifay (B.A. '71 Political Science, M.S.P. '73 Urban and Regional Planning, J.D. '84 FSU College of Law), chair of Akerman's Land Use and Development Practice, offers a strong background in urban planning and development approvals for large-scale projects and has represented many clients in the development of commercial, residential and industrial projects. Clients benefit from her keen analysis of a wide range of land use, zoning, sustainable development and environmental matters in Florida and across the United States.
Her professional accolades include recognition in Chambers USA and The Legal 500 as a leading lawyer in land use and zoning. 
She has held several leadership positions at the Urban Land Institute, including co-chair of the Climate Change, Land Use and Energy Committee, immediate past chair of its Florida Statewide Summit, a current member of its 2017 Executive Planning Committee, and chair of its Central Florida District Council.  
As a three-time FSU alum, Bonifay is passionate about supporting FSU students and alumni. 
"This award is very meaningful to me as I have always had a special passion and desire to assist in FSU's future success," Bonifay said. "As a pioneer in the field of land use real estate law, I have become a trailblazer for all the women aspiring to serve as allies to local governments across both Florida and the U.S. in shaping the landscapes of their communities. I hope my hard work and determination serves as an inspiration to current students and young alumni at Florida State University." 
Daniel M. Gropper, Ph.D.
Gropper (M.S. '85 & Ph.D. '89, Economics) has served as dean of the College of Business at Florida Atlantic University since July 2013. He joined FAU after 25 years at Auburn University's Harbert College of Business, where he rose through the ranks to become the Luck Professor and associate dean while receiving awards for teaching, research and leadership. 
At FAU, Dr. Gropper leads one of the 15 largest AACSB-accredited business schools in the U.S., with over 8,200 students in fall 2022. He has raised millions of dollars to support students and faculty and has led FAU's College of Business to new heights. FAU's online MBA and non-MBA graduate programs (in accounting, health administration, and finance) were ranked in the top 50 by U.S. News & World Report, and its online BBA and International Business undergraduate programs were both ranked in the top 30. Princeton Review first ranked the FAU entrepreneurship programs among the top 50 in 2019. 
A member of Phi Kappa Phi and Mensa, Gropper was a Weaver Fellow of the Intercollegiate Studies Institute at FSU. His research has attracted funding from the federal government and private sector and has been published in leading academic journals including The Review of Economics and Statistics, the Journal of Money, Credit and Banking and the Journal of Banking and Finance and cited in Forbes, The Economist and U.S. News & World Report.  
He and his wife – Sareen Gropper, Ph.D., RDN and distinguished two-time FSU alumna and Professor of Nutrition at FAU – attended FSU together after graduating from the University of Maryland. 
"In higher education, particularly in our state universities, we help open the doors of opportunity for our students and help them pursue their own individual version of the American dream," Gropper said. "My parents were the first in their families to graduate from college, and I could see what a difference that made. At FSU, I had the opportunity to teach my own class early in my graduate program, to learn from and work with some great fellow graduate students who became lifelong friends and study under some wonderfully supportive faculty. I am particularly grateful for Drs. Jim Gwartney, Fred Bell, Joan and Charles Haworth, Dave Rasmussen, Randy Holcombe and others. I am familiar with the activities of the current faculty at the DeVoe Moore Center, the Hilton Center and the Stavros Center; this work is first-rate, and the college and department faculty continue to help FSU students get a great education." 
Jimmy Patronis
Patronis (B.A. '96 Political Science) serves as the State of Florida's Chief Financial Officer, State Fire Marshal and a member of the Florida Cabinet.  
As Florida's CFO, Patronis oversees the state's accounting and auditing functions and unclaimed property, monitors the investment of state funds and manages the state's deferred compensation and risk management programs. 
His public service career began as an intern in the Florida Senate and the United Kingdom's House of Commons.   
After graduating from FSU with a bachelor's degree in political science, he was appointed by Gov. Lawton Chiles to the Florida Elections Commission, and he was later reappointed by Gov. Jeb Bush. Patronis served in the Florida House of Representatives from 2006 to 2014, representing District 6.   
He is a partner in a family-owned seafood restaurant, Captain Anderson's, which celebrated its 55th anniversary this year. He and his wife, Katie, are proud parents to two sons, Jimmy Theo III and John Michael. 
"I'm incredibly honored to receive this distinguished award and cannot thank the team at the FSU College of Social Sciences and Public Policy enough for their support," Patronis said. "Some of the best memories of my life come from walking the halls of the Bellamy Building with friends and waiting for my next public policy class. The encouragement and support I received from my professors and classmates pushed me to embrace public service and led me to a 17-year career, serving first in the Florida Legislature and now as Florida's Chief Financial Officer. I'm a true Seminole at heart, and I wouldn't be where I am today without the education and experiences I was afforded at FSU." 
Nigel Parkinson Sr., M.S.P.A.
Parkinson Sr. (M.S.P.A. '75, Public Administration and Management) is President and CEO of Parkinson Construction Company, the oldest and largest African American owned, self-preforming construction company in the Washington D.C. metropolitan area. Specializing in general construction, construction management and masonry, Parkinson's Construction Company has worked on the Smithsonian's National Museum of African American History and Culture, Nationals Park the Pentagon and BWI Airport, to name a few. 
Parkinson's journey began in Freetown, Sierra Leone. At age 17, he immigrated to the U.S., with little money but a burning desire to expand his world. He began by selling magazines door-to-door in New York City and quickly enrolled at Florida A & M University, where his great-granduncle had been that school's first president. From there, he pursued a master's degree in public administration and management. Later, he was certified through Harvard Business Schools' Owner/President Management Program. 
He has been engaged with the D.C. contractors association and is past president of the National Association of Minority Contractors. In addition, he supports high school STEM programs, and he established a program for citizens who seek to learn construction trades as they re-enter society following incarceration. 
"I am proud and humbled to be selected as a recipient of a COSSPP Distinguished Alumni Award," Parkinson said. "As I walked the FSU campus several decades ago, I never would have imagined that the information, stimulation and encouragement I received would lead me to the level of success and sense of accomplishment I have felt. While I knew I was in a special place, it was much later that the threads came together, and I could truly appreciate my total experience. As I look back, I am eternally grateful to the professors, aides, mentors and other staff who instilled within me the confidence to confront any challenge and work through any difficult situation. COSSPP's rich learning environment, infused with the maturation process associated with the graduate school experience, can rightly be credited with producing many who have enjoyed successful careers." 
For more information about the COSSPP's Distinguished Alumni, click here.