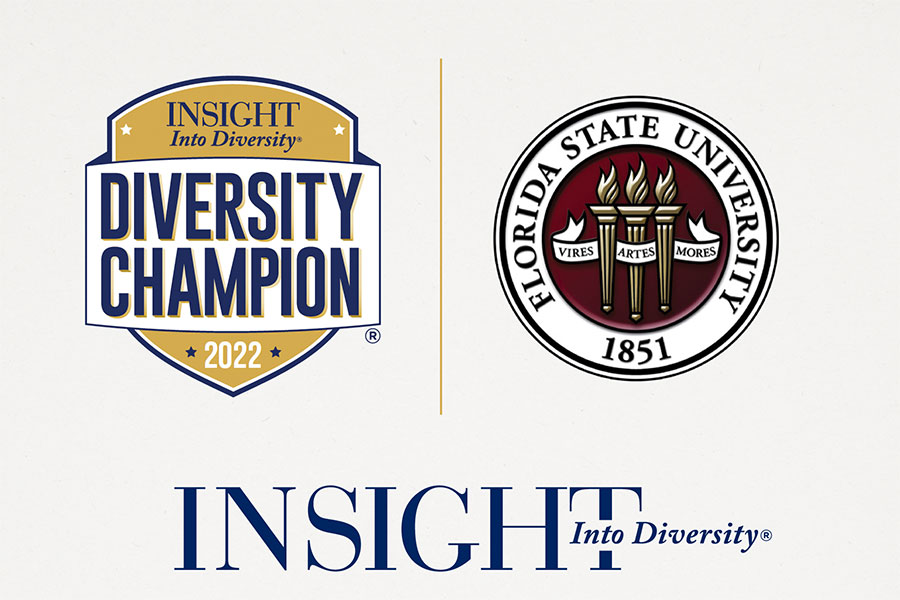 Florida State University has again been recognized by INSIGHT Into Diversity magazine as one of the top institutions in the nation for its commitment to diversity and inclusion.
President Richard McCullough accepted the university's ninth consecutive Higher Education Excellence in Diversity (HEED) award Tuesday from Lenore Pearlstein, publisher of INSIGHT Into Diversity magazine, during FSU's fourth annual Latinx Cultural Celebration at the Askew Student Life Center.
"INSIGHT Into Diversity has set a standard for diversity and inclusion in higher education, and I'm very honored to accept this award on behalf of the entire Florida State community," McCullough said. "Being named a Diversity Champion and winning the HEED award for the ninth consecutive year is a testament to Florida State's commitment to creating a warm and welcoming environment where everyone can thrive."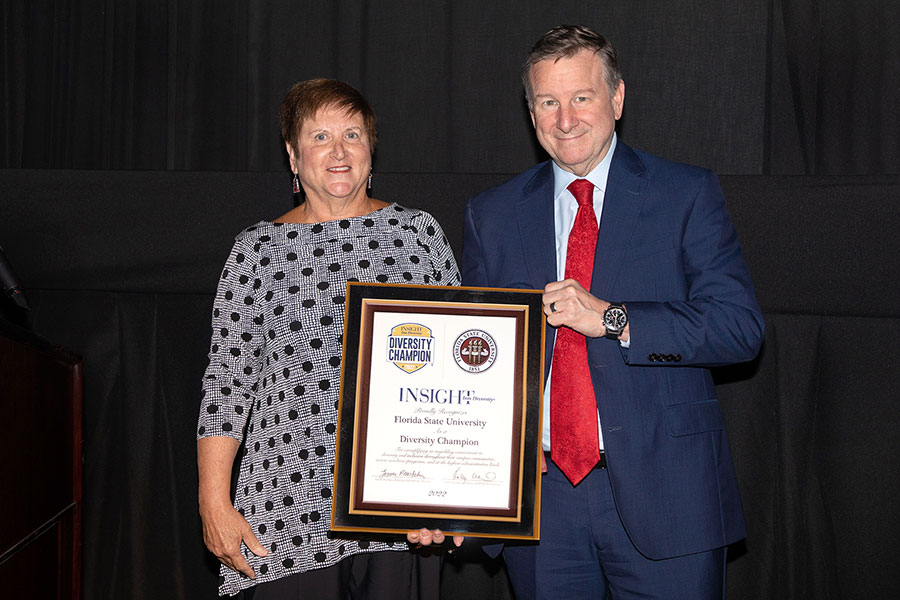 INSIGHT Into Diversity, the oldest and largest diversity-focused publication in higher education, recognizes U.S. colleges and universities that demonstrate an outstanding commitment to diversity and inclusion with the annual award.
The publication also lauded FSU as a Diversity Champion for the seventh consecutive year. Diversity Champion status acknowledges those colleges and universities that score in the top tier of all HEED Award institutions.
This year, only 16 institutions earned Diversity Champion status after INSIGHT received a record number of applications for the HEED Award. To put that number in perspective, there are more than 4,000 colleges and universities in the United States.
"Less than one-half of one percent are Diversity Champions — that's a tremendous feat," Pearlstein said. "As a Diversity Champion, FSU is a role model to 4,000 other colleges and universities that aspire to be just like you."
Florida State is specifically recognized for its strategic plan, the longstanding President's Council on Equity, Diversity, and Inclusion, the 2020 President's Task Force on Anti-Racism, Equity, and Inclusion and the academic support provided to diverse students, resulting in successful graduation rates.
"We are honored to be recognized, once again, for our accomplishments and our efforts in creating a learning and working environment where everyone can have a sense of belonging," said Michelle Douglas, director of the Equity, Diversity & Inclusion Office and Chief Diversity Officer. "With each year, the bar gets higher, but we have a campus community that remains committed to equity and inclusivity. This is a proud moment that the entire campus community shares."
In addition to the university-wide recognition, the FSU College of Medicine received the 2022 Health Professions Higher Education Excellence in Diversity (HEED) Award from the magazine for the sixth consecutive time. The award recognizes U.S. medical, dental, pharmacy, osteopathic, nursing, veterinary, allied health and other health schools and centers demonstrating an outstanding commitment to diversity and inclusion.
More than a decade ago, FSU officials crafted a comprehensive plan to unite efforts for diversity and inclusion across all areas of the campus. Through that effort, the President's Council on Equity, Diversity, and Inclusion was formed, comprising a group of faculty, staff and students committed to championing diversity, inclusion and social justice. The council along with the Equity, Diversity and Inclusion office provides overarching leadership for the university's EDI efforts.
These include the Civil Rights Institute, the Equity, Diversity & Inclusion Internship program, the Power of We student initiative, seven employee affinity groups, the President's Diversity and Inclusion Mini-Grant Program, the National Coalition Building Institute (NCBI) and the Diversity and Inclusion Certificate Series.
Florida State will be featured in the November 2022 issue of INSIGHT Into Diversity magazine, while the College of Medicine will be featured in the publication's December issue.