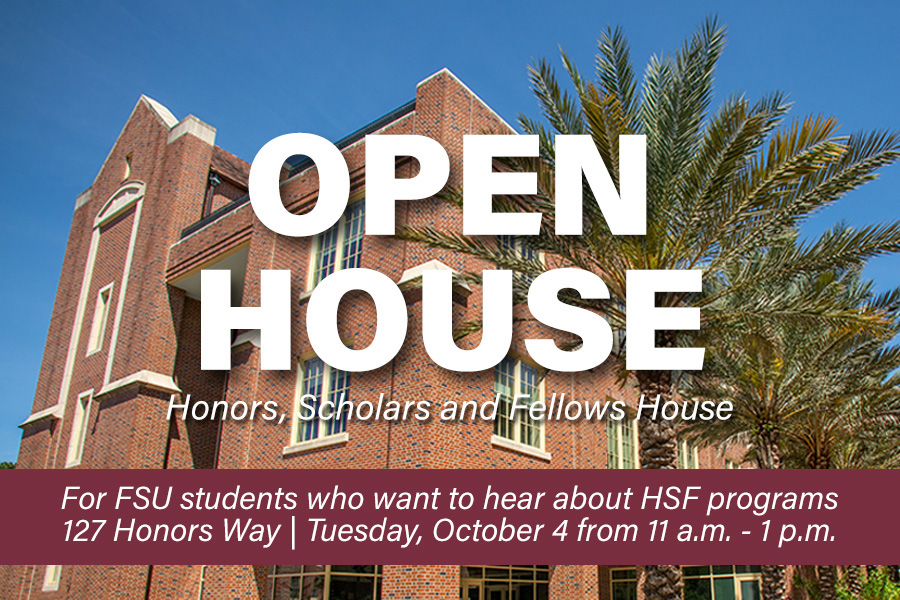 The Honors, Scholars and Fellows House on Tuesday, Oct. 4, will offer an informational event for Florida State undergraduate and graduate students who want to explore the building and learn about the many programs and offerings that operate there.
The open house will run from 11 a.m. to 1 p.m. on the second, third and fourth floors of the building, located at 127 Honors Way. Representatives from all HSF House programs will be available to answer questions and hand out information.
"We know there are many talented, hardworking students at Florida State who are looking for additional academic challenges and opportunities, and we hope to see them come explore all that's available to them at the HSF House," Alumni and Student Engagement Associate Director Amy Haggard said. "This event is great for anybody who might be thinking about applying for a fellowship, participating in undergraduate research, considering graduate school, or pursuing professional development as a graduate assistant."
The event will include food and a raffle for a chance to win an FSU Bookstore swag bag, which participants can enter by visiting all the tables on display. Undergraduate and graduate programs will be grouped separately.
The following programs will be present:
Honors Program
Center for Undergraduate Research and Academic Engagement
Office of National Fellowships
Office of Graduate Fellowship and Awards
Fellows Society
Graduate School Enrollment Team
Program for Instructional Excellence
The HSF House serves more than 3,000 students a year through its various programs, and there's always room for more.
"We are excited for students to visit our beautiful, centrally located space, and learn about the community we nurture for our bright, ambitious students," said Craig Filar, associate dean of Undergraduate Studies and director of the Office of National Fellowships and the Presidential Scholars Program. "All the work we do in the HSF House — at both the undergraduate and graduate levels — serves those students who want to aim high and achieve great things. We are here to help you grow your dreams."