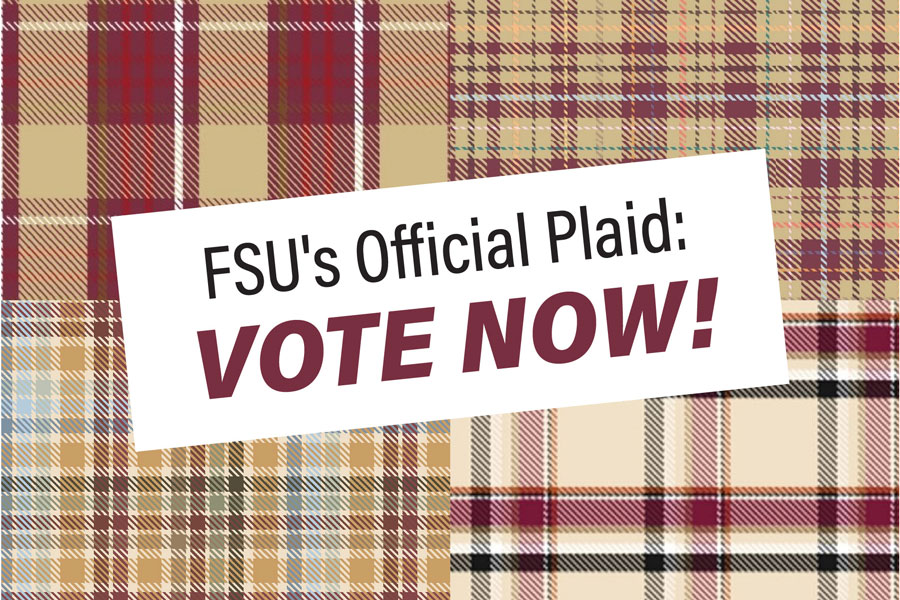 Florida State University is about to get an official plaid pattern. 
Students in the Retail Technologies course at FSU's Jim Moran College of Entrepreneurship seek votes from the general public on the students' best plaid.  
It's part of their Plaid Project, in which students designed 26 unique FSU-themed patterns. The class voted on its 13 favorites before another round of college-wide voting cut the field to four.  
Now the students want you to decide the winner, which soon will find its way onto FSU merchandise and perhaps become part of the FSU mindset.   
Online voting is open through Oct. 7.    
"Our students have worked really hard, and they are excited," said Jessica Ridgway Clayton, an associate professor of retail. "The idea is to have a plaid that visually represents FSU and was created by students to represent our student body and our university. This is a unique opportunity for our students to leave a legacy, and that's a great thing."  
Clayton said she's working with FSU's Office of Trademark  Licensing and that the FSU Bookstore will have exclusive rights to the pattern, which will be emblazoned on everything from FSU coffee mugs and silk ties to blankets and backpacks. 
"We're working with their vendors on various products," she said. Other universities have conducted their own plaid projects.   
At FSU, Clayton said students — in keeping with the Jim Moran College's entrepreneurial mindset — were required to develop a marketing plan that included a concept and a story to justify their design.    
Inspiration came from some creative concepts, including the university's mission, iconic dates in FSU history, the graduation tassels of each college and the history of FSU's Doak Campbell Stadium.   
"From a product-development standpoint, we are looking at how they are developing their unique product and thinking about what our students want to purchase within the bookstore," Clayton said.    
Susan Fiorito, dean of the Moran College, called the project a fulfillment of the college's mission to educate through hands-on work fueled by innovation and an entrepreneurial mindset.  
She urged everybody to "please join us in selecting your favorite plaid for FSU."   
Voting will continue through midnight Oct. 7. The winner will be announced Saturday, Oct. 15.    
To vote, visit https://fsu.qualtrics.com/jfe/form/SV_d5aiGZ6Z5oKBS7Q.