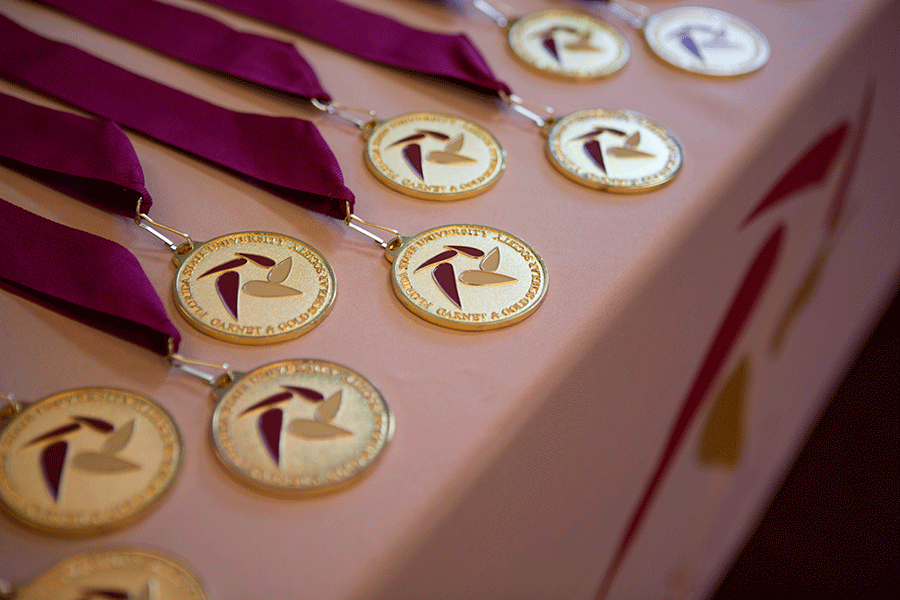 Florida State University welcomes 129 new inductees into its prestigious Garnet & Gold Scholar Society this spring.
Established in 2010, the Garnet & Gold Scholar Society facilitates student involvement and recognizes undergraduate students who excel within and beyond the classroom in at least three of five areas: international experience, internship, leadership, research and service.
To become an inductee of the Garnet & Gold Scholar Society, students must meet the engagement-area criteria and submit a synthesis reflection project in their final semester before graduation. Participants are recognized during graduation and receive a designation on their official university transcript, both of which make the students more marketable to potential employers or graduate programs.
The students were inducted into the Garnet & Gold Scholar Society during a special ceremony Wednesday, April 27.
The inductees, along with their hometowns and academic majors, are:
BRAZIL
Porto Alegre, Rio Grande do Sul

Ana Siqueira, Political Science and Economics
JAMAICA
Montego Bay

Payton Parkin, Middle Eastern Studies
ALABAMA
Huntsville

Jonathan Marcus, Meteorology
Prattville

Kirsten Williams, Criminology
DELAWARE
Lewes

Lauren Thornberg, Anthropology
FLORIDA
Bartow

Kinsey Kuhlman, International Affairs and Latin American and Caribbean Studies
Boca Raton

Alexandra Henry, Economics and Finance
Morgan Raskin, Communication Science and Disorders
Adrianna Sabat, Music Therapy
Bonifay

Austin Pauley, Biological Science
Boynton Beach

Geffre Jean Francois, Psychology
Erin King, Marketing and Management
Bradenton

Ashton Johnson, Nursing
Kiera Rendon, Communication Science and Disorders
Osciel Urbina, Instrumental Music Education
Clearwater

Luke Weaver, Information, Communication and Technology
Cooper City

Casey Chapter, Digital Media Production and Literature, Media, and Culture
Coral Springs

Imani Lewis, Psychology and International Affairs
Xena Menezes, Public Health
Ilana Stein, English Education
Deerfield Beach
Lea Remenyi, Athletic Training
Fishers
Alex Blanco, Biological Science
Fort Lauderdale
Michael Morales, International Affairs and Criminology
Yona Rubin, Civil Engineering
Abigail Serda, Developmental Disabilities
Pamela Sirota, Political Science and International Affairs
Fort Myers

Alexander Mazzorana, Biology
Fort Pierce

Sarai Palacio, Criminology and Social Work
Gainesville

Samantha Cousins, Criminology and Psychology
Jacksonville Beach

Ronny Legare, Economics
Jacksonville
Anne Auchter, Religion
Angelica Dela Cruz, Anthropology
Whitney Lewis, Environmental Science and Spanish
Trystan Loustau, Psychology
Kylee Meehan, Family and Child Sciences
Faith Pfeiffer, Nursing
Jupiter
Pauline Nash, Cell and Molecular Neuroscience and Anthropology
Key West
Kelsey Claire Morris, Behavioral Neuroscience
Lake City
Trisha Patel, Public Health
Lake Worth
Antonio Da Costa, Biological Science
Lehigh Acres
Tarah Jean, Editing, Writing, and Media
Longwood
Georgia Watson, Psychology and Criminology
Maitland
Taylor Gluckman, Neuroscience and International Affairs
Melbourne Beach
Hallie Mize, Chemistry and Public Health
Melbourne
Angelina Grosso, International Affairs and Political Science
Livi King, Criminology
Miami
Guerley Benoit, Athletic Training
Sofia Cabrera, Literature, Media, and Culture
Amy Casanova, Biology
Alexa De Paz, Political Science and International Affairs
Shaneze Douglas, Spanish and Commercial Entrepreneurship
Katalina Figueras, Family and Child Sciences
Ashley Garcell, Clinical Professions
Gabriela Herrerias, Clinical Professions
Precious Pierre, Clinical Professions
Derrick Woodard, Biological Science
Sophia Ziemer, Editing, Writing, and Media
Miramar
Johanna Carpio, Criminology and International Affairs
Mount Dora
Emily Leto, Media and Communication Studies
Naples
Nolan Hartz, Environmental Science
Erna Valcin, Biological Science
Orlando
Leah Abounader, Information, Communication and Technology and Editing, Writing, and Media
Kristine Castillo, English and Public Health
Julia Eazer, Clinical Professions
Charleine Etienne, Family and Child Sciences
Claire McColgan, Finance
Jessica McCormick, Communication Science and Disorders
Heather Peebles, Media and Communication Studies and International Affairs
Rose Sisay, Psychology, Family & Child Sciences
Ormond Beach
Sarah Perch, Exercise Physiology
Palm Beach
Kiara Guerrier, Nursing
Palm Harbor
Madison Gillespie, Athletic Training
Alexis LaChance, Psychology
Panama City Beach
Danny Eurich, Exercise Physiology
Pembroke Pines
Laura Medina Balmaseda, International Affairs
Pensacola
Jun Ho, Exercise Physiology
Plant City
Savanna Gill, Mathematics and FSU-Teach Math
Ponce Inlet
Savannah Barr, Marketing
Ponte Vedra Beach
Maddie Coffey, Marketing and Management
Port Charlotte
Venus Skowronski, Family and Child Sciences and Psychology
Emily Stock, Nursing
Port St. Joe
Hannah Fulk, Public Relations and Interdisciplinary Social Sciences
Punta Gorda
Abigail Kirshy, International Affairs and Criminology
Riverview
Sarah Ferguson, Behavioral Neuroscience
Sarasota
Rebekah Carico, Psychology and Political Science
Grace Robbins, Classical Archaeology
Spring Hill
Joy Daniels, Editing, Writing, and Media and Business Management
St. Augustine
Sneha Kapil, Biochemistry and Sociology
St. Cloud
Breeana LaQuea, Media and Communication Studies and Interdisciplinary Social Sciences
Tallahassee
Lola Musa, Biology
Sharry Anne Solis, Family and Child Sciences
Tampa
Emily Bosco, International Affairs and Political Science
Will Dibbs, History and International Affairs
Kalesha James, Public Health
Jordan Jankowski, Humanities
Thonotosassa
Kara McMichen, Nursing
Vero Beach
Isabel Morby, Hospitality and Tourism Management
Viera
Emma Koons, Nursing
Wellington
Nicole Nunez, Management Information Systems and Marketing
Kaitlyn Osmond, Clinical Professions
Wesley Chapel
Chloe Covington, Finance and Risk Management/Insurance
West Palm Beach
Naomi Cohen, Commercial Entrepreneurship
Danielle Guenther, Marketing
Widjine Noel, Behavioral Neuroscience
Weston
Katherine Gibson, Psychology and Media and Communication Studies
Korrin Sheahan, Communication Science and Disorders
Winter Garden
Gabriella Hinks, Biology
Victoria Reeves Kwiat, Cell and Molecular Neuroscience
Kelly Simard, Biological Science
Winter Park
Johanna Marquez Diaz, Behavioral Neuroscience
Winter Springs
Anastasia McGill, Social Work
GEORGIA
Acworth
Mason Ashford, Biological Science
Alpharetta
Ashwin Reddykotha, Criminology and Psychology
Canton
Emily Seguin, Sociology and Political Science
ILLINOIS
Oswego
Nathan Labora, Cell and Molecular Neuroscience
KANSAS
Lawrence
Madelyn Johnson, International Affairs and Middle Eastern Studies
MASSACHUSETTS
West Bridgewater
Abigail Bedard, Hospitality and Tourism Management
NEW JERSEY
Monroeville
Alena Williams, Marketing and Management
Montvale
Caroline Oteri, Clinical Professions
NEW YORK
Long Island
Keara Thomson, Exercise Physiology
Rochester
Jordan Parker, Retail Entrepreneurship
NORTH CAROLINA
Cary
Megan Wilcox, Industrial Engineering
PENNSYLVANIA
Doylestown
Kendall Vuocolo, Communication Science and Disorders
SOUTH CAROLINA
Simpsonville
Sophie Pavia, Computer Science
TEXAS
Austin
Viviana Smith, Communication Science and Disorders
Katy
Dawn Rollins, Nursing
UNLISTED
Nora Jolowsky, Biological Sciences
Martha Sizemore, History
Rebecca Yap, Marketing