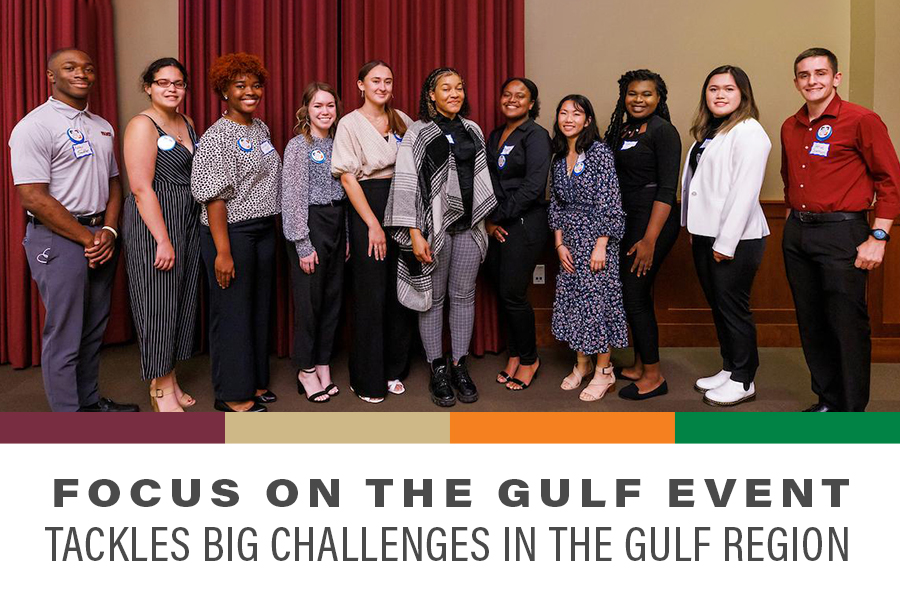 Students and scholars from Florida State University and Florida A&M University met on April 7 for "Focus on the Gulf," the first collaborative event in the FAMU and FSU Gulf Scholars Programs.
The programs support students from the two universities who are interested in exploring social, economic, environmental and justice-related challenges facing the Gulf of Mexico region, which includes Florida, Alabama, Mississippi, Louisiana and Texas.
"Truly innovative solutions emerge from dedicated individuals who work together to solve a problem collectively that is bigger than the one they could solve on their own," said Kassie Ernst, director of the FSU Gulf Scholars Program. "We aim to create a shared space to come together and connect about the biggest challenges in the region."
At the event, students, faculty, staff, university leaders and community members discussed themes relevant to improving the Gulf region, such as beach mobility and accessibility; quality of life and connectivity; historical and contemporary justice issues and their legacies; critical infrastructure challenges and interdisciplinary approaches to regional challenges.
"The highlight of this event for me was the time we spent brainstorming the different issues of the Gulf that we plan to focus on," said Vivian Bernard, a biomedical engineering student at the FAMU-FSU College of Engineering and one of the 2022 Gulf Scholars. "The conversation was engaging, and listening, proposing and dissecting all the issues was a great honor for me."
Bernard is interested in improving access to the beach for people who use wheelchairs or have other mobility issues. Having lived most of her life in Florida, she is excited to give back to her community.
"It is very inspiring to be a Gulf Scholar, and this was the first time I had the chance to meet other scholars," she said. "I didn't know what to expect, but it was fun getting to see all the different individuals who are going to be working with us to improve the community."
Rahni Wright, the community engagement projects coordinator for the FAMU-FSU College of Engineering, explained a project in the Tallahassee area that will improve digital access in the city's Providence neighborhood, which is next to the college.
"The idea is to give digital access for the neighborhood while maintaining the energy and social interaction of the community," she said. "Many people socialize from their front porch, and we want to preserve that vitality while providing digital access."
FAMU President Larry Robinson, Florida state Senator Loranne Ausley, FAMU-FSU College of Engineering Interim Dean Farrukh Alvi and other community leaders joined students to exchange ideas about the issues facing the region. The event also honored the first 12 undergraduate students to join the programs as well as five faculty members from FAMU and FSU, who received curriculum development grants to create new interdisciplinary and experiential learning opportunities focused on the Gulf region.
"Focus on the Gulf gets at exactly what the Gulf Scholars Programs intend to do," Ernst said. "The challenges of this region are complex and multi-faceted and require that we collectively come together and discuss them respectfully as equals with accessible language."
2022 Curriculum Development Faculty Awardees:
Kendra Mitchell, Assistant Professor, Department of English & Modern Languages, FAMU
Alisha Gaines, Timothy Gannon Associate Professor of English, FSU
Natalie King-Pedroso, Associate Professor, Department of English & Modern Languages, FAMU
Mariana Fuentes, Associate Professor, Department of Earth, Ocean and Atmospheric Science, FSU
Andrew Frank, Allen Morris Professor of History, FSU