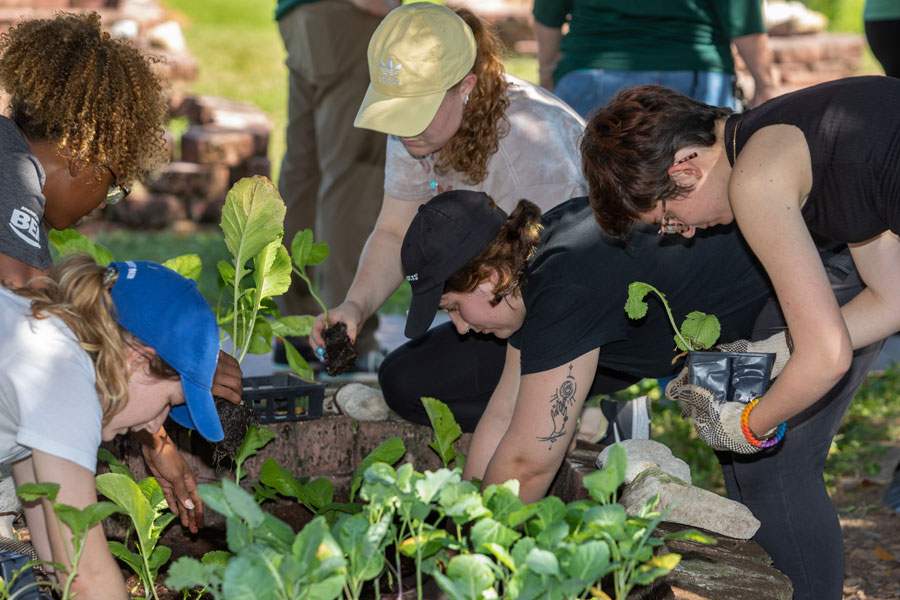 Thanks to the work of about 40 volunteers, Florida State University's Seminole Organic Garden grew a little bit larger last week.
The garden, which sits between Doak Campbell Stadium and the FSU Circus, is run by FSU Sustainable Campus. Volunteers gathered Oct. 15 to add fruit trees, build pollinator gardens and plant produce and herbs.
Among the people working were employees from the FSU Grounds Department, who dug holes for lemon and orange trees to be planted, FSU students and employees from beverage wholesaler Tri-Eagle Sales.
Elizabeth Swiman, director of Campus Sustainability, said ensuring a healthy, productive garden requires many hands — and expertise.
"You can't just start digging here because there's a lot underground, like power lines," she said. "That's why we need to thank the Grounds Department for their work preparing the grounds."
Swiman said Just Fruits and Exotics provided consultation and delivery services and said Tri-Eagle has been an especially valued partner for the past 15 years, including supporting Sustainable Campus' gameday recycling program.
Brittany Foster, director of marketing for Tri-Eagle, said benefits of the partnership with Sustainable Campus work both ways.
"We've partnered with Sustainable Campus for many years now and events like this are great for the community and they're an opportunity for members of our team to help a worthy cause," she said.
Many of the garden's beds are rented out by student groups with much of what's grown donated to local food pantries. Pineapple sage, perennial flowers, mustard greens, dill, mulberry and loquat were among the plants being put in the ground. Food harvested from those beds will be donated to the Food for Thought and Unconquered Scholars food pantries.
For more information, visit https://sustainablecampus.fsu.edu.