Florida State University is celebrating National Transfer Student Week in honor of the resilience, passion for service and academic talent that transfer students bring to FSU. 
Transfers students comprise more than 25 percent of all undergraduates at FSU — about 8,000 students. While most transfer students come from the Florida College System such as Tallahassee Community College, many arrive at FSU after attending colleges and universities across the country.  
Transfer students participate in a variety of organizations, such as the Student Government Association and Marching Chiefs, bringing unique skills and experiences to FSU that enhance the campus community.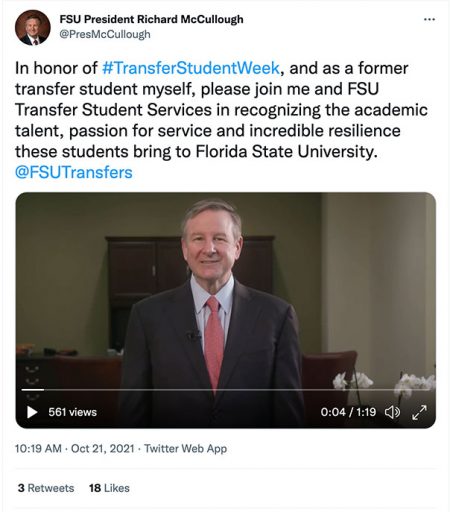 "I began my college career at a community college before transferring to a public research university, so I know how exciting it can be," said President Richard McCullough. "I encourage new transfer students to take advantage of the wealth of resources at FSU as you find a way to leave your own legacy." 
For more information on engagement and networking opportunities with other transfer students, follow the Office of Transfer Student Services on Instagram @seminolestransfers.