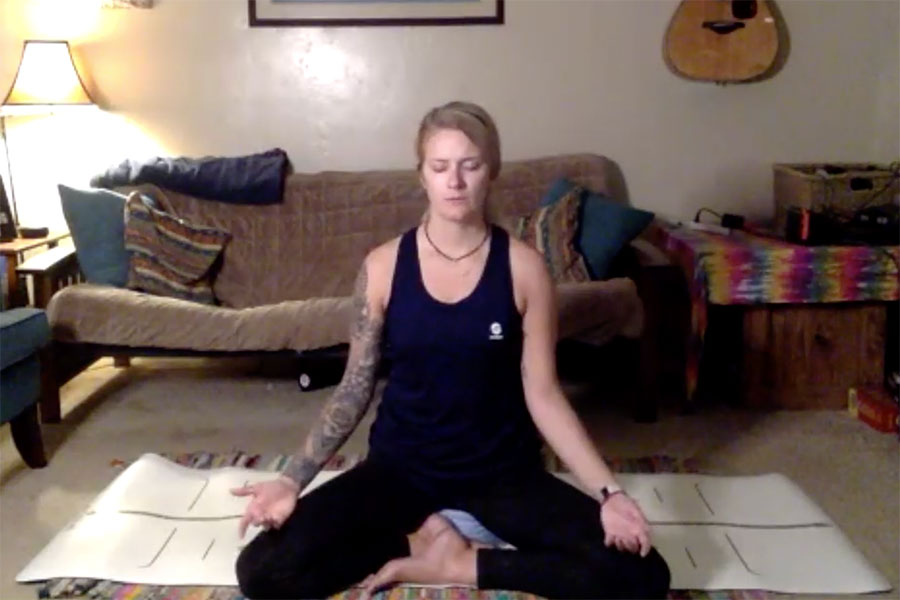 FSU Campus Recreation is offering a variety of live fitness classes in response to the university's recent transition to remote learning.  
Twenty-three classes are currently offered Monday through Friday and can be accessed through students' FSU Zoom accounts. The live classes include Chair Barre, HIIT 30, Roll & Recover 30, Mat Pilates, Yoga 45, Dance 45 and Hardcore 30. 
Cassidy Haglund, a group fitness instructor, was excited to continue teaching her barre classes online. 
"I love that we have the opportunity to teach classes online," Haglund said. "It gives students a way to stay active, which works toward the overall wellness that Campus Rec is always trying to accomplish. It also helps students stay connected and have a sense of community."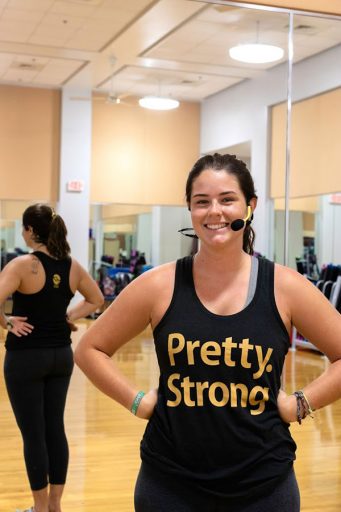 Daniella Munoz, a senior who has attended several of the online fitness classes, agrees that it has been a good way to stay connected with her friends and the FSU community. 
"Even though it's virtual, I can invite my friends to the same class, and we can work out together," she said. "I do miss going to the Leach, so online classes have given me something to hold onto and still be a part of at FSU before I graduate." 
Virtual fitness class attendance has been higher than expected. Campus Rec staff originally anticipated a maximum of 20 students per class, but they were greatly surprised when every class exceeded that expectation within the first week. 
"In-person classes have to be limited due to physical space," Haglund said. "Because these are online, people can tune in from anywhere. At the Leach, I could only teach a maximum of 18 students in my barre class. Now, my attendance is greatly exceeding that. I've taught the largest classes I've ever taught through Zoom, which is pretty cool." 
Jordan Velez, a group fitness instructor for Yoga 45 and HIIT 30, said the feedback from students has been extremely positive. 
"I get a lot more feedback and interaction with students at the end of class now, which has become my favorite part," Velez said. "Everyone is always saying thank you and how appreciative they are of the class. It's all been really good." 
Haglund's also been getting favorable feedback and has even received messages from students who were too nervous to take a barre class before at the Leach Center. 
"Now, they are willing to try it because they can exercise from the comfort of their homes," she said. "The online classes have given students the opportunity to try something new, and I think we will see more people in the gym because of these classes in the fall." 
Andy Chiang is one of the students who branched out and tried something new because of the online fitness classes. After a recommendation from a friend, he attended his first ever yoga class. 
"I was more willing to try out yoga because I didn't have to go all of the way to the gym, and I ended up loving it," Chiang said. "Campus Rec has provided students with a really helpful resource, and I think it's worth checking out." 
Both Velez and Haglund stressed the importance of students staying active during this time of remote learning. 
"It's hard to change the monotony of staying in the same place," Velez said. "Being active not only can help you feel better, but it can also help you return to a routine and a daily schedule. I think that's something college students are really missing right now." 
In addition to the live classes, Campus Rec is offering several live "chats" for students to create community. A Fitness Forum is held at 3 p.m. Mondays with Campus Rec's certified personal trainers available to answer students' questions. There also is a live chat with athletic trainers at noon Wednesdays. Students are also encouraged by Outdoor Rec Coordinators to get outside through a weekly outdoors challenge. 
Even though students can't physically be on campus, staff at Campus Recreation are doing all they can to make sure students maintain a happy and healthy lifestyle during this challenging time. 
For a schedule and more information on the live group fitness classes, please visit: https://campusrec.fsu.edu/active-anywhere/.