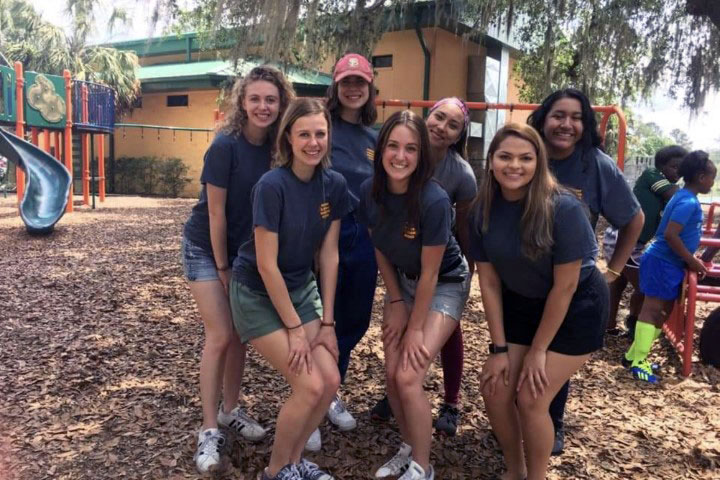 A program created by students at Florida State University is providing area migrant, immigrant and refugee children with a better chance to succeed in school and in the community.
The Migrant and Refugee Education Alliance, now known as Darasa – a Swahili word meaning "classroom" – was started as a student organization in 2016 in response to the need for bilingual volunteer tutors and mentors for refugee elementary students in Tallahassee.
Eventually, the student organization grew and became a nonprofit organization of the same name, partnering with local groups and seeking to make a difference beyond the borders of Tallahassee. The group includes 90 students from a variety of different majors.
Madeline Walther, a student majoring in special education, joined the organization to satisfy an English for Speakers of Other Languages (ESOL) requirement for her program, but soon discovered the joy of working with refugees as well.
"If I said I wasn't extremely nervous the first time I met the refugee I was paired with, I would be lying," Walther said. "Our first meeting was the generic 'let's get to know each other' conversation. The next time we met, I felt so proud to see the change from our first meeting to our second meeting. I felt overwhelmed with happiness that I could see him come out of his bubble with me and feel comfortable working with me."
Children in particular can have a hard time adjusting to a new home. Combined with economic stressors and being surrounded by a new culture, these factors contribute to poor educational outcomes and limit chances for success.
Darasa's president, Molly McQueeney, started working with the organization during her freshman year at FSU in an effort to learn more about refugees living in the local community. Over the years, she has discovered her passion for working with this population.
"Many of our tutors have a passion for education – some for ESOL education specifically – and other tutors just love working with kids and see this as a great opportunity to support children in our local community," McQueeney said.
But the tutors aren't the only ones doing the teaching.
"I am learning from the refugees as much as they are learning from me," Walther said. "Every greeting, I ask the student to teach me either a word or a phrase in their native language."
Walther said the most satisfying part of working with refugees is gaining new knowledge about people who come from different backgrounds.
"Reflecting on the first time I worked with this population to now, I see immense growth in my ability to help students," she said.
For more information about Darasa, visit darasainc.org.