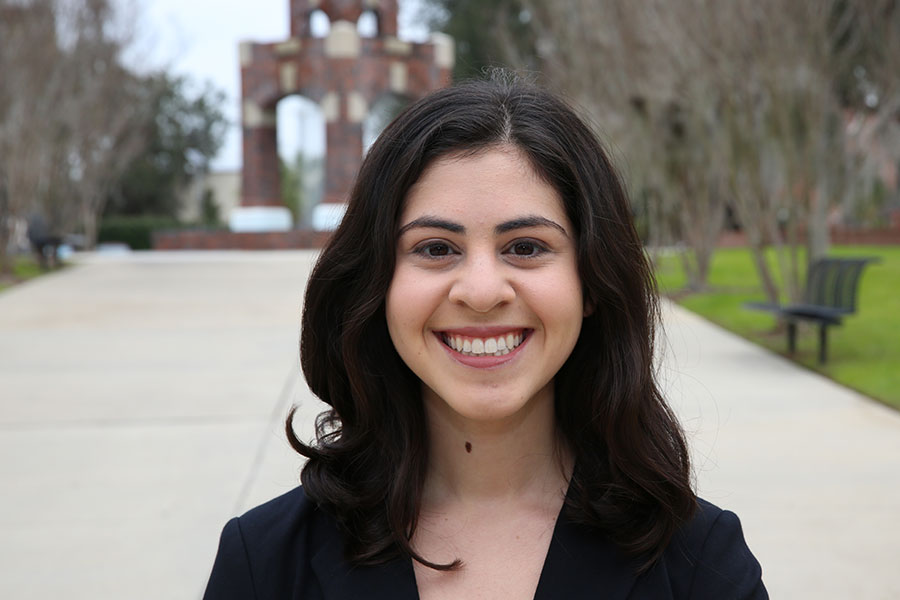 A Florida State University student whose personal experiences inspire her dream of being a neuroscience researcher has received the prestigious Barry Goldwater Scholarship, awarded to the nation's brightest mathematics, science and engineering college sophomores and juniors.
Jessica Dixon, a sophomore from Indialantic, Florida, will receive up to $7,500 in both her junior and senior years from the Barry Goldwater Scholarship and Excellence in Education Foundation to cover the cost of tuition, fees, books and room and board. The goal of the Goldwater Foundation is to help ensure that the United States produces highly qualified professionals in the STEM fields.
Dixon received the news of winning the award during a Zoom meeting for a class project.
"My first response was to mute myself and turn off video so I could call over my family, with whom I am isolating, so I could tell them," Dixon said. "It has been a tough semester due to the global situation, so it is nice to have good news to share with my family, lab and professors."
It was fitting that Dixon was with her family when she heard the news because of the reasons that motivated her to pursue a degree in neuroscience. First, she watched her sister — then 12 years old — recover from a massive subdural brain hemorrhage during brain surgery to treat a severe neurological movement disorder.
Then, Dixon herself was diagnosed with the neurological movement disorder Tourette's Syndrome at the age of 15. Her first experience with neuroscience research was as a subject in a Tourette's research study, and from then on, she was hooked.
"I found the systematic examination of my brain and, by extension, other brains a fascinating subject," Dixon said.
Dixon added statistics as a second major because many neuroscience laboratories do not have individuals proficient in high-level quantitative research methods.
"They export these tasks to statisticians outside of the field," she said. "By also training to be a statistician, I am gaining the opportunity to better understand and critically evaluate the research of myself and others."
Dixon, who carries a 4.0 grade point average, is a recipient of the Presidential Scholars award, Florida State's premier undergraduate merit scholarship.
She said the opportunities afforded to her as a Presidential Scholar have helped advance her academic career.
"The resources and personal support at Florida State have allowed me to reach my full potential as a student and undergraduate researcher," Dixon said.
As a freshman, Dixon delved into undergraduate research in the lab of Aaron Wilber, an assistant professor of psychology and neuroscience, through the Undergraduate Research Opportunity Program (UROP). Working in Wilber's lab, Dixon examined mouse models of Alzheimer's disease and spatial reorientation in order to build a foundation of understanding research methodology.
"I could not have achieved this Goldwater Scholarship without Dr. Wilber's invaluable mentorship," Dixon said. "Dr. Wilber has supported my ambitions and skill development by placing me as a co-author on neuroscience PhD student Danielle Benthem's electrophysiology research project, supervised my IDEA grant original research project, and, soon, will be supervising my honors thesis."
Dixon plans on pursuing a doctoral degree in translational neuroscience to become a professor focusing on the study of neurological conditions, such as movement disorders, at a major research institution.
"Turning to research for solutions has been my method of controlling the impacts of my disability, and I hope to conduct my own research into movement disorders to better the lives of myself, my sister, and others with similar conditions," she said.
In addition to her research interests, Dixon's also become a national-level advocate for individuals with disabilities. She's presented at numerous universities, medical schools and conferences about using the universal design for learning to support high-achieving students with disabilities.
"Investing in Jessica Dixon will undoubtedly pay dividends within the field of neuroscience, and I can only imagine the broader impacts her advocacy work and passion for unprecedented research will have," said Jesse Wieland, assistant director of FSU's Office of National Fellowships. "I could not imagine a student more dedicated to their field, a career in research, or more deserving of the Goldwater Scholarship."
For more information on national scholarships, contact the Office of National Fellowships.