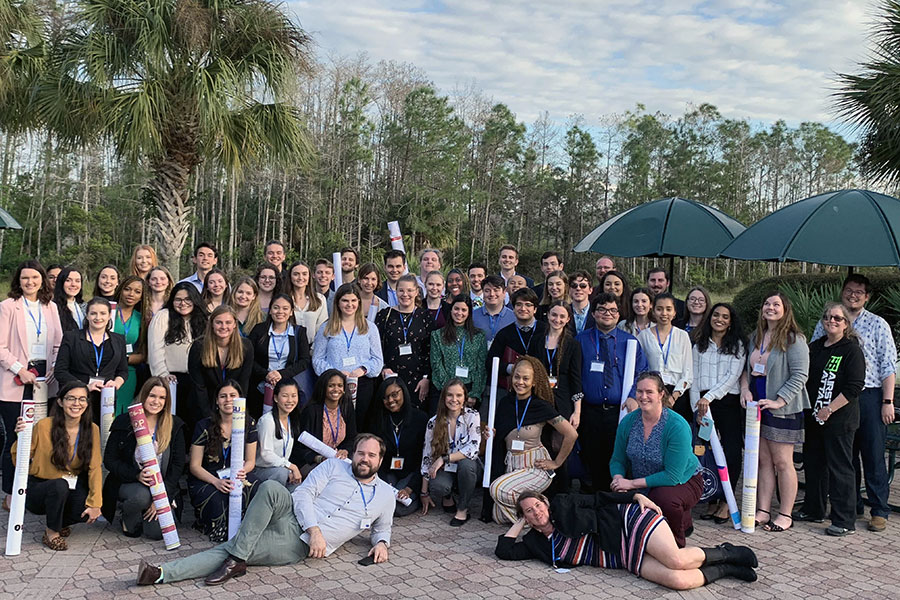 Fifty-five Florida State University students presented their research at the Florida Undergraduate Research Conference (FURC) held Feb. 21-22 at Florida Gulf Coast University.
FURC, one of the nation's largest multidisciplinary undergraduate research conferences, gives undergraduate students the opportunity to showcase their research and further develop their presentation skills. Students also gain valuable networking experience, attend workshops on a range of subjects and connect directly with graduate school recruiters from around the nation.
Recognizing the importance of student advancement, FSU's Center for Undergraduate Research and Academic Engagement (CRE) funded both the registration and travel costs for the 55 participating students.
"For many students, FURC is the first opportunity to present their research in an off-campus setting, enabling them to translate the impact of their research to an audience from around the state," said Latika Young, director of CRE. "The experience also helps our students develop their identities as budding researchers. By being able to provide funding for students selected to participate, we ensure the essential benefits offered through this experience are available to everyone."
Imani Lewis, who is double majoring in psychology and international affairs, truly loved her experience at FURC. Lewis, one of six oral presenters from FSU, presented her research "Understanding Prejudice and Facilitating Social Change."
"It was really exciting to be able to share the research that I have been working on so hard for the past year to such a large audience," Lewis said. "The reception I received was so encouraging, and it's shown me that research truly is something I want to pursue further."
Another first-time attendee was Kariza Hossain, a senior biochemistry major who conducted research on Parkinson's disease over the summer through LSU Medical School's Research Experiences for Undergraduates program.
"Being able to engage in an on-going conversation at one of the nation's largest multidisciplinary research conferences was truly a unique experience and an amazing learning opportunity," she said. "I'm passionate about the project I worked on, and FURC was an exciting way to teach others about what I did and learned along the way."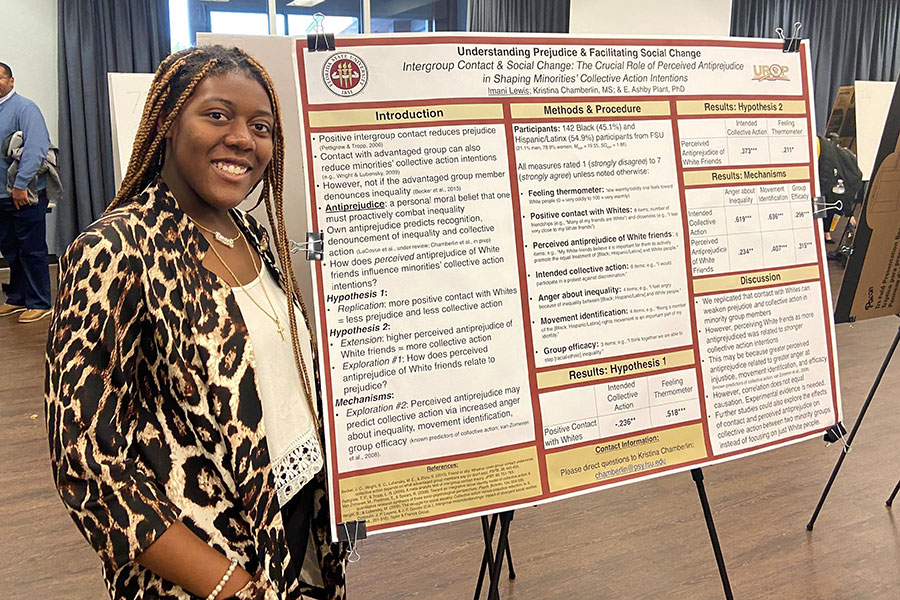 Luis Sanchez, a junior majoring in classics, presented his research on math education in ancient Roman literature.
"I'm so appreciative of having been given the opportunity to go to this year's Florida Undergraduate Research Conference," Sanchez said. "Interdisciplinary events such as these have opened my eyes to the amazing and innovative research being conducted outside of my field. It's nice to socialize with peers that care deeply about their topics that can lead to fascinating dialogues."
Senior Sebastian Mejia also enjoyed the social aspect of FURC and being able to converse with other undergraduate researchers.
"Meeting undergraduates also interested in the same type of research as myself was my favorite part," Mejia said. "I don't know many students who are interested in qualitative research, so attending these conferences is a great opportunity to meet them."
Mejia, a double major in Latin American and Caribbean Studies, presented his research "Decolonizing Land & Re-indigenizing Body: The Recuperation of Indigenous Identity in Brazil."
Florida State University and the Center for Undergraduate Research will host next year's Florida Undergraduate Research Conference Feb. 26-27, 2021.