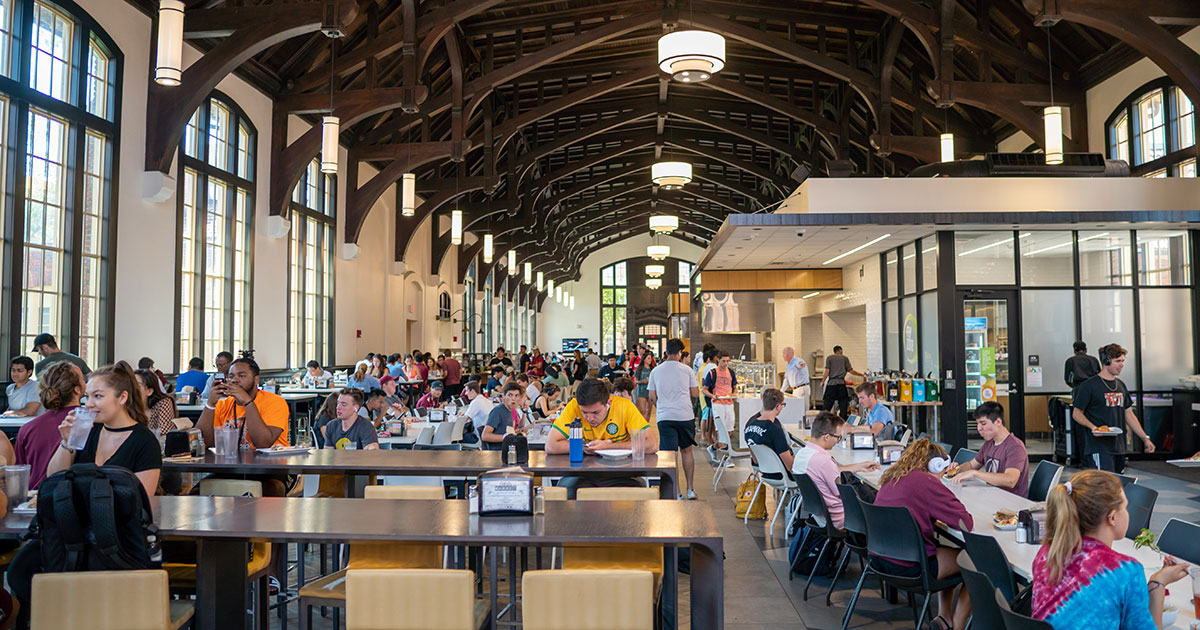 Florida State University's dining program has earned prestigious national recognition for taking vital steps to care for students with food allergies or dietary restrictions.
Seminole Dining has received a designation as FARECheck Certified from Food Allergy Research and Education (FARE), the world's leading food allergy advocacy organization.
The award makes FSU the only university in Florida to be recognized with this important distinction.
That's a big deal, according to Seminole Dining dietitian Jessica Brooks, RDN, LDN.
"Getting certified is prestigious because the designation requires a very rigorous evaluation that only 78 schools across the nation have passed," Brooks said. "The certification can be an important factor to some students when they're deciding where to go to school. If they have food allergies or dietary restrictions, then they can have confidence that Florida State is a safe university to attend."
Food allergies in the United States have been increasing, according to the Centers for Disease Control and Prevention. The nation's health protection agency reports food allergies among children have jumped 50 percent in the past 20 years.
The escalating problem affects all demographic groups. A recent study published by an American Medical Association journal concluded more than 30 million Americans have food allergies, including more than five million children. That translates to one in 13 children.
Seminole Dining and its food service provider Sodexo have designed and implemented important protocols to help people avoid food allergens and make healthier dietary choices. Part of that process includes identifying students' specific dietary requirements when they arrive on campus, and FSU has constructed separate, enclosed dining areas to accommodate those needs.
One example is the "My Zone" pantry in FSU's Suwannee Room, a century-old dining hall recently updated with state-of-the-art amenities. My Zone is stocked with items that offer safe, nutritious and delicious meals to students with food allergies or celiac disease. The area is free of ingredients containing gluten, peanuts or tree nuts. Students can prepare their own allergen-safe meals if they wish or consult with a campus dietitian.
Seminole Dining also provides a popular option called "Simple Servings." The program allows students to enjoy plain, simple foods free of common allergens, such as shellfish, wheat, gluten, soy, milk products, eggs, peanuts and tree nuts. Chefs are trained to avoid cross-contact with allergens, and kitchens are set up with separate preparation areas to help minimize exposure to food allergens.
Brooks said Florida State's dining program is designed to meet the needs of students, not only if they have food allergies, but also if they prioritize healthier eating.
"It's a valuable partnership between the student and Seminole Dining focused on their success," Brooks said. "We want them to know we offer resources for them to be successful in dining and when their dietary needs are met, then they can focus more on being successful in their academics."
Seminole Dining and Sodexo have worked closely with FARE to raise awareness about food allergens and improve students' quality of life.
A key component of the FARECheck Certified designation is employee training, which is required for certain employees with Seminole Dining and Florida State. Lessons include training on a range of emergencies, such as severe allergic reactions known as anaphylaxis.
"Our dining program is designed to help students with food allergens, as well as any student who wants to take advantage of our wide-ranging menus," Brooks said. "Ultimately, students can feel safe and secure knowing they have dining options on campus that meet strict certification requirements."