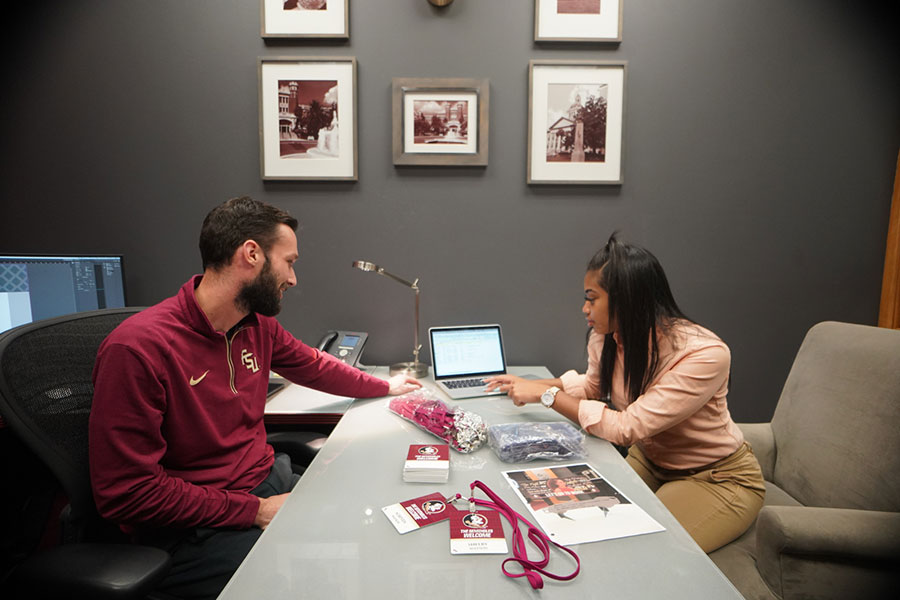 Florida State University students no longer have to travel off-campus to land significant and life-changing internships.
The InternFSU program at Florida State University provides 100 on-campus paid experiential learning opportunities for currently enrolled full-time, undergraduate, degree-seeking FSU students during the fall and spring semesters.
Students — regardless of financial resources and family background — can seek internships that relate to their desired careers on-campus through a competitive hiring process coordinated by The Career Center.
"The Career Center is proud to manage the InternFSU program and increase student access to paid internships," said Myrna Hoover, director of the FSU Career Center. "This program not only positively impacts the professional trajectory of student participants, but it also prepares them for 21st century careers."
Funded by the Office of the Provost, the initiative is managed by Li Pon, senior assistant director of experiential learning at The Career Center. The funding allows InternFSU students to earn a $10/hour wage for 120 hours spanning one semester, with the hiring department only footing half the bill.
Earlier this semester, offices across campus welcomed the newest InternFSU cohort for the Fall 2019 semester.
Since the program's inception in Spring 2018, more than 300 InternFSU students have gained career readiness skills at more than 125 internship sites across campus, such as the Challenger Learning Center, the Office of Federal Relations, the Center for Intelligent Systems, Control and Robotics (CISCOR), the Innovation Hub and Information Technology Services.
Zekia Santiago, a senior majoring in recreation, tourism and events, interned as a marketing and outreach coordinator for the FSU Women's Basketball Team through InternFSU. The experience helped Santiago find like-minded professionals who shared the belief that sports are a great unifier in society.
"My supervisor and mentor embraced my diverse background and passion for sports," Santiago said. "People of all colors, creeds and nationalities come together for the love of sports. I want to use my passion for sports to change the world around me, and I was able to begin that journey in the marketing and outreach internship position with FSU Women's Basketball."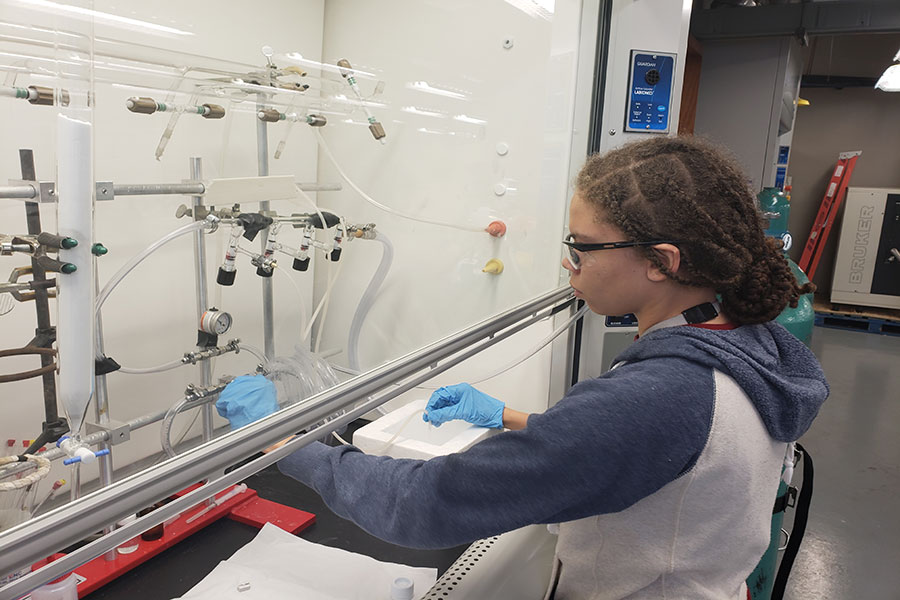 The National Association of Colleges & Employers (NACE) defines career readiness as "the attainment and demonstration of competencies that prepare college graduates for a successful transition into the workplace."
The InternFSU program aims to increase career readiness competencies identified by NACE in student participants, such as critical thinking/problem solving, oral/written communications, teamwork/collaboration, digital technology, leadership, professionalism/work ethic, career management and global/intercultural fluency.
Denis Aleman, a psychology student, said his InternFSU experience at the Florida Center for Reading Research helped him gain direct exposure in the fields of education and psychology.
"This internship increased my experiences with multiculturalism and diversity," Aleman said. "Attending different elementary schools throughout Tallahassee gave me insight on the diversity seen within the staff and students. My experience taught me a lot more about the career path that I'm aiming to pursue, and it opened up my options about what I want to be involved in before I apply for graduate school."
Only full-time faculty and staff are eligible to serve as InternFSU supervisors. The InternFSU supervisor and their selected InternFSU student must develop three learning goals for the semester, schedule ongoing supervision meetings and complete mid-semester and end of semester self-evaluations.
"The most important aspect of the program is the goal-setting by the student and division," said Jimmy Cole, an InternFSU supervisor with University Relations.
An imperative part of the program also is the opportunity for students to receive feedback, guidance and mentorship from their program supervisors.
"The organization and structure of the InternFSU program is pretty formal with an online application process, an interview for the position, a site visit during the semester and an evaluation of skills similar to a company," said Thierry Dubroca, a visiting research faculty member at the National High Magnetic Field Laboratory, EMR. "This gives the student a very strong sense of how things work when they graduate, search for a job and secure one."
The students selected to take part in the InternFSU program have the opportunity to either earn academic credit or enroll in the Career Center's Experience Recognition Program (ERP). Both facilitate completion of FSU's Experiential Learning Requirement and the requirements of the Garnet & Gold Scholar Society's Internship Engagement Area.
Many InternFSU students are given the opportunity to remain working at their internship or meet other mentors in their field.
"We have witnessed organic, true mentor-mentee relationships develop throughout campus because of InternFSU," Pon said.
Spring 2020 InternFSU opportunities will be posted in Handshake starting Oct. 1 through Oct. 27. For more information about InternFSU and to apply, visit career.fsu.edu or email internfsu@fsu.edu.