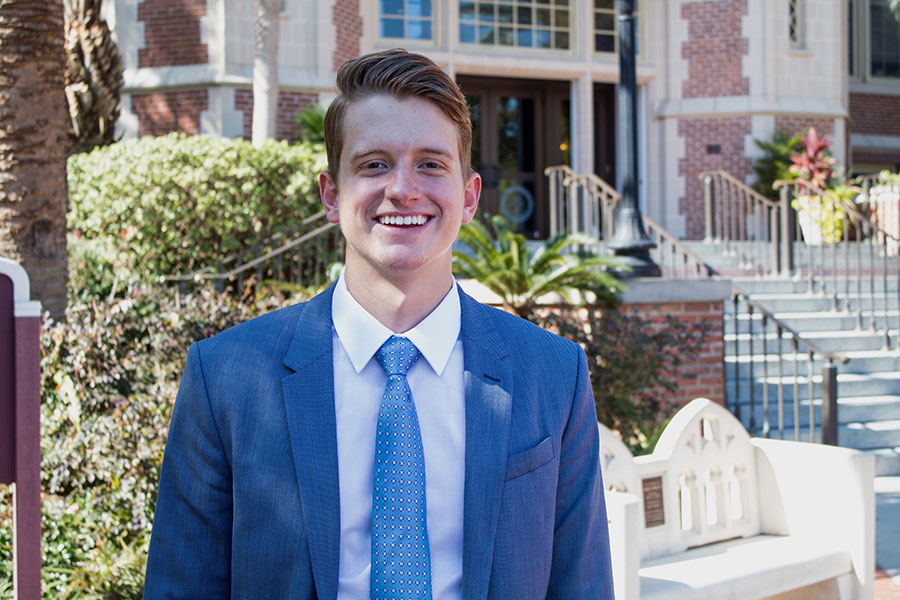 A recent Florida State University graduate has received a highly competitive fellowship from The Honor Society of Phi Kappa Phi, the nation's oldest and most selective collegiate honor society for all academic disciplines.
William Vince Dewar, a Tallahassee native who graduated with a bachelor's degree in international affairs in May, is one of 58 recipients nationwide to receive the $8,500 fellowship. As a Phi Kappa Phi Fellow, Dewar will pursue a master's degree in social entrepreneurship and innovation at The London School of Economics.
"My choice to pursue a career in social entrepreneurship and innovation stems from my confidence that social enterprise is one of the most effective tools to achieve measurable poverty alleviation outcomes in the developing world," Dewar said. "Through creating meaningful opportunity for individuals, social enterprise allows for bottom-up, sustainable social impact."
Dewar's interest in social enterprise stems from his involvement with nongovernmental organizations that are working on developmental issues in Haiti, Uganda and South Africa.
Dewar made significant contributions abroad as a leader with the Tallahassee Haiti Medical Team. Since 2010, the Tallahassee Haiti Medical Team has taken 26 medical missions to Haiti, each of which included 15 or more American volunteers. In Haiti, Dewar established a clean water program and managed a local staff of more than 10. As part of FSU's Moellership Program, he volunteered in Uganda to improve the economic well-being of local women through micro-loans.
In 2018, Dewar founded his own social enterprise, Impact Frontiers LLC, a lease-to-own taxi service in Haiti, which won the $4,000 Jim Moran Challenge Social Venture Award at the InNOLEvation® Challenge earlier this year.
For his dissertation at The London School of Economics, Dewar will create an enhanced business model, sustainability plan and impact assessment for Impact Frontiers, which he hopes to implement after graduation.
"My career goal is to create and scale social enterprises that provide economic gain for those suffering in the developing world from economic disadvantage," Dewar said. "At the same time, I hope to champion social enterprise as more than just a means of social impact but as a viable opportunity for traditional investment."
With an exemplary record of service and academic excellence, Dewar collected several accolades during his FSU career, including the Global Citizen Award from the Center for Global Engagement and a Social Science Scholarship from the College of Social Science and Public Policy.
Dewar credits the College Social Science and Public Policy's social entrepreneur in residence, Bruce Manciagli, with providing him with invaluable mentorship and instruction.
"Professor Manciagli has gone above and beyond to aid in the advancement of my academic career," Dewar said. "His and other faculty's individual commitment to the betterment of students — like myself — is a great example of the ample opportunity FSU provides to students."
Since its creation in 1932, the Phi Kappa Phi Fellowship Program has become one of the society's most visible and financially well-supported endeavors, allocating $615,000 annually to outstanding students for first-year graduate or professional study.
The selection process for a fellowship is based on the applicant's evidence of graduate potential, undergraduate academic achievement, service and leadership experience, letters of recommendation, personal statement of educational perspective and career goals and acceptance in an approved graduate or professional program.