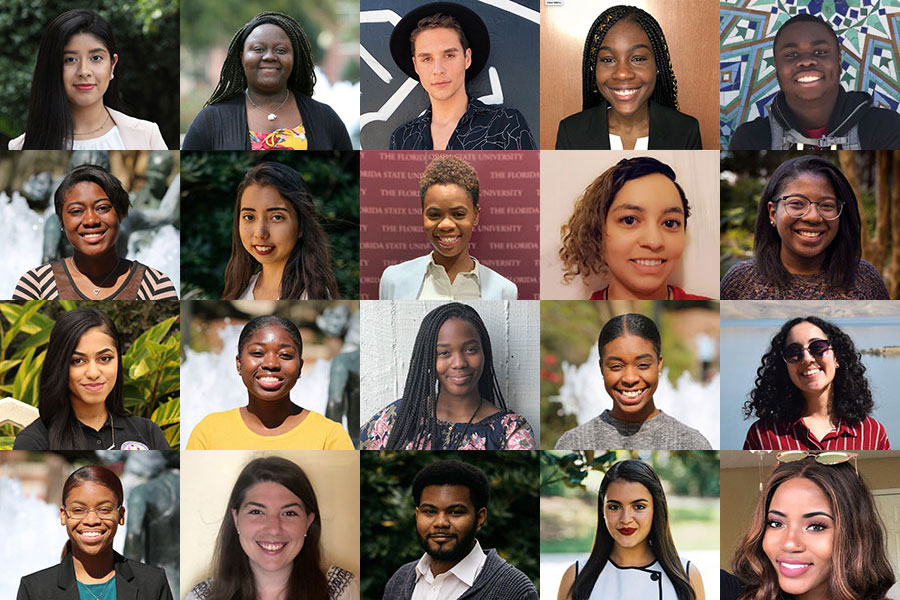 A record number of Florida State University students are studying or interning around the world this summer thanks to prestigious Benjamin A. Gilman International Scholarships from the U.S. Department of State. FSU's 28 Gilman Scholars are the most in school history.
The Gilman Scholarship is a grant program that gives students the opportunity to study or intern abroad and emphasizes learning about culture and language to prepare individuals for a globalized world.
"The Benjamin A. Gilman Scholarship is an instrumental tool for Pell Grant-receiving students to access international opportunities, and the success of these 28 individuals is pivotal as FSU becomes the largest institution to add an experiential learning requirement," said Jesse Wieland, assistant director of the Office of National Fellowships. "These students demonstrate that experiential opportunities aren't confined to the borders of Florida State University and are accessible to anyone despite their financial circumstance."
Students who receive federal Pell Grant funding are eligible to apply for the Gilman Scholarship. Winners receive up to $5,000 toward study abroad or internship program costs with additional funding available for the study of a critical language overseas.
The program encourages students to study and intern in a diverse array of countries or areas and world regions. Florida State's Gilman Scholars are studying in 15 different countries across the globe — from China to the Czech Republic.
Arria Hauldin, a senior anthropology major from Cooper City, used her Gilman Scholarship to travel to Vietnam. Hauldin, who is part of the FSU Global Scholars program, is working as an English teacher in Chu Town through the Vietnamese nonprofit "Coins for Change," which assists disenfranchised women and their children by providing English education and offering business support through workshops and classes. She said working and living in the rural Vietnamese town has been a transformative experience.
"Gilman has offered me an opportunity I once thought was fantasy," Hauldin said. "Without this scholarship, I would not be able to connect with such a warm, caring and resilient community that has taught me more about the world and myself than they will ever know."
Christopher Lormeus, a sophomore finance major from Pompano Beach, is interning at the Moroccan World News in Rabat, Morocco. During his internship, he is writing articles about finance and working as a financial analyst for the company.
"This experience is really helpful in building my experience for my career in finance," Lormeus said. "I have been able to learn new skills by breaking down the necessary components to building a successful business and actually applying them to a host company. I am very grateful for the opportunity to be in such a beautiful place doing what I love."
Since 2001, the Gilman Scholarship program has enabled more than 28,000 American students of diverse backgrounds to engage in a meaningful educational experience abroad. The late Congressman Gilman, for whom the scholarship is named, served in the House of Representatives for 30 years and chaired the House Foreign Relations Committee. He was honored with the Secretary of State's Distinguished Service Medal in 2002.
FSU's Office of National Fellowships, located in the Honors, Scholars, and Fellows House, introduces students to scholarship programs they may be eligible for and helps facilitate the application process. For more information, visit the Office of National Fellowships at https://onf.fsu.edu/.
Florida State's 2019 Benjamin A. Gilman Scholarship winners are listed below by hometowns and include years, majors and where they studied or interned abroad:
Barranquilla, Colombia
Valerie Segebre, Senior, Information, Communication & Technology; France
Belle Glade
Allyn Roa, Senior, International Affairs; Czech Republic
Boynton Beach
Ranya Ayoub, Junior, International Affairs; Morocco
Broward County
Johndee Breedlove, Senior, Interdisciplinary Social Science; Cameroon
Cooper City
Arria Hauldin, Senior, Anthropology; Vietnam
Crawfordville
Shelby Alsup, Senior, Biology; Greece
Darrien Dahunsi, Sophomore, International Affairs; Panama
Fort Lauderdale
Victoria BienAime, Senior, Chinese and Business; China
Bijan Adili, Senior, Theatre and Editing, Writing, and Media; United Kingdom
Fort Myers
Rose Antoine, Senior, Social Work; Netherlands Antilles
Hollywood
Marquita Rusley, Senior, Biochemistry; Ecuador
Jacksonville
Jalicia Lewis, Senior, Political Science and Public Relations; Peru
Myah Freeman, Junior, Fine Arts; Senegal
Kissimmee
Samiah Bansal, Sophomore, Criminology and Social Work, Pre-Law; Czech Republic
Miramar
Dyvonier Larcheveaux, Senior, Psychology; United Kingdom
Miami
Myryame Desrosiers, Senior, Biology and Anthropology; Ghana
Sadaura Jeudy, Sophomore, French and Spanish, Pre-Med; Peru
Karen Uriostegui, Senior, Communication Disorders; United Kingdom
Naples
Brenda Dorvil, Junior, Political Science; Ghana
Orlando
Laura Florestal, Senior, Family and Child Sciences; Ghana
Roselane Ramirez, Sophomore, Biochemistry; Ghana
Palm Beach County
Guadalupe Zepeda, Senior, Industrial Engineering; Ghana
Pensacola
Tyree Randall, Senior, Theatre; United Kingdom
Pompano Beach
Christopher Lormeus, Sophomore, Finance; Morocco
Riverview
Melannie A. Rosa-Fontanez, Senior, German and History; Germany
St. Marc, Haiti
Kenia Alcy, Senior, Social Science; Ghana
Sunrise
Modelyne Saintelus, Junior, International Affairs; Ghana
Winter Garden
Mylourie Dorceus, Senior, Interdisciplinary Studies; Germany