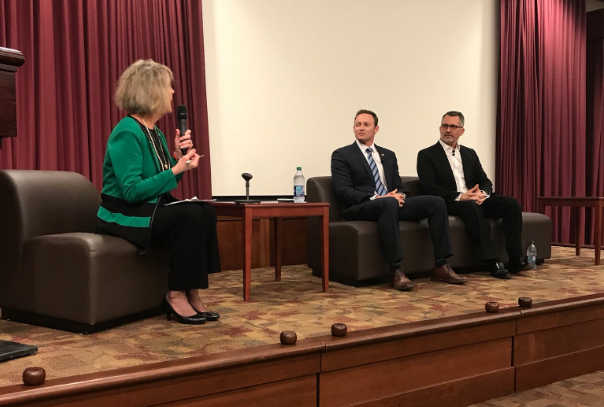 Florida State University's Power of WE and The Village Square partnered to host the third installment of the Power of WE's Shared Spaces Series on Feb. 13, focusing on "Why Gridlock Rules Washington and How We Can Solve the Crisis?"
Members of the FSU and greater Tallahassee community watched as two political rivals — former Congressmen David Jolly (R-Florida) and Patrick Murphy (D-Florida) — joined forces across the aisle toward a bipartisan good. Carol Weissert, FSU's LeRoy Collins Eminent Scholar and chair of civic education and political science, moderated the discussion.
Viewing partisanship and political gridlock as some of the most imminent threats to democracy, Jolly and Murphy have joined forces to visit college campuses across the state to share their insights on the problem and potential solutions. The Congressmen shed light on the inner workings of Congress, its shortcomings and the divisive political culture it tends to promote.
"Patrick and I are living through the same political climate everyone else is," Jolly said. "Regardless of your choice in politics, we know it's a very divided time. We were on the phone talking about trying to do something that showed people that Republicans and Democrats really can work together and pull the curtain back on some of the structural challenges that prevent Congress from looking for ways to work in a bipartisan way."
A diverse audience with views spanning across the political spectrum gathered at the Augustus B. Turnbull III Conference Center to engage with the panelists and each other. The panel was followed by roundtable discussions facilitated by students.
"The truth is as we both ran for Senate and traveled the country, we were exposed to a lot more views than what was just in our Congressional districts, as diverse as they were," Murphy said. "Events like these are educational for both of us, we feel like we're learning just as much as we're teaching folks."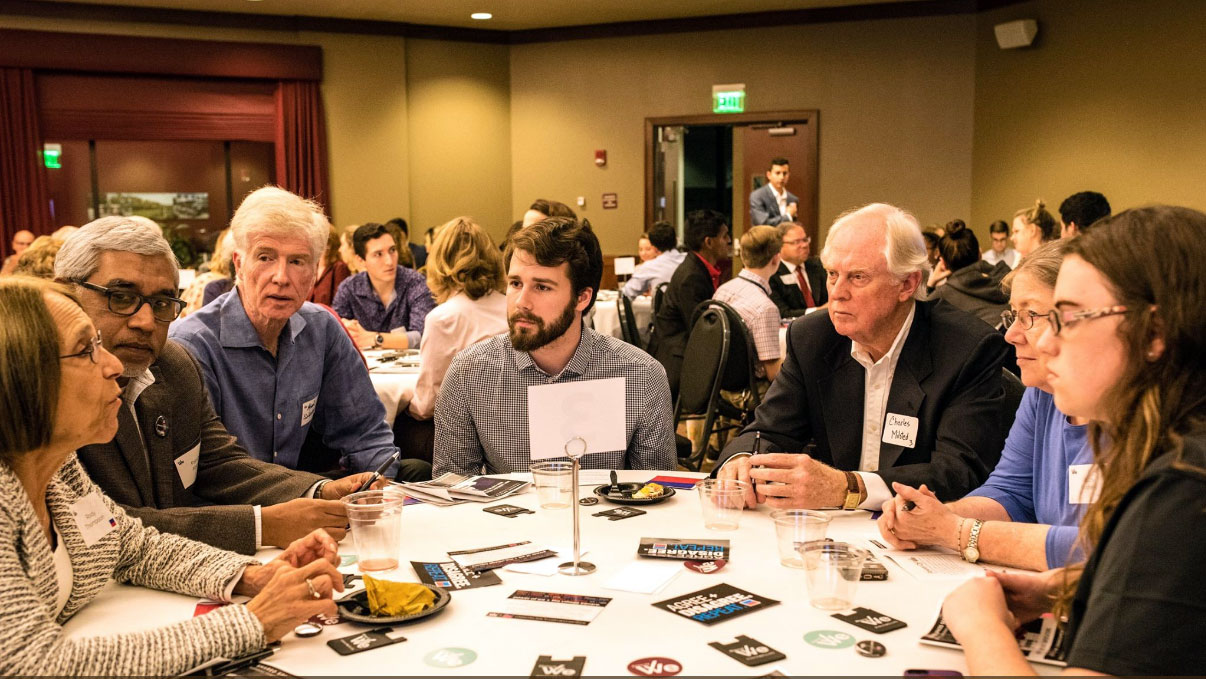 Through its Shared Spaces Series, Power of WE has taken its platform to bring individuals from various identities, lived experiences and ideologies to tackle difficult subject matter and current events. Previous events have wrestled with other timely topics, such as the temporary national travel ban and the controversy surrounding confederate statues.
"A shared space is founded on three basic ingredients: big picture questions, difference of opinion and a sense of common aspiration," said Inam Sakinah, founding chair of Power of WE.  "At a time of profound polarization, when we would rather separate and isolate because of our differences, spaces like these reflect our resolve to envision and carve a better world."
Power of WE is a student-founded, student-run organization operating under the auspices of the Office of the President, seeking to bring together individuals from all walks of life to engage in meaningful dialogue necessary to bridge civic divides.
The Village Square seeks to build community across ideological, racial, ethnic and religious divides in order to make sure Tallahassee and the surrounding areas continue to thrive.
The organizations announced a forthcoming national partnership that will enable both to elevate their innovative efforts to the national stage and begin impacting campus communities across the country. The partnership will officially launch in the Fall 2018 and will position FSU and Tallahassee as a national model for other communities to emulate.