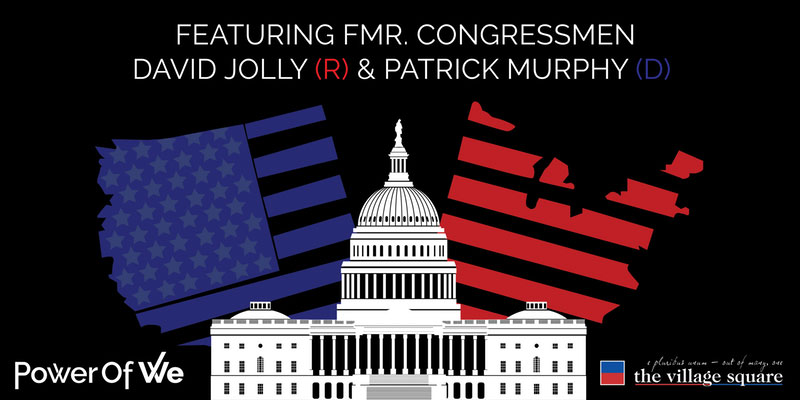 Florida State University's Power of WE and The Village Square are joining forces in an unprecedented national partnership that will give both organizations an opportunity to impact campus communities across the country. 
The two groups will publicly launch the new partnership at a joint event on Feb. 13 featuring former Congressmen David Jolly (R-Florida) and Patrick Murphy (D-Florida). As elected representatives on opposite sides of the political aisle who grappled with the gridlock in Washington, they will share their insights on how to forge a bipartisan path in a partisan world.
Jolly and Murphy are touring Florida's largest cities and college campuses to discuss "Why Gridlock Rules Washington and How We Can Solve the Crisis?"
The event, which is free and open to the public, will take place from 5:30 to 8 p.m. Tuesday, Feb. 13, at the Augustus B. Turnbull III Florida State Conference Center, 555 W. Pensacola St.
Carol Weissert, FSU's LeRoy Collins Eminent Scholar and chair of civic education and political science, will moderate Jolly and Murphy's discussion. The forum will be followed by roundtable conversations.
The event is the third installment in Power of WE's Shared Spaces Series where individuals spanning the spectrum of politics and life experience gather to share different perspectives and wrestle with the defining questions and shared challenges we face.
"The model of engagement Power of WE has pioneered on our college campus and the parallel success The Village Square has had in the city deserve to be elevated to the national stage, especially as campuses everywhere contend with how we navigate our differences in this polarized climate," said Inam Sakinah, founding chair of Power of WE.
"As we have searched for examples to emulate in doing our work in college communities, we've found the most effective partner right here in our hometown in the Power of We and Florida State University," said Liz Joyner, founder and CEO of The Village Square. "We are thrilled to have the opportunity to advance our work together."
The Power of WE is a student-run initiative, under the auspices of FSU Office of the President, designed to stem the tides of polarization and cultivate a campus culture of collaboration by creating spaces for engagement across different ideas and identities.
The Village Square builds community across ideological and demographic divides in a 21st century revival of the American town hall, where engagement across disagreement is embraced to solve big problems and launch big ideas.
To register for the event, visit bridgedivides.eventbrite.com.