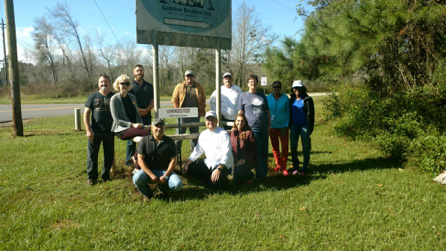 Florida State University's innovative food service team, Seminole Dining and Sodexo USA, has forged a new partnership that advances FSU's goal of serving up meals with the freshest, healthiest ingredients.
Seminole Dining has contracted with West Coast Mushrooms in Quincy. The farm, owned and operated by Abel and Alvaro Gamboa, uses sustainable farming practices in the production of white and brown mushrooms that can be harvested, packed and delivered within 24 hours.
Chantal Fortin, Seminole Dining's Sustainability Coordinator, calls the new partnership an exponential step forward in promoting a healthy menu and diet.
"The adoption of West Coast Mushrooms will enhance many elements of the dining program at FSU," Fortin said. "We are excited to help foster a positive and sustainable environment for the FSU community."
West Coast Mushrooms, which is able to produce up to 600,000 pounds of fresh mushrooms per week, now proudly displays a new sign that reads, "Seminole Dining Grows Here."
Seminole Dining is committed purchasing from the state of Florida first, an initiative it calls "Floridian Flavors." It was a unanimous decision to make West Coast Mushrooms a part of the exciting changes happening with FSU's dining program. Seminole Dining is always on the lookout to forge relationships with more local companies. Sodexo, FSU's dining partner, strives to make positive economic impacts in all the cities it operates in by supporting local businesses.
Co-owner Alvaro Gamboa called the collaboration a wonderful opportunity for the business and Seminole Dining customers.
"We are honored and excited to be chosen as one of Seminole Dining's premier farms," Gamboa said. "This will definitely benefit all involved, and I personally cannot wait to see where this partnership goes in the future."
Seminole Dining will have year-round access to these locally sourced mushrooms. In the process, the food service will be able to reduce its carbon footprint and help support a local business and its workers. In addition, Seminole Dining will create a more appealing "FSUnique" dining experience that features the freshest ingredients and caters to the particular tastes of the FSU community.
For more information, visit seminoledining.sodexomyway.com.