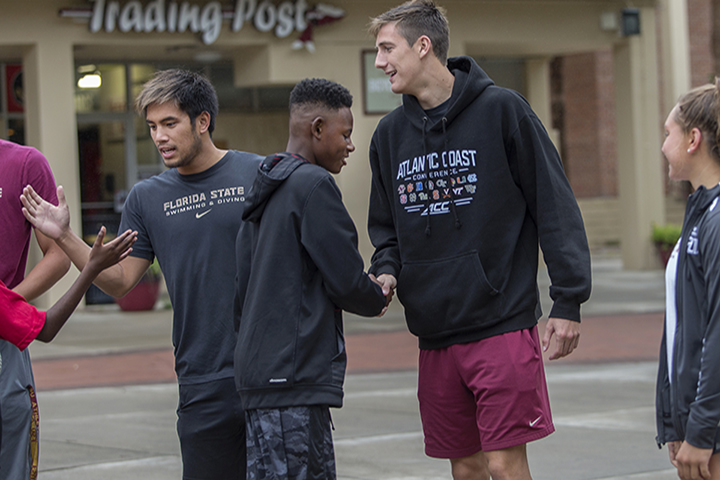 For the sixth consecutive year, Florida State University's College of Social Work brought dozens of middle school students to campus for a free, week-long summer camp from June 5 to June 9.
The brainchild of Dean Emeritus Nick Mazza, the CSW Arts and Athletics camp introduces youth from various backgrounds to the university environment and encourages them to pursue higher education.
"My background is in arts in social work," Mazza said. "I've worked with all ages and in particular young people. There's naturally art and poetry within children, and I thought combining art and athletics would provide an opportunity for positive development where youth can learn interpersonal skills and help build self-esteem."
Each day the camp offers enriching activities such as poetry lessons and music therapy sessions. They even interact with some of the university's registered student organizations like PeaceJam Southeast.
The athletics aspect of the camp brings the middle schoolers and FSU student-athletes together to interact over physical activities like football, bowling and even simple games of four square.
Connor Kalisz, a senior on FSU's swimming and diving team, has participated in the camp for the past two years.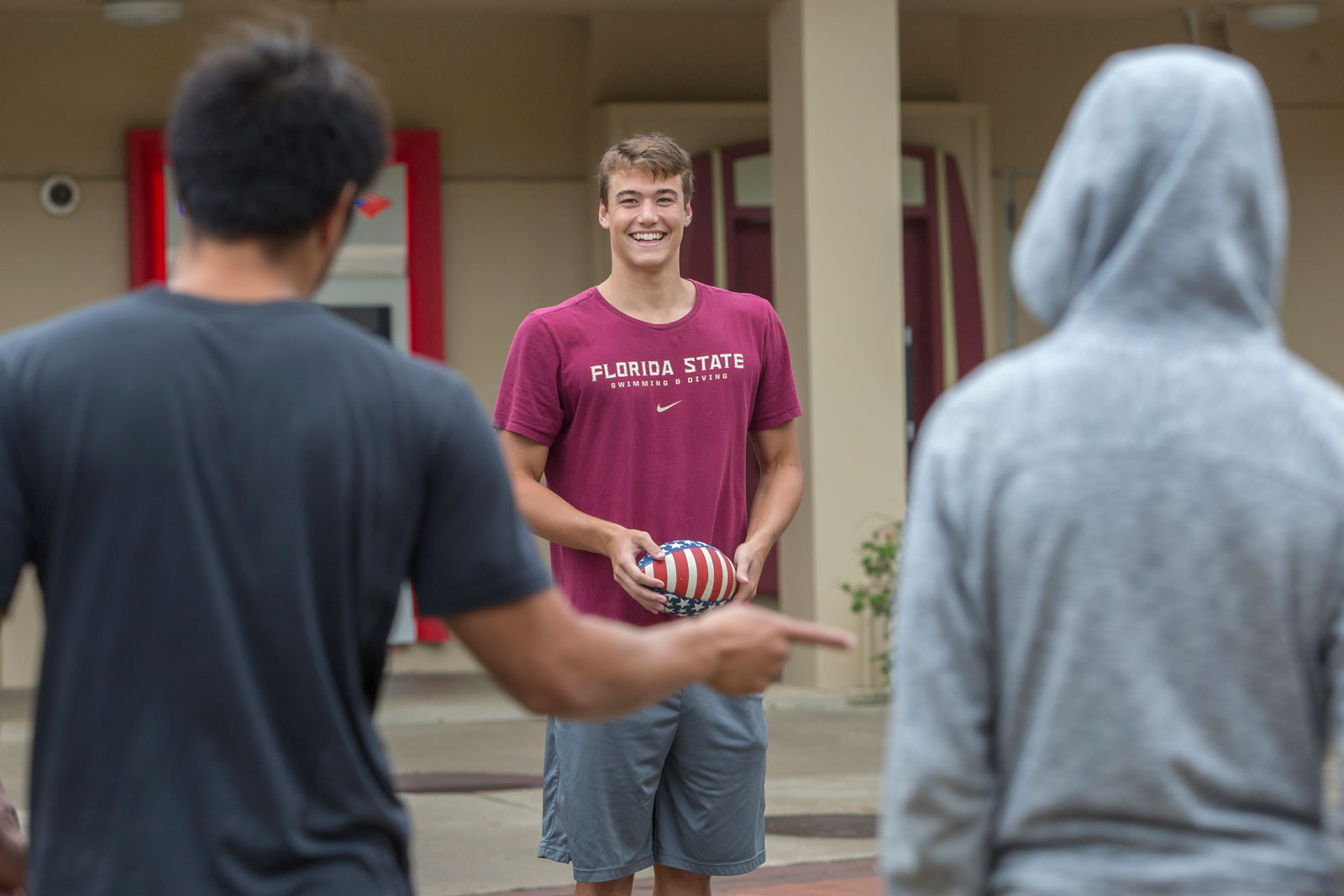 "We try to give back to the community as much as possible," Kalisz said. "I think the camp helps lay a solid foundation for the kids over the summer. It keeps them out of trouble and, in turn, we get to prepare the next generation of Noles. It's pretty rewarding."
Fellow swimmer Paige Schendelaar-Kimp is a freshman from New Zealand. She too enjoyed interacting with the community, and she said playing with the kids reminds her of her younger sister back home.
"I know she looks up to athletes as role models, whether students or professional. She'd love to be doing this," she said.
FSU kicker Logan Tyler also came out to have some fun with this year's campers.
"Growing up I had role models, they were a driving factor in my success and an inspiration," Tyler said. "It's crazy because, I just kick a ball, and these kids run up and have a bunch of questions for me. I try to tell them I'm just a regular student, but it's a pretty cool experience. Just because I play football, just because I wear a jersey on Saturdays, I'm considered a role model."
While it's clear FSU student-athletes are getting as much out of the camp as the campers themselves, a service-learning component is also included in the camp for FSU students from a variety of disciplines. They participate as camp counselors, allowing them to develop leadership and community service experience.
This year's camp was coordinated by social work graduate student Alex Givens.
"It's amazing to see the growth over my three years here," Givens said. "We have a lot of returnees. To see the growth and the excitement to come back on campus from last year to this year is amazing."
Givens said she's most fond of the opportunity for the campers to see the student-athletes as regular people and not the all-stars they make them out to be in their minds.
"Their meeting and interaction shows them that if they work hard, they'll be able to achieve greatness themselves," Givens said.
For more information on the camp visit http://csw.fsu.edu/service/csw-arts-athletics-camp.