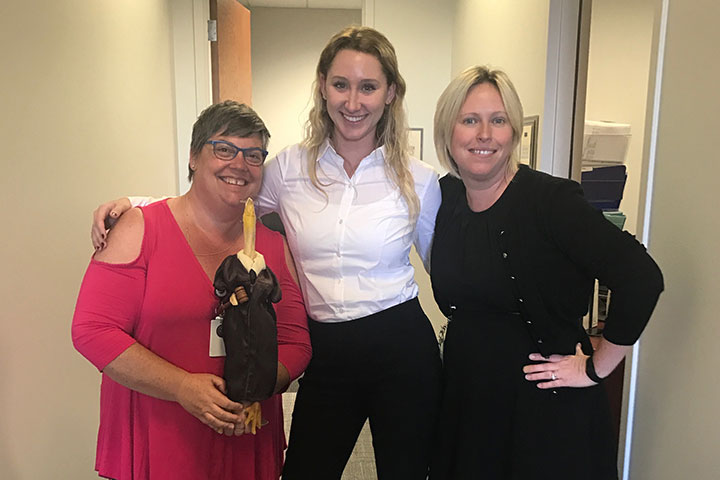 The Florida State University Career Center's recently launched job shadow program — FSUshadow — has led to rising internship opportunities over the past year.
FSUshadow is designed to help students gain knowledge and develop career-related, decision-making skills. The program provides students the opportunity to shadow employers, community partners, alumni and friends of the university to gain insight into a wide variety of career fields and industries.
Since FSUshadow's introduction in fall 2016, student participation increased by 181 percent for its Spring Break 2017 session and included businesses and organizations throughout the nation. Students participated in 149 unique FSUshadow experiences ranging from the U.S. Army, health care, a federal intelligence agency and the film industry.
Kindred Lubeck, a senior psychology major, spent her Spring Break networking with employers and organizations through FSUshadow. The experience opened up more doors for her academic career than she imagined.
"With little previous experience, I considered not applying at all to the FSUshadow program because I wasn't confident that I would be matched with any of the opportunities," Lubeck said.
She went through three unique FSUshadow experiences, including the City of Palm Bay and the 12th Judicial Circuit Court. After a successful FSUshadow experience, Lubeck was offered an internship with pretrial services at the 12th Judicial Circuit Court.
"Had I not taken the chance and applied anyway, I never would have been given the opportunity to shadow with the 12th Judicial Circuit Court, nor would I have been offered this internship," Lubeck said. "I am so thankful that I applied to take part in the FSUshadow program."
For Lubeck, her experience with FSUshadow helped reinforce and clarify her career interests and put her on track with her future goals.
"I have become inspired to do the best that I can in my academics," Lubeck said. "One major thing that I got out of the experience was learning that anything is possible if you put yourself out there. The first step is to just apply."
For students interested in applying the next opportunity to participate in FSUshadow is during 2017 Winter Break, Dec. 18-21. All FSU undergraduate and graduate level students are invited to join and connect with various employers to gain firsthand experience in the career field of their choice.
For more information, email cc-gain-experience@fsu.edu.