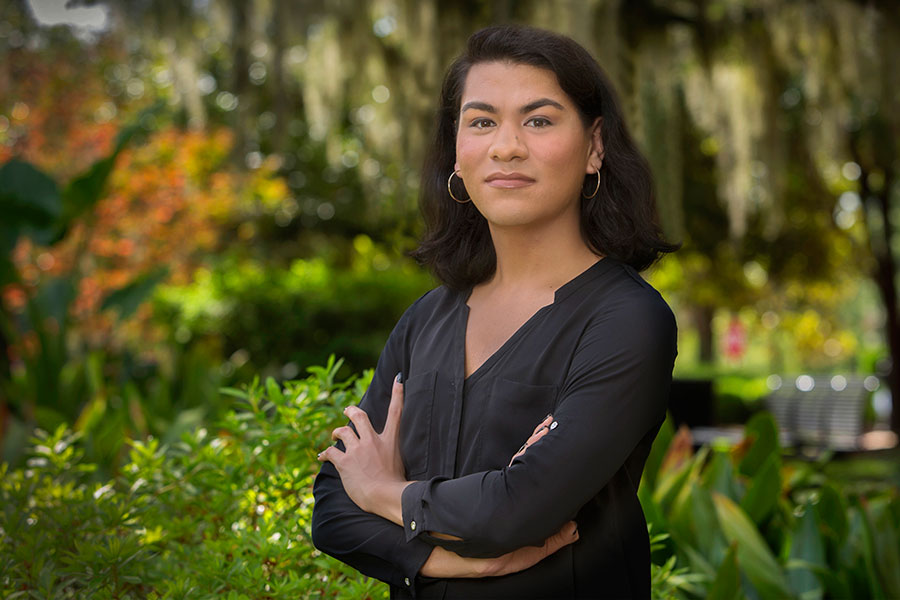 Florida State University rising senior Roberto Flores has received a 2017 fellowship by Humanity in Action an international organization that educates and inspires young leaders who are passionate about changing the world. 
Flores, 21, is one of 30 undergraduate students and recent graduates from the United States and Europe who were selected as winners of the John Lewis Fellowship, the American program of the Humanity in Action Fellowship.
"I'm interested in uplifting marginalized communities and really understand the problems marginalized communities face from a very holistic standpoint," Flores said. "I think the Humanity in Action fellowship does a really good job of that because it addresses economic, political and social pasts and how they affect marginalized communities today."
The John Lewis Fellowship focuses on issues of diversity within the United States, with a particular emphasis on Georgia and the American South. This year's program will be held July 5-30 in Atlanta and will explore issues related to restorative justice. Fellows will participate in daily lectures and discussions with renowned academics, journalists, politicians and activists, as well as site visits to nonprofit and community organizations, museums and memorials.
A double major in piano performance and interdisciplinary social science, Flores was born in Mexico City and moved to McAllen, Texas, at age 10.
Like many immigrants, the Flores family moved to the United States for economic opportunity and the chance for a better life.
"In the back of my mind, and after talking with my dad, I've always wondered why is it that the United States is economically successful and my country isn't?" Flores said. "Why did I have to leave my family and friends and my entire life? That's shaped how I look at the world."
Flores believes the answers to those questions are not random, and the topics the fellows will discuss during the program will offer them insight on these issues.
"There are a lot of nuances and complexities that play into it," Flores said. "It definitely has inspired me to do my own research to find out why things are this way."
Flores, who has played the piano since age 5, originally came to FSU to study piano performance with Professor Read Gainsford in the College of Music. The dean's list student's interest in social justice developed as Flores became involved with organizations and programs around campus such as the Pride Student Union, PeaceJam and the Service Leadership Seminar.
"The amazing thing about leadership development at FSU is it is focused on social justice," said Flores, who is thinking about attending law school after graduation. "It's not just about leadership in a sense of directing and commanding respect. It's about really being able to understand the needs of the people around you and listening to them."
Humanity in Action fellows are required to build upon discussions on social issues after the four-week program by producing Action Projects, which grapple with these issues in society.

"It's going to be amazing to take what I learned there and apply it to the actual project," Flores said.
For more information about the Humanity in Action Fellowship, visit http://www.humanityinaction.org/programs/14-humanity-in-action-fellowship.