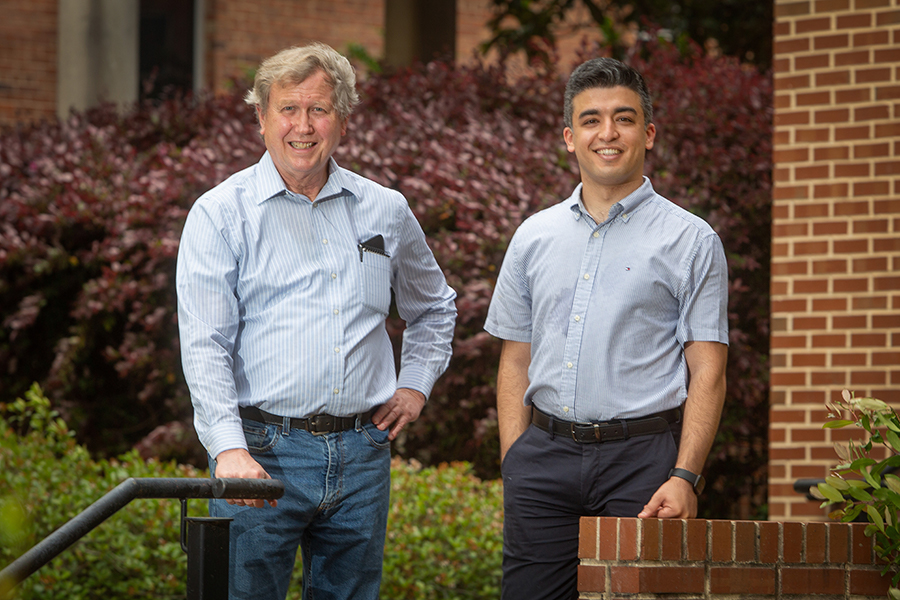 Florida State University's Institute of Molecular Biophysics is bringing together a set of international experts to share scientific ideas about cryoelectron microscopy, or cryo-EM, and molecular mechanisms of various biological processes on May 13-14 during the Kenneth A. Taylor Symposium on Cryo-EM and Muscle Biology.
More than a dozen scientists from institutions across the U.S. and U.K. will present work related to cryo-EM, a type of electron microscopy involving microscopes that use beams of electrons instead of light to form images of samples. They will also honor the lifetime achievements of one of the cryo-EM field's founders, FSU professor of biological science Kenneth Taylor.
Taylor began his cryo-EM work as a doctoral candidate at the University of California at Berkeley, where, alongside his doctoral adviser, Robert Glaeser, he made a breakthrough in the 1970s that significantly advanced the field. Taylor's continued work has fundamentally impacted the field of muscle biology through research into atomic structures of proteins and muscles. He was most recently named Distinguished Scientist for 2022 by the Microscopy Society of America, an award he credits to the academic life at FSU.
"In reality, I didn't earn the Distinguished Scientist Award by myself," Taylor said. "I have been aided by a nurturing university and a stimulating academic environment with supportive colleagues, highly skilled collaborators, technicians, postdoctoral researchers and graduate students who, to borrow a phrase, are unafraid to boldly go where no one has gone before."
Given Taylor's decorated publication record and groundbreaking research, he has similarly forged new paths in cellular, molecular and muscle biology.
Images obtained from cryo-EM techniques are projections of a three-dimensional structure onto a two-dimensional film, like an X-ray image of your body.
"Because the wavelength of an electron is much shorter than the wavelength of light, electron beams reveal much smaller objects including positions of individual atoms," Taylor explained. "However, electrons scatter strongly from air, meaning objects must be viewed under vacuum within the column of an electron microscope. A sample had to be dried before being placed in the microscope, and if not, soon would be."
Taylor's doctoral research demonstrated that frozen and fully hydrated samples could be imaged by electron microscopy if kept at near liquid-nitrogen temperatures while in the microscope's vacuum. Today, cryo-EM is used to generate images of viruses, protein molecules, RNA, DNA, nucleoproteins and complex biological machines inside the cell at nearly atomic resolutions, invaluably enhancing scientists' understanding of biomolecular function.
"Ken's doctoral research demonstrated the feasibility of obtaining high-resolution image data from unstained protein crystals embedded in ice, which turned out to be a critical technique needed for the structural biology revolution the field is currently experiencing — to observe biological molecules at atomic resolutions," said Hong Li, director of the Institute of Molecular Biophysics and professor of chemistry and biochemistry. "Ken also used cryo-EM to image muscle molecules that have significantly contributed to our understanding of muscle biology."
Since coming to FSU in 1995, Taylor has played a main role in the direction of the Institute of Molecular Biophysics by facilitating the development of the Biological Science Imaging Resource, a state-of-the-art cryo-EM and confocal microscopy imaging center, through grants from the National Institutes of Health and National Science Foundation.
"This symposium will provide an outstanding opportunity to highlight Ken's spectacular career," said Sam Huckaba, dean of the College of Arts and Sciences. "He led the way in bringing cryo-EM to Florida State University and has been at the very center of its growth and development."
The Taylor Symposium kicks off at 8:30 a.m., Friday, May 13, with President Richard McCullough opening and discussions about muscle biology and single particle cryo-EM. On Saturday, FSU alumni who studied under Taylor and researchers who have collaborated with the structural biologist will present, followed by a discussion of structural biology and hybrid methods.
The symposium is sponsored by FSU's Institute of Molecular Biophysics, FSU Sponsored Research and the Donald Caspar Fund, organized by professors Scott Stagg and Beth Stroupe and named in honor of the late renowned structural biologist and professor emeritus Donald Caspar, who worked alongside Taylor. It is also co-sponsored by major developers and manufacturers of electron microscopes and other scientific instruments JEOL, Thermo Fisher Scientific and Direct Electron. Presenters include FSU alumni and former researchers as well as researchers from Stanford University, Yale University, the University of Virginia, Imperial College, the University of Missouri, the University of Pennsylvania, the University of California San Francisco, the University of California Berkeley, Scripps Research and the University of Massachusetts Chan Medical School.
"As you might imagine, taking images of atoms in a microscope is particularly challenging. What makes it even more challenging is that the radiation you are using to analyze the sample is damaging the actual object we're looking at," Taylor said. "In the future, cryo-EM will tell us more about biological structure than we ever dreamed would be possible, thereby revealing more about disease mechanisms than we ever thought possible."