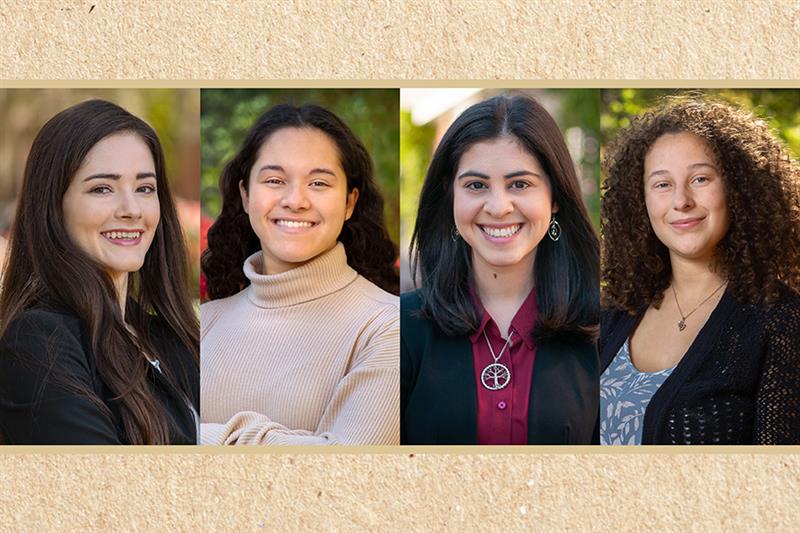 Four Florida State University students have earned research grants through the National Science Foundation's Graduate Research Fellowship Program (NSF GRFP). 
The GRFP recognizes and supports students in STEM disciplines who are pursuing research-based master's and doctoral degrees. The fellowship includes three years of financial support toward a doctoral degree, including an annual stipend of $34,000 and a cost-of-education allowance of $12,000 to the institution they attend. 
Jessica Dixon, of Melbourne, Florida, who earned a double major in molecular neurosciences and statistics, will continue her research at Harvard University, where she will pursue a doctorate in neuroscience. 
Leanna Gharbaoui, of San Diego, earned her undergraduate degree in biochemistry and will pursue a doctorate in chemistry at Yale University. 
Trystan Loustau, of Jacksonville, Florida, graduated with her bachelor's degree in psychology and will pursue a doctorate in social psychology at Boston College. 
Annais Muschett-Bonilla, of Houston, is a doctoral student in marine biology at FSU. 
Adrienne Stephenson, assistant dean of The Graduate School and director of the Office of Graduate Fellowships and Awards at FSU, said NSF grant makes a lifetime impact. 
"Through this program, the NSF is investing in students now and grooming their potential to make them part of the larger pool of the STEM workforce," she said. "The goal is to prepare these students for the next stages of their careers, and it does that fantastically."
Stephenson hailed the fellowship program for the way it allows graduate students to concentrate on research instead of working additional jobs to make ends meet.
"When they don't have those duties or additional responsibilities, it gives them more time to focus on their research, without the worry of financial hardship that many students face," she said. 
The awardees agreed. 
Muschett-Bonilla, who is six months pregnant, said she especially appreciates the fellowship as she continues her research of marine life, including sharks, skates and rays. 
"The kind of research I do is very expensive, but it's also seasonal so, when we're not in the field, we can be working at home," she said. "This will allow me to focus on my research and also be home while I do that." 
Dixon, who will focus on glial biology, said she sees benefits from the grant beyond the financial help. 
"It's on my record forever as funding I have received," she said. "If you can build a record of funding and academic success, it helps you as you move forward. It's an amazing launching-off point for any future grants I might apply for."
Gharbaoui credited professors and staff members who encouraged her to apply.
"I'm really shocked that I got it," she said with a laugh. "It's a really esteemed fellowship and difficult to get, so I have to acknowledge the professors who have taught me in my time here and the people who supported me in this application."
Loustau, whose research will focus on applied morality, echoed Gharbaoui.
"To earn something like this takes a village," she said. "My village consisted of staff in the Office of National Fellowships, my lab mates, and instructors — even my mom. Each of those people were instrumental in building a complete application, and I'm so grateful to them for making this possible."