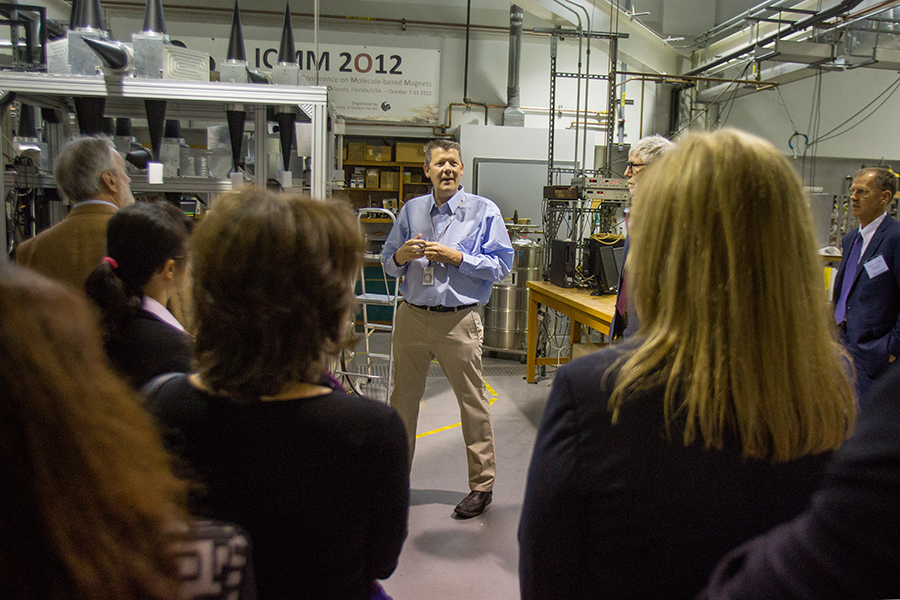 Visit marks the first time the Group of Senior Officials for Global Infrastructures has met in the United States.

Florida State University played a key role this week as a group of international scientific leaders met at the FSU-headquartered National High Magnetic Field Laboratory to talk about the future of international cooperation in science.
The United States hosted the 11th meeting of the Group of Senior Officials for Global Infrastructures — a group established as part of the G-7 or the group of seven nations with the largest, most advanced economies in the world. This was the first time the group has met in the United States, and the MagLab was selected as the venue because of its important capabilities in supporting scientific endeavors and its extensive level of international engagement.
"It was an honor to be chosen by the United States as the venue for such a prestigious meeting," said Vice President for Research Gary K. Ostrander. "The work this group does in exploring international cooperation through science can really affect how we approach scientific endeavors in the future."
Group of Senior Officials (GSO) is an informal forum established in 2008 to explore international cooperation on Global Research Infrastructures (GRIs), enhancing collaboration, coordination and best practices. The current GSO members are policy-level representatives from the G-7 countries, the European Commission and seven other countries with major investments in research infrastructure.
The GSO has developed a framework for global research infrastructure best practices, which is a living document last reviewed and approved by the G-7 Science Ministers' meeting in 2013.  As part of its work, the GSO evaluates case studies in the context of this evolving framework to help further refine the related international best practices and current policy areas of interest.
MagLab Director Gregory Boebinger presented a case study during the meeting — a look at how the MagLab hosts scientists from around the world, conducts its own in-house research program and facilitates outreach programs for students and the community to grow excitement about the science being done at the lab. Boebinger also reported on how the lab measures economic impact, encourages international mobility and provides access to the facility based on a merit review process.
"We are happy to have had an opportunity to showcase how we do things at the MagLab" Boebinger said. "This distinguished group represents important science policymakers who work toward building understanding and cooperation among science facilities around the world."
Delegates toured the MagLab during their time in Tallahassee where they listened to Boebinger and several other MagLab scientists explain various aspects of how the lab worked and different research conducted there.
The delegation also visited the FSU campus, where they met FSU President John Thrasher and other administrators, and they made off-site visits to scientific facilities in Georgia and Louisiana.