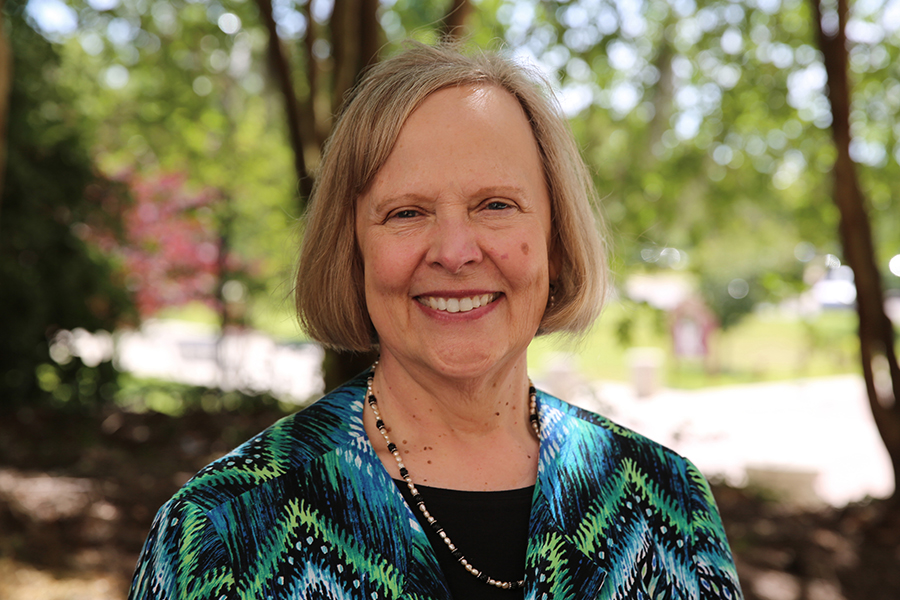 Florida State University is on the rise: record-breaking application numbers, all-time high graduation and retention rates and a U.S. News & World Report ranking of 33rd best public university in the nation.
At the root of this incredible success is inspirational leadership from campus administrators like Dean of Undergraduate Studies Karen Laughlin.
"This work has involved many people, but what we have done in Undergraduate Studies has contributed significantly to the university's upward march," Laughlin said. "We still are not satisfied with where we are and will keep pushing forward. When we get to the Top 25, we will want to be in the Top 10."
Laughlin has spent her entire professional career at Florida State, joining the faculty 36 years ago as an assistant professor of English in 1982.
Laughlin, who earned bachelor's degrees in English and French from Duke University, began her academic career wanting to share her love of language and literature with students. After completing a Fulbright fellowship that enabled her to teach English at a high school in Limoges, France, Laughlin headed to the University of Toronto, where she earned master's and doctoral degrees in comparative literature.
It was through her involvement in the FSU Faculty Senate, serving on various committees and eventually as Senate president in 2000-2002, that Laughlin became interested in the administrative side of the university.
"It was so interesting to see how the wheels of the university worked, and I began to see how I could make positive change," Laughlin said. "What I found for myself at Florida State is what I hope we are helping create for students — a host of opportunities to develop personally and professionally."
Laughlin's continued desire to serve students led her to become Dean of Undergraduate Studies, a role she has held and excelled in for the past 15 years.
"When I first got here, being a dean wasn't in my initial plan," Laughlin said. "The position appealed to me because I saw it as a way to make a positive impact on the lives of students in a different way than as a professor."
Her field of specialization is modern drama, and she jokes that her role as dean has fed both her love of the stage and her experience with drama of all sorts.
IMPACTING STUDENTS' LIVES
The Division of Undergraduate Studies works to help students develop a sound academic foundation during their first two years at FSU before they enter their major field of study. Since becoming dean, Laughlin has focused on boosting retention and completion rates by making sure students are supported and connected to the university.
To achieve these objectives, she has made advising a stronger and more intensive process and implemented academic mapping to help students graduate in four years. Laughlin also advocated for more programs to enrich student engagement on campus, serving students along the continuum of academic achievement.
"Engagement is key in making sure students are successful and thriving," Laughlin said. "We want to make sure students' lives are enriched not just through the classroom but through providing them with organizations and activities they connect with."
"Engagement is key in making sure students are successful and thriving," Laughlin said. "We want to make sure students' lives are enriched not just through the classroom but through providing them with organizations and activities they connect with."
Students are connecting and succeeding at Florida State now more than ever before. The freshman retention rate is at an all-time high of 94 percent, and the four-year graduation rate is better than 68 percent, which puts Florida State among the Top 15 research universities in the country.
"I love what I do and having the chance to really make a difference in the lives of Florida State students," Laughlin said. "There have been so many chances for me to strengthen the university, and I have seen this as an exciting opportunity."
Laughlin impacts students' lives from the first moment they set foot on campus. She and her staff are determined to make students feel at home at FSU and provide them with a strong academic foundation to build upon.
"It's exciting to talk to a really bright student and gratifying to see how much they are gaining from their education at FSU," Laughlin said. "It is also a source of satisfaction to help those who are struggling, academically or personally, and help them find a way to move forward."
Laughlin credits much of the student success to her team.
"The faculty and staff who work in Undergraduate Studies are student-focused, creative, dynamic and energetic people who love students and want to see them thrive," Laughlin said. "I am lucky to have such an amazing team; they deserve a lot of credit for the success we have seen."
---
Above: Laughlin was recently interviewed during the Gates Foundation podcast, "To a Degree," about the importance of undergraduate advising in improving student outcomes.
---
KEYS TO SUCCESS BEYOND THE CLASSROOM
Laughlin is responsible for a number of programs that reach across the campus, such as academic advising and college life coaching, the Office of National Fellowships, the Center for Undergraduate Research and Academic Engagement, the Honors Program, Global Scholars, Unconquered Scholars, the Center for Academic Retention & Enhancement (CARE), the Academic Center for Excellence and Freshmen Interest Groups.
These programs play a key role in helping students connect with the university and get the most out of their college experience.
"One of the ways we make sure students flourish in a collegiate environment is by providing them with the opportunity to participate in activities that appeal to their abilities and passions, whether it's through research, a mentor or an organization — those are the things that really make a difference in a student's life," Laughlin said.
CARE and Unconquered Scholars, which help traditionally underrepresented students, are two programs close to Laughlin's heart.
"These students have overcome incredible obstacles to be here," Laughlin said. "They are supporting each other in a way that is really powerful. We can do a lot as administrators, but students learn the most from each other."
Laughlin will continue pushing Undergraduate Studies forward and assisting in FSU's effort to reach the Top 25. She is working to add more engagement programs to continue making sure every student at FSU feels at home.
One of those programs is Engage 100, a new initiative designed to help students connect with each other, get involved in campus activities and challenge themselves during their first year at FSU — paving the way to future success in college. The program features small, mentor-guided group experiences that will help students acclimate to university life.
The Honors Program is being enhanced by the hiring of three new specialized faculty members who will teach honors classes as part of a newly developed curriculum. These changes will allow for a more unified academic experience for honor students across all majors and disciplines.
Laughlin also serves as chair of the State University System Academic Deans Council and is a board member of the Reinvention Collaborative, a group that focuses on enhancing the undergraduate experience at research universities. She utilizes these organizations to collaborate and bring back ideas from other elite universities.
Outside of being dean, Laughlin still enjoys teaching English and traveling abroad through FSU's London Program. Her other passion is practicing Tai Chi.
"During my career, I feel like there have been so many chances for me to develop as a person," Laughlin said. "Working at FSU has created a truly satisfying professional life for me."
For more information about the Division of Undergraduate Studies, visit undergrad.fsu.edu.