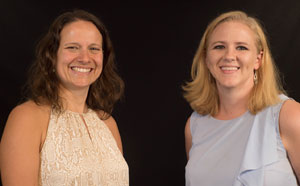 The Florida State University-headquartered National High Magnetic Field Laboratory (MagLab) is part of a new $1.2 million project to help support Twin Cities PBS SciGirls CONNECT, a program that encourages educators nationwide to adopt research strategies that engage girls in STEM.
Awarded by the National Science Foundation (NSF), the project will examine how gender-equitable and culturally responsive teaching strategies used through SciGirls influence middle school girls' confidence, motivation and interest in STEM studies, and ultimately, their choices of STEM careers.
"SciGirls CONNECT has demonstrated continued evidence-based success in improving all girls' interest in STEM careers," said Roxanne Hughes, director of education and diversity initiatives at the MagLab. "Our own SciGirls program is what attracted me to the MagLab, and I am incredibly honored to be leading the research team."
SciGirls is an Emmy-award winning PBS show, website and outreach program geared toward engaging girls between the ages of 8 and 13 in STEM. The MagLab has hosted a local SciGirls camp in partnership with WFSU for more than a decade, reaching more than 300 girls in the Tallahassee area.
SciGirls also has a program called SciGirls Connect, a community of more than 140 educational partner organizations across 34 states and Puerto Rico that provides training and resources to administer SciGirls programs. One such resource is a set of strategies, called the SciGirls Seven, which helps educators inspire girls through collaboration, creativity, open-ended activities, critical thinking and role modeling.
Twin Cities PBS, the lead recipient of the grant, will bring together 16 geographically-diverse partners that have been trained on the use of the SciGirls Seven. The partners reach youth in all-girl and co-ed informal STEM educational environments. More than half serve Hispanic or other minority populations.
Ultimately, the grant will update and enrich the SciGirls Seven. The improvements will give more than 2,500 educators in the SciGirls network a more effective resource to motivate girls to pursue STEM studies and careers. The updated set of strategies and the research behind them will also be shared with the National Girls Collaborative Network of 18,000 STEM educational organizations and through PBS Learning Media, which reaches 1.5 million teachers.
Hughes and Kari Roberts, evaluation coordinator at the MagLab, are leading the research portion of the grant. They will evaluate educators' perception and implementation of the SciGirls Seven strategies, review the latest research on gender equity and study how the strategies impact girls' attitudes about STEM.
Their research will focus on how these programs affect participants' STEM identity. Part of this research will include the quantitative comparison between pre- and post surveys for participants in the 16 programs, as well as in-depth case studies of a sample of these programs.
Hughes previously analyzed a group of former SciGirls and discovered that half went on to major in a STEM field, and most of the non-STEM majors incorporated STEM into their chosen fields, such as early childhood education and music therapy.
"For five years, SciGirls CONNECT has empowered informal and formal educators nationwide to adopt the research-based strategies that best engage girls in STEM," SciGirls Managing Director Rita Karl said. "We are grateful for this opportunity to work with the MagLab's education team to research how these gender-equitable strategies inspire girls around STEM learning."