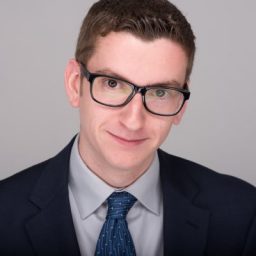 Florida State University meteorology student Matt Reagan has been fascinated with weather, especially the fearsome power of hurricanes, since he was 7 years old. He dreamed maybe one day he'd be able to watch the weather, analyze it, and talk about it for a living.
But he never could have dreamed that in his senior year at FSU, a social media post would suddenly thrust him into a global spotlight, before tens of millions of people, to talk about his favorite topic — the weather.
"That was the pinch-me moment," Reagan said. "I was like, 'There's no way that this is happening.'"
It happened during the overnight hours of Thursday, Sept. 1, and Friday, Sept. 2. Reagan was intent on working in FSU's television weather studio and providing the latest and best information about Hurricane Hermine, the first hurricane to blast directly through Tallahassee in 31 years.
The storm marked the first time he'd be able to use the skills and expertise that he'd worked so hard to master in FSU's renowned meteorology program: his many years of math, his efforts to earn a certificate in emergency management, his laser focus on tropical meteorology and keen interest in social media.
Hermine was Reagan's perfect storm. All the pieces of his personal puzzle converged with the weather conditions developing just south of Tallahassee: winds of 115 mph over Apalachee Bay, storm surges of over 10 feet, heavy rainfall of up to nine inches in parts of the Big Bend.
The storm gathered strength in the Gulf of Mexico as it sprinted toward the Big Bend, juked a little toward the north, and landed a direct punch that stung the city and knocked out power across the region for days.
Reagan and 10 other meteorology students were in the basement of the Love Building — home of Florida State's meteorology program and weather studio, where they stream online forecasts at livestream.com/fsuweather. They had planned for this moment and volunteered to work overnight as the storm churned ashore.
Jon Ahlquist, associate professor in the Department of Earth, Ocean and Atmospheric Science, helped the "Hermine 11" put together their ambitious plan to deliver first-hand accounts of the storm, but he wanted to make absolutely sure they were safe. He insisted that students stay in the windowless basement studio of the all-brick Love Building until the hurricane passed. No one could leave the building during the storm and that would mean working in a powerless broadcast studio and sleeping on a very thin carpet on top of concrete.
"It's not going to be very comfortable," Ahlquist told them. "You would be much more comfortable in your own home."
A week before Hermine became the first hurricane to hit Florida in 11 years, there wasn't much reason to be concerned about living conditions in the Love Building's weather studio. The storm, initially designated Invest 99-L as it moved past the Bahamas and Cuba, struggled against stiff wind shear.
But Reagan was nonetheless watching closely because he thought the low-pressure system might move into an area in the Gulf where it could strengthen under less wind shear and more favorable conditions.
"We were watching Hermine since it was a blob of nothing near the Bahamas," Reagan said. "Then finally it developed in the Florida Straits, and the first forecast cone brought it toward the Big Bend. The big meteorology buzz here was, `This is big.'"
That buzz quickly went viral as the world watched the storm take direct aim at Florida's capital. In a universe where social media becomes the main source of information in a disaster, #Hermine took over every platform.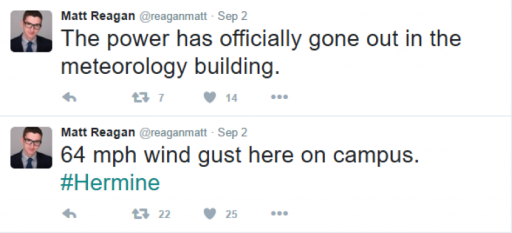 Suddenly Reagan's #Hermine tweets were on the radar of people around the world looking for the latest information about the storm. His tweets helped make him a go-to source for many news operations, including ABC national news.
Reagan started receiving messages from news agencies, including the BBC, asking if he would provide live reports. He talked with a radio show in the United Kingdom, then in Ireland, then on the far-reaching BBC World Service.
"They said it would be on in Africa and Spain, and I'm like, 'OK, sure, I'll do it.' And it was at 3 a.m.," Reagan said.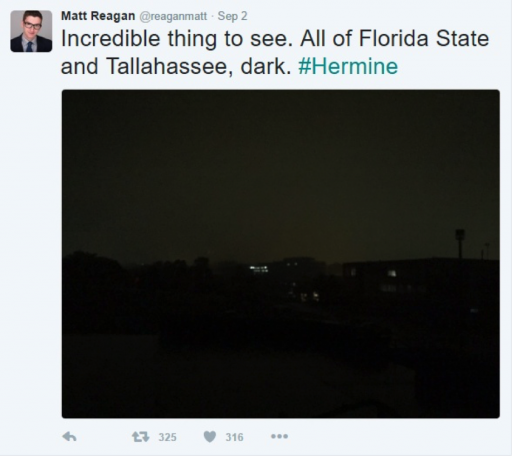 At the time, he had no idea how many people might be listening to the BBC World Service. Told later that it attracts an average daily audience of 30 million people, Reagan joked that, if he'd known that fact as he prepared to go live on the broadcast, he probably would only have been able to muster the words, "Uh, it's raining here."
But in reality, his quick-thinking, helpful weather reports received high praise from colleagues.
Reagan is amazed by the amount of attention the Florida State Meteorology Department has attracted as a result of the dedication of its students.
"Looking back at the exposure this has had, it's been far beyond what I ever thought it would be," Reagan said.
The "Hermine 11" join an exclusive club of FSU meteorology students who have delivered live coverage during a hurricane. The only other students to accomplish that mission responded to Hurricane Earl in 1998, a Category 1 storm that made landfall near Panama City on Sept. 3.
Ahlquist is proud of his students.
"What I have observed is, if you have good people, you can plunk them down in any situation and good people will make good things happen," Ahlquist said. "We had a bunch of good students down there, and they made good things happen. They streamed, they tweeted, and they got the attention of the BBC World Service."

To hear Matt Reagan's BBC interview, go to: http://www.bbc.co.uk/programmes/p046lngs.
To see video clips of FSU's meteorology students, go to: http://livestream.com/fsuweather. Look for their live weather shows at that link, or tune to Comcast cable channel 4 (4FSU) every weeknight between 6 and 6:30 p.m.