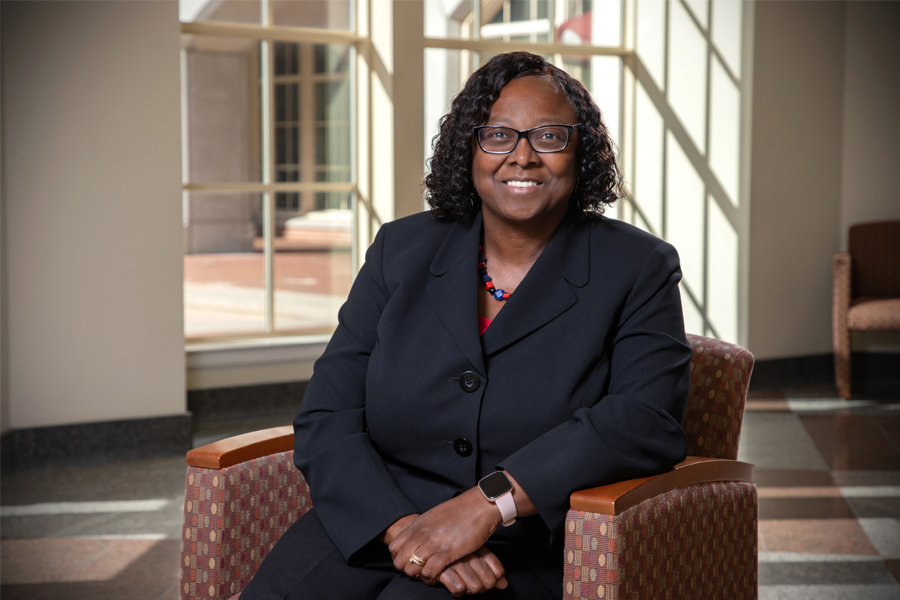 Florida State University Provost Jim Clark has named Dr. Alma Littles interim dean of the College of Medicine. The appointment will begin Feb. 1.
Littles, who has served as senior associate dean for medical education and academic affairs at the medical school for nearly 20 years, succeeds Dr. John P. Fogarty. Fogarty is retiring after 14 years as the College of Medicine's dean.
"Dr. Littles is assuming this role at an exciting time for the College of Medicine," Clark said. "Her long tenure at FSU combined with her relationships with the local health care community make her an ideal fit to lead the college, and we are grateful that she is willing to take on this challenge."
Littles grew up in Quincy as the youngest of 12 children and returned there following medical school to provide primary care in an area where such medical providers were scarce. The FSU College of Medicine was created to produce more primary care physicians, especially those who would care for older patients and patients in rural and minority communities.
"The medical school's mission sounded like my life story," Littles said. "I was from a rural area, and I was interested in the health care of people from rural areas and in recruiting more students from those places into medicine. The words in the mission statement about serving underserved communities were like they were written for me."
After graduating from the UF College of Medicine, Littles completed her family medicine residency at Tallahassee Memorial Hospital, later returning to serve as the program's director. She became the acting and then founding chair of the Department of Family Medicine and Rural Health not long after the FSU College of Medicine was created during the 2000 legislative session.
"Growing up, and having practiced medicine in a small, rural Florida town, I was acutely aware of the needs regarding physicians providing primary care and serving citizens in rural and other underserved areas of the state," Littles said. "It was my recognition of and commitment to this purpose that motivated me to leave the patient-care setting I loved to move to the FSU College of Medicine."
She also became acting dean of the Tallahassee Regional Campus when the first cohort of third-year medical students at FSU went out into community settings to complete their required and elective rotations. The college also went on to open regional campuses in Daytona Beach, Fort Pierce, Orlando, Pensacola and Sarasota.
In her role as a senior associate dean, Littles has led the college's accreditation efforts, the development and evolution of its curriculum and the expansion of its community-based education model that differs from the vast majority of medical schools.
FSU's model sends students across Florida for one-on-one, apprenticeship style clerkships with established community physicians. Most medical students in the U.S. complete their clerkships in a large teaching hospital or academic medical center. The goal at FSU is to also expose students to the role of community physicians and the value those individuals have in a patient's life.
From its initial class of 27 graduates in 2005, the college has produced 1,721 M.D. alumni, and recently graduated its fourth class of physician assistants. More than 1,000 FSU alumni physicians are now in practice (with more than 500 of those in Florida) while others are completing residencies and fellowships. Nearly 200 PA graduates have also entered the workforce.
Littles assumes leadership of the college at a critical juncture. FSU is partnering with Tallahassee Memorial HealthCare and the St. Joe Company to develop an academic health care campus located on an 87-acre parcel near Latitude Margaritaville Watersound, a 55-plus community planned for 3,500 homes in Panama City Beach.
The campus initially will include an ambulatory and urgent care center, for which a groundbreaking ceremony will take place Jan. 17. Future development plans include the construction of an urgent care center and a 100-bed inpatient facility in a region where the nearest hospitals are 30 to 45 minutes away.
The university also is preparing for the development of a new academic research building in Tallahassee with a $125 million appropriation from the Florida Legislature.
"The FSU College of Medicine can become a medical school that demonstrates the effective coexistence of a strong medical education program, robust research program, and formidable clinical faculty practice without shortchanging success in all areas," Littles said. "In addition to its strong educational programs, our clinical practices will need to grow in a manner that meets the medical school's mission and goals for patient care, provides clinical education sites for students and residents, and contributes to the growing clinical research initiatives.
"The clinical practices of faculty at the regional campuses provide a rich resource for clinical and translational research and education and require continued nurturing to allow the medical school to advance knowledge in the 21st century."