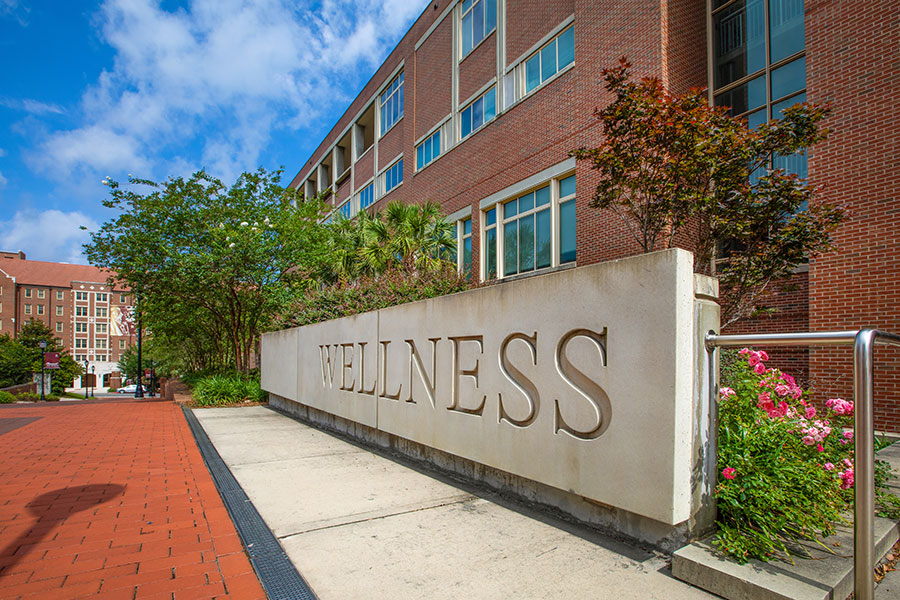 Aspects of society have adjusted to a virtual reality due to COVID-19, and doctors' visits are no exception. From physical therapy to psychiatric treatment and acute care, University Health Services (UHS) at Florida State University is continuing to provide quality care to students through telehealth services.
Telehealth is the distribution of health-related services and information via electronic information and telecommunication technologies. While telehealth has existed for more than 40 years, it has expanded exponentially over the past five years and has proven to be a valuable service in the wake of the COVID-19 pandemic.
For UHS, the need to implement virtual services became a top priority when many students left Tallahassee to finish the spring semester remotely.
"A lot of students were expecting to be in Tallahassee but are no longer located here, and some of them live in areas where it's hard to establish a new provider," said Dr. Christopher DeLisle, medical director at UHS. "Sometimes, we are their primary care provider, so being able to take care of their needs has gone a long way. We were able to put together such a good product in a quick amount of time, and we're proud of that."
UHS telehealth is available for a variety of conditions, including respiratory complaints, upper/lower extremity injuries, skin concerns, stomach concerns, eye problems and physical therapy. Since launching March 31, UHS has treated over 2,500 students through telehealth services, and more than 75 percent of all visits are currently being conducted through telehealth.
"Our top priority is the safety and well-being of our students, as well as our health center staff," said Amy Magnuson, director of UHS. "We're constantly identifying ways that we can further support the well-being of our students, whether that's through a virtual modality or in-person."
Establishing the program required collaborative coordination between clinicians, physicians, nurses, IT personnel and staff to develop clinical protocols, acquire hardware, train, develop policies, identify resources and ensure adequate infrastructure. Information Technology Manager Kelly Dykes helped create and implement telehealth at UHS.
"Telehealth was not a platform that we had in place, so we immediately started talking about what it would look like, how to make it happen and how quickly we could make it happen for our students," Dykes said. "We pulled together a task force to look at policy, procedure and online security, and to make sure we were covering all our bases and that the users felt that they could provide adequate care to the patient through that platform."
Telehealth appointments take place via the HIPPA-compliant Zoom app, and if the physician or clinician feels like a patient has conditions that need to be seen in-person, then they will recommend that patient to someone in their community.
"If a patient needs an injection, you certainly can't give that through telehealth," DeLisle said. "We know telehealth isn't amendable for everything, so having that person see someone in their location would definitely be appropriate."
For patients located in Tallahassee, the Health and Wellness Center is offering certain services for acute issues face-to-face. All face-to-face visits are seen at the Health and Wellness Center priority clinic on the first floor, which allows UHS to consolidate their resources into one area and reduce capacity to help with social distancing.
"If a person who we've seen before with diabetes needs a refill of their insulin, we don't necessarily want a diabetic patient to go to a physical visit and potentially expose themselves to other illnesses if we can handle that visit through the telehealth," DeLisle said. "We can have the same discussions, order the same lab testing and write the same medication, and I think that's something great that we can offer now, and our students have been very happy with that service."
For patients who need any type of testing, the physician or clinician can place an order for them to take to the nearest LabCorp or Quest lab. Once UHS receives the results, a clinician or physician can quickly and securely update the information on the Patient Portal, making it easier for patients not located in Tallahassee to continue receiving care.
Through the UHS Patient Portal, patients can also message their physician or clinician, submit refill requests and have access to their clinical records. When patients are referred to external providers for an in-person visit, they can quickly pull up the information from their UHS telehealth appointment on the UHS Patient Portal.
"It's about meeting the student where they're at and meeting their needs and how they interact in their space," Dykes said. "Online engagement is a huge part of our students' world, so being able to provide telehealth services online for them is critical to keep moving forward."
As part of FSU's Fall 2020 plan, UHS will keep telehealth services in place while also resuming more face-to-face appointments. In addition, UHS will serve a prominent role in FSU's COVID-19 testing and collaborate with campus partners to ensure a successful testing process for students, faculty and staff.
"Taking care of our student population is priority number one," DeLisle said. "That's who we serve and being able to offer them care where they normally would not have had it was important. If we can provide services through telehealth to give students — our patients — the healthcare they deserve, then we'll do whatever we can to continue to help."
For more information about UHS and telehealth services or to make an appointment, visit uhs.fsu.edu/telehealth.