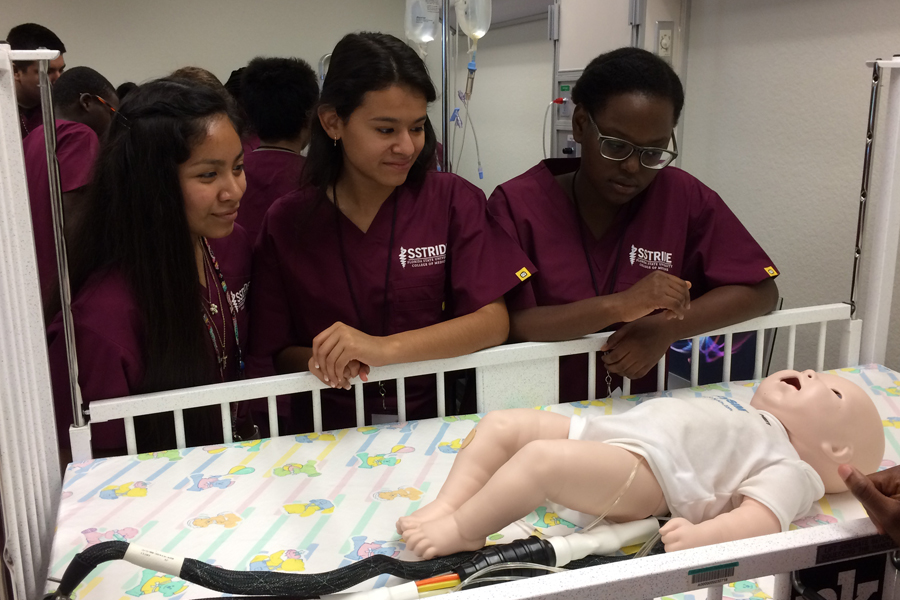 Twenty-two Immokalee High School seniors completing a college pipeline program with the Florida State University College of Medicine have combined for more than $2 million in college scholarship offers.
"This SSTRIDE Class of 2020 from Immokalee has exemplified what the vision of SSTRIDE was created to achieve," said Thesla Berne-Anderson, executive director of college and pre-college outreach at the College of Medicine and founder of the SSTRIDE program. "This vision included preparing and developing students for success. For me, success is achieved by taking a dream and making it come true, which is exactly what these students have done by their perseverance, college acceptances, and total scholarships received."
The college's SSTRIDE (Science Students Together Reaching Instructional Diversity and Excellence) program works to identify underserved, high-achieving students who have a genuine interest in pursuing careers in science, technology, engineering, math or medicine (STEMM). The program provides students with the education, experiences and support to succeed in college while fostering their interest in these fields.
The College of Medicine developed the program to increase the number of students from medically underserved communities interested in careers in health care, a mission that's been successful in Collier County, where the SSTRIDE chapter was established through a gift from the Naples Children & Education Foundation (NCEF), founder of the Naples Winter Wine Festival. The festival has raised more than $212 million for programs supporting the education and welfare of children.
Britney Garcia, one of five SSTRIDE graduates who will attend FSU this fall, plans on majoring in clinical professions and hopes to ultimately pursue a career in pediatrics.
"I also see myself mentoring future first-generation college students in Immokalee," she said. "Many students here are first-generation students, and I want to become an inspiration to them and motivate them to overcome personal challenges."
The pipeline program came to Collier County in September 2016 through the work of Elena Reyes, regional director for the College of Medicine in Southwest Florida, and with the help of a multiyear, $500,000 NCEF grant.
Immokalee High School's SSTRIDE Class of 2020 is the first Collier County class to go through the entire program, starting in eighth grade at Immokalee Middle School. The class is mostly made up of Spanish- or Creole-speaking students who learned English as a second language. Eighteen are Spanish, Hispanic or Latino and four are Haitian.
The program works with students from eighth through 12th grade. All 22 students in the class are moving on to post-secondary education. Twenty-one are going to college, with 20 choosing STEMM majors and one pursuing education. One student is joining the Army with plans to pursue a STEMM-related field.
The majority of the class will be first-generation college students. Some also were the first in their families to attend high school.
"Since working with these students from the eighth grade, I am so proud of how far they have come and what they have accomplished," said Jodi Truel, SSTRIDE Southern Region program director. "I look forward to seeing how the next part of their journey unfolds as they prepare to pursue medicine or other health care fields and ultimately come back to Immokalee and serve our community."
Truel credited much of the program's success in sending its students to college to Collier County SSTRIDE Program Manager Melanie Yurewitch. Yurewitch assists students with the scholarship application process.
"With this senior class, I've seen a lot of determination," Yurewitch said. "Because the program picks students that are already self-motivated, a lot of them are already trying to plan ahead and are always asking me for the next step. They all have that goal in mind, which has been really beneficial for making sure they stay on track with their grades and for getting those scholarships so they can go to school as debt-free as possible."
The SSTRIDE program works closely with a number of community organizations including the Guadalupe Center, Community Foundation of Collier County and Immokalee Foundation to help students find and apply for scholarships.
Through SSTRIDE and other Immokalee organizations, Ruth Bellevue received more than $380,000 in scholarship offers, including a full ride to Vanderbilt University. Her twin sister, Ruthamar Bellevue, accepted a full scholarship to Emory University.
Ruth said she hopes to one day attend medical school at Florida State.
"They helped me to keep going and provided me with a support system that I could always count on," she said.
In addition to Collier County, SSTRIDE has programs in Gadsden, Okaloosa, Orange and Sarasota counties.
The program has helped 2,362 students state-wide as of 2019. Of the SSTRIDE alumni currently being tracked, 97 percent have gone on to college, where 64 percent pursued STEMM majors. Seventeen have gone on to medical school.