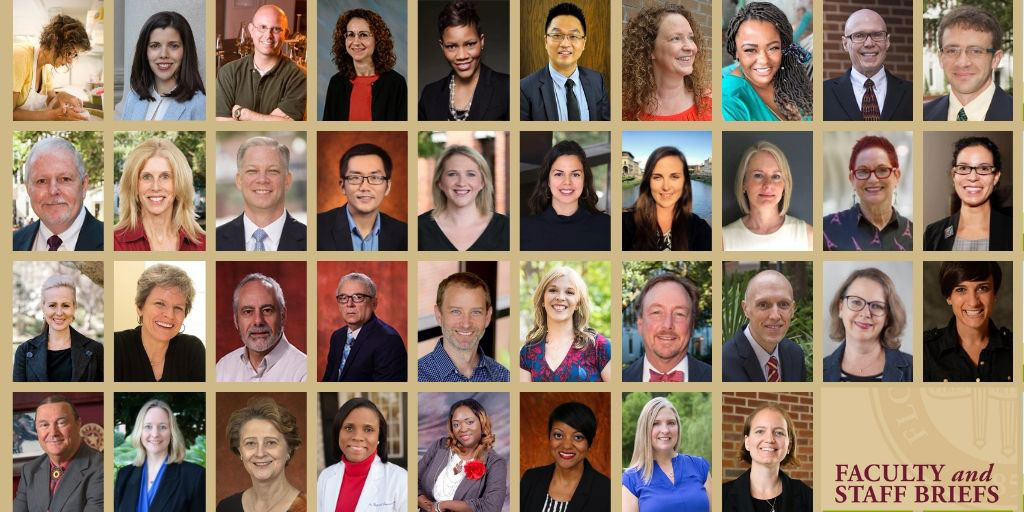 HONORS AND AWARDS
Holly Hanessian, M.F.A. (Fine Arts) accepted the invitation to become a member of the International Academy of Ceramics after being nominated by international colleagues.
Marina Duque, Ph.D. (Political Science) won best paper by a post-Ph.D. scholar at the 2019 meeting of the International Studies Association (ISA). Duque received the award from the ISA Theory Section for her paper "The Logic of Expressive Rationality."
Michael Roper, Ph.D. (Chemistry and Biochemistry) made The Power List 2019 by The Analytical Scientist as one of the top 100 professors in the field because of his work on the mechanisms behind Type 2 diabetes.
Irene Alexandraki, M.D. (Medicine) received the 2019 Excellence in Reviewing Award from Academic Medicine. She was recognized at the Academic Medicine — MedEdPORTAL Reception at the AAMC's annual meeting in Phoenix earlier this month.
Sherrell Cork, (Business Services) was awarded the National Association of College Auxiliary Services (NACAS) 2019 South Region Volunteer of the Year Award. This award recognizes a NACAS member who has demonstrated exceptional volunteer work in their region that supports the NACAS mission. Cork served as the NACAS South Host Committee Chair.
Li Yeoh, D.M.A., M.P.T. (Music) received the 2019 All Access Champion Award, which recognizes faculty at Florida State who are "committed to providing opportunities for students with disabilities to succeed in their academic endeavors beyond what is required by the FSU Student Disability Resource Center."
---
GRANTS
Carrie Pettus-Davis, Ph.D. and Annie Grier, MSW (Social Work) were awarded $532,000 from Arnold Ventures to establish an evidence base for effective strategies for diverting individuals experiencing a mental health or substance use disorder crisis away from incarceration and instead connect them to evidence-driven supports in their communities.
---
BYLINES
Bruce Lamont, Ph.D. and Michael Holmes, Ph.D. (Business) co-authored the article "Resource Dependence, Uncertainty, and the Allocation of Corporate Political Activity across Multiple Jurisdictions," which has been accepted for publication in the Academy of Management Journal.
Gerald Ferris, Ph.D., Pamela Perrewé, Ph.D. and Darren Brooks, Ph.D. (Business) co-authored "Extending the Meta-Theoretical Framework of Social/Political Influence to Leadership: Political Skill Effects on Situational Appraisals, Responses, and Evaluations by Others," published in the journal Personnel Psychology.
Zhe He, Ph.D. (Information) and graduate student Lynette Gerido co-authored the article "Patient Engagement in Medical Research among Older Adults: Analysis of the Health Information National Trends Survey," published in the Journal of Medical Internet Research.
Jenny Root, Ph.D. (Education) co-authored "Applying the Universal Design for Learning Framework to Mathematics Instruction for Learners with Extensive Support Needs," published in the journal Remedial and Special Education.
Lara Perez-Felkner, Ph.D. (Education) co-authored the article "The puzzling relationship between international development and gender equity: The case of STEM postsecondary education in Cambodia," published in the International Journal of Educational Development.
Lindsey Wharton, MLIS (Libraries) co-authored the article "Transitioning Online Reference Staffing Models: Assessing and Balancing Needs of Patrons and Practitioners" in The Reference Librarian journal.
---
PRESENTATIONS AND EXHIBITS
Amy Fleming, M.F.A. (Art) authored "Patio Furniture," which was selected for Abecedarian Gallery's Cornucopia X books arts exhibition showing at The Art Gym in Denver.
Carrie Ann Baade, M.F.A. (Art) opened her exhibit "Wondering and Wandering," featuring more than 30 of her works of art at the Carrollton Arts Center in Carrollton, Georgia.
Jill Pable, Ph.D. (Interior Architecture and Design) presented "Homelessness: Supporting Dignity Through Design" at this year's TEDxFSU event.
Lauren S. Weingarden, Ph.D. (Art History) and Aimée Boutin, Ph.D. (Modern Languages and Linguistics) hosted the 45th Annual Nineteenth-Century French Studies Colloquium in Sarasota, Fla. The conference was themed "Enchantment and Disenchantment" and had 253 attendees from 13 countries.
Jonathan Appelbaum, M.D. (Medicine) presented "Aging Gracefully with HIV" at Dartmouth College's Department of Medicine Grand Rounds in October. He also presented "Primary Care of the LGTBQ+ Patient" at the annual meeting of the New Hampshire Chapter of the American College of Physicians.
Stephen Sandroni, M.D. (Medicine) presented a poster at the Diagnostic Errors in Medicine 12th Annual Conference in Washington, D.C.
Timothy Baghurst, Ph.D. (Education) presented at the International Council for Coaching Excellence (ICCE) in Tokyo, Japan. The presentation was titled "Best Practices for Coaching and Teaching the International Athlete." Baghurst also spoke at the Nebraska National Strength and Conditioning Association state clinic in Omaha, Nebraska. He discussed "20 Athlete-Centered Leadership Strategies for a Successful S&C Program."
Carrie Pettus-Davis, Ph.D. (Social Work) presented at the Transforming Texas' Criminal Justice System Symposium for Journalists in Austin, Texas on Oct. 21. Her presentation, "Successful prison reentry and reducing recidivism: An experimental model," highlighted her current research project testing an innovative re-entry model – the 5-Key Model – in seven states across the nation.
Pettus-Davis also presented at the Philanthropic Leaders Summit in Atlanta, Georgia on Nov. 6. Her presentation, "Developing the ideas to change our criminal justice system," showcased how academic research can be used to catalyze reforms to the criminal justice system.
Pettus-Davis also joined Pennsylvania Governor Tom Wolf for a press conference in Harrisburg, Pennsylvania on Nov. 18, to discuss how data from the 5-Key Model research is fueling the broader Safe Streets and Second Chances re-entry reform movement to increase support and improve well-being for individuals transitioning from prison back home to our communities.
Amberly Prykhodko, LCSW (Social Work) co-presented at the 2019 Solution-Focused Brief Therapy Association Conference in Montreal, Quebec, Canada on Nov. 9. Prykhodko's workshop, "Conducting solution-focused brief therapy with formerly incarcerated clients," provided guidance on applying solution-focused techniques to enhance work with individuals who have been released from incarceration and returned home to the community.
Doug Tatum, M. Acc. (Entrepreneurship) discussed topics from his book "No Man's Land," focusing on financials, succession and other high-level topics that relate to business owners. Approximately 100 business owners in the architectural foundations industry of Supportworks, Inc. attended this CEO Summit in Omaha, Nebraska on Nov. 7.
---
SERVICE
Chad Van Iddekinge, Ph.D. (Business) was selected as a senior action editor for the Journal of Management.
Lisa Spainhour, Ph.D., P.E. (Engineering) has been appointed chair of the FAMU-FSU College of Engineering's Department of Civil and Environmental Engineering (CEE) after serving as interim chair for the past two years.
Geraldine Martorella, Ph.D., R.N. (Nursing) was appointed by the American Psychological Association's (APA) Board of Directors to the APA Guideline Development Panel for the Treatment of Chronic Musculoskeletal Pain in Adults.
John Lowe, Ph.D. (Nursing) was elected to the American Academy of Nursing's Fellow Selection Committee for a four-year term.
Shannon Hall-Mills, Ph.D. (Communication) is overseeing the student-outreach project of reading bedtime stories to children at Tallahassee's HOPE Community Center.
Claudia Kroker-Bode, M.D., Ph.D. (Medicine) has been elected to the Association of Program Directors in Internal Medicine Council (APDIM).
Ingrid Jones-Ince, M.D. (Medicine) has been named associate program director for Internal Medicine Residency Tallahassee Memorial Healthcare. Jones-Ince already serves as director of the Ambulatory Clinic at TMH.
---
NOTABLE
Geneva Scott-King, DNP (Nursing) spoke at the Black Women in Medicine induction ceremony, where more than 70 Nursing, Psychology, Biology and Health Science majors were inducted into the organization Nov. 22 at FSU's Globe Auditorium.
Tamara Bertrand Jones, Ph.D. (Education) was featured in an article that appeared in Diverse Issues in Higher Education, spotlighting the International Colloquium on Black Males in Education, which took place in Milwaukee. Bertrand Jones discussed some of the unique challenges that black men and women face in academia.
Kerensa Lockwood, Ph.D. and Carrie Pettus-Davis, Ph.D. (Social Work) finalized a memorandum of understanding with the Leon County Sherriff's Office (LCSO). The Institute for Justice Research and Development will provide consultation on LCSO program implementation best practices, create opportunities for expanding program offerings and will conduct trainings and professional development to staff and related stakeholders in the greater Tallahassee community.
Christine Mokher, Ph.D. (Education) contributed to the column "States are testing unproven ways to eliminate remedial ed — on their students" that appeared in the Hechinger Report.