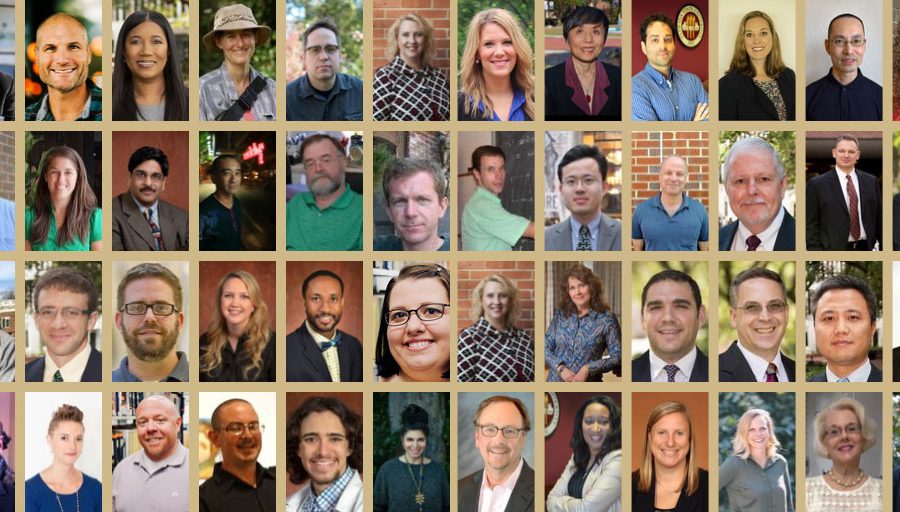 HONORS AND AWARDS
Mark Pietralunga, Ph.D. (Modern Languages and Linguistics) won the 2019 Distinguished Service Award from the American Association of Teachers of Italian, awarded to members with distinguished teaching and published research in the fields of Italian language, literature and civilization.
Mark McNees, Ph.D. (Entrepreneurship) was awarded Tallahassee's EntrepreneurshipInfluencer of the Year by Domi Station. This award is given to entrepreneurs who captivate those around them and use their businesses to motivate others to take chances.
Shanna Daniels, Ph.D. (Management) received the 2018 Best Article Award from Human Resource Management Review for the article she co-authored, "BeyondBanning the Box: A Conceptual Model of the Stigmatization of Ex-Offenders in the Workplace." She and her co-authors are the first recipients of this award.
Nora Underwood, Ph.D. (Biology) received an honorary doctorate from Stockholm University. This award is given to those who have made distinctive contributions to theuniversity's activities in research and education.
John Mann, M.F.A. (Art) was selected as the 2019 Honored Educator by the Society of Photographic Education. This award is given to members who have made a significant contribution to the field of photographic education.
Lucinda J. Graven, Ph.D. (Nursing) was recently elected as a Fellow of the American Heart Association (FAHA) and will be recognized at the 2019 American Heart Association Scientific Sessions in November in Philadelphia.
---
GRANTS
Meredith McQuerry, Ph.D. (Entrepreneurship) received a $403,000 grant from the Department of Homeland Security, Federal Emergency Management Agency and Assistance to Firefighters Grant for her project "Investigation of Design, Comfort, andMobility Issues for Female Firefighter Personal Protective Clothing."
Amy L. Ai, Ph.D. (Social Work) was awarded $154,000 over two years from theNational Institute of Aging through the National Institute of Health's Small Grant Program for her research project "The Role of Psychological Strength Factors in Long- term Survival of Older Adults with Advanced Heart Diseases, Requesting Open-heartSurgery, & Underlying Mechanisms." Ai will work with Yaacov Petscher, Ph.D., (Social Work) and a University of Kentucky colleague to evaluate the long-term survival effect of psychological character strengths in an existing cohort of older patients, assessed before open-heart surgery over 16 years ago.
Miles Taylor, Ph.D. (Sociology) and Koji Ueno, Ph.D. (Sociology) were granted $2 million from the National Institute on Aging for their data collection project exploring trends on marital and family functioning and their impact on health and well-being.
Carrie Pettus-Davis, Ph.D., Stephen Tripodi, Ph.D. and Tanya Renn, Ph.D. (Social Work) are co-principal investigators on a $1,197,172 grant from the National Institute of Justice for the project "Multisite Randomized Controlled Trial of Comprehensive TraumaInformed Reentry Services for Moderate to High Risk Youth Releasing from StatePrisons."
Carrie Pettus-Davis, Ph.D. (Social Work) and Sudhir Aggarwal, Ph.D. (Computer Science), along with colleagues from Purdue University and the University of Alabama, are co-principal investigators on a $1,999,700 grant funded by the National Institute for Justice for the project "Artificial Intelligence Enabled Community Supervision for Criminal Justice Services."
Frank Wong, Ph.D. (Nursing) was awarded a one-year administrative supplement of $703,205 to his parent grant from the National Institute on Minority Health and Health Disparities to support the study "Unpacking the Mechanisms of Disparities for HIV-related Hypertension in African American and Asian Pacific American MSM." For thisparticular supplement, the focus is only on native Hawaiians.
Kyle Gallivan, Ph.D. (Mathematics) won an NSF collaborative grant for "CollaborativeResearch: CIBR: CloudForest: A Portable Cyberinfrastructure Workflow to AdvanceBiological Insight from Massive Heterogeneous Phylogenomic Datasets."
Paolo Aluffi, Ph.D. (Mathematics) won a Simons Foundation Collaboration Grant for Mathematicians for his proposal "Characteristic Classes and other invariants ofalgebraic schemes."
Sergio Fenley, Ph.D. (Mathematics) won a Simons Collaboration Grant for his project"Partially Hyperbolic Dif
feomorphisms, Flows and Foliations."
Lingjiong Zhu, Ph.D. (Mathematics) was awarded a Simons Collaboration Grant to support his research on stochastic optimization in data science.
David Whalley, Ph.D. (Computer Science) won a National Science Foundation grant for his project, "Statically Controlled Asynchronous Lane Execution," in collaboration with a colleague from Michigan Technological University.
Lyndsay Jenkins, Ph.D. (School Psychology) is a co-investigator on a new project funded by the Institute of Education Sciences (IES) to develop and test bystander intervention training in an effort to help reduce incidents of bullying and sexual harassment in high schools. The goal is to teach high school students about appropriate ways to stand up for and support victims of bullying and sexual harassment.
---
BYLINES
Gerald Ferris, Ph.D. (Management) and Wayne Hochwarter, Ph.D. (Management) co-authored "Recruiter Political Skill and Organization Reputation Effects on Job Applicant Attraction in the Recruitment Process," a multi-study investigation published in the journal Career Development International.
Pamela Perrewé, Ph.D. (Management) co-authored, "Conceptualizing A-HERO for Sport Employees' Well-being," published in Sport, Business and Management: AnInternational Journal.
Paul Renfro, Ph.D. (History) co-authored "The Reactionary Heartland is a Myth,"published in Dissent Magazine.
Michael Holmes, Ph.D. (Management) co-authored "The Effects of Ownership and Home Country Institutions on the Internationalization of African New Venture," for theBiennial Conference at the Africa Academy of Management in Lagos, Nigeria.
Steven B. Webber, M. Arch. (Interior Architecture and Design) will publish his newest book "Interior Design Fundamentals," this fall.
Stephanie Sickler, M.F.A. (Interior Architecture and Design) will publish her book "SoftGoods Guidebook for Interiors," this fall.
James E. Wright II, Ph.D. (Askew School) published his paper "Will They Even Hear Me? How Race Influences Citizen Complaint Outcomes," in the journalPublic Performance & Management Review.
Carrie Pettus-Davis, Ph.D. (Social Work) and Tanya Renn, Ph.D. (Social Work) along with co-authors from the University of Iowa and Saint Louis University, co-authored thearticle "Intervention Development Study of the Five-Key Model for Reentry: An Evidence-Driven Prisoner Reentry Intervention," published in Journal of OffenderRehabilitation.
Denise A. Wetzel, MLIS (University Libraries) co-authored "Hitting It Out of the Park with Game-Based Learning for FYEs and Libraries," published in College andUndergraduate Libraries.
Lucinda J. Graven, Ph.D. (Nursing) and Laurie Abbott, Ph.D. (Nursing) co-authored"Psychosocial Factors Related to Adverse Outcomes in Heart Failure Caregivers: AStructural Equation Modeling Analysis," which has been accepted for publication in theJournal of Cardiovascular Nursing.
Horacio Rousseau, Ph.D. (Business) co-authored "Localizing Sustainable Development Goals: Nonprofit Density and City Sustainability" in press in the Academy of Management Discoveries.
David R. King, Ph.D. (Business) co-authored "Organizational Resilience in Acquisition Integration – Organizational Antecedents and Contingency Effects of Flexibility and Redundancy" in press in Applied Psychology: An International Review.
Gang Wang, Ph.D. (Business) co-authored "Ethical leadership with both 'moral person'and 'moral manager' aspects: Scale development and cross-cultural validation,"published in the Journal of Business Ethics.
Tarez Graban, Ph.D. (English) co-edited a special issue of Digital Humanities Quarterlyon "Invisible Work in Digital Humanities."
Robert Stilling, Ph.D. (English) published the book "Beginning at the End: Decadence, Modernism, and Postcolonial Poetry," which has been shortlisted for the Modernist Studies Association First Book Prize.
Lindsey Eckert, Ph.D., (English) authored the essay "Romanticism Bound," that will appear in the Keats-Shelley Journal's special issue "200 Years, 50 Voices."
Jenny Root, Ph.D. (Education) co-authored "Building the Early Number Sense of Kindergarteners with Autism: A Replication Study," published in the journal Remedial and Special Education. The article looks at the findings from a study that evaluated the effects of "an early numeracy curriculum on early number sense attainment for Kindergarten students with autism.
Tim Baghurst, (Ph.D. (Education) published "Physiological Demands of Extreme Obstacle Course Racing: A Case Study" in the journal International Journal of Environmental Research and Public Health. The article looks at a race participant's cognitive demands over the course of the event. Baghurst also co-authored and contributed a chapter to a book titled Working Toward Wellness: A Practical Workbook.
---
PRESENTATIONS AND EXHIBITS
Renaine Julian, MLIS (Libraries) presented at the International Federation of LibraryAssociations and Institutions satellite conference on "Library Services on Open Science"in Vienna, Austria. He highlighted efforts by University Libraries to advance open science initiatives on campus and also contribute to broader initiatives to make research more open and discoverable.
Keith Roberson, M.F.A. (Art) and Lucas Von Hollen, M.S. (Information) co-directed a collaboration on a moonlander simulation game located at the Old Florida CapitolMuseum. The exhibit, which is part of "The Moon, Stars and Sunshine State" exhibition,will run through December.
Tra Bouscaren, Ph.D. (Art) opened his solo installation called "Night Blooms" at TheMattress Factory Museum of Contemporary Art in Pittsburgh, Pa. His installation engages spectacle at the crossroads of waste culture and the surveillance state.
Doug Tatum, M. Acc. (Entrepreneurship) presented at the 2019 Ward and Smith Closely Held Business Summit for the Jim Moran School of Entrepreneurship. Hepresented from his book "No Man's Land" to about 150 executives of closely held, private companies discussing business, risk, succession planning and M&A.
La'Tara Osborne Lampkin, Ph.D. (Florida Center for Reading Research), along with colleagues from Alcorn State University, presented "A Competitive Edge: Leveraging Researcher-Practitioner Partnerships for Impact and Scale," at the annual Historically Black Colleges and Universities Week Conference in Washington, D.C. Sept. 9-11. The presentation highlighted a statewide, strategic model for institutional partnering between HBCUs in Mississippi supported by the Regional Educational Laboratory Southeast; sharing evidence-based strategies that facilitate successful, strategic partnerships to stimulate innovation, enhance impact and scale, and support sustainability to ensure U.S. competitiveness.
Doug Tatum, M. Acc. (Entrepreneurship) presented "Profit is Now a Dirty Word: Implications of a Changing View of Profits" at the 2019 Annual Gathering of Games. The conference was organized by The Great Game of Business for the open-book management community.
Carrie Pettus-Davis, Ph.D. (Social Work) was invited by the National Institute of Justice to attend a Risk/Needs Assessment in Prisons Workshop, Aug. 28-29, where she and other national leaders discussed the challenges faced by prison systems to identify, engage and leverage data-driven assessment tools to match incarcerated individuals to effective programming. The workshop was designed to facilitate the implementation of the First Step Act.
Deb Osborn, Ph.D. (Psychological and Counseling Services) provided a two day workshop Aug. 26-27 on Cognitive Information Processing theory for the Career Guidance and Counseling specialization summer studies. The studies were designed for career development professionals and took place at the University of Jyväskylä in Finland. The topic was "Bridging theory, research and practice in career counseling: Tools and processes for the Cognitive Information Processing Approach."
Valerie Shute, Ph.D. ( Educational Psychology and Learning Systems) will be a keynote speaker at the upcoming American Psychological Association conference on Technology, Mind and Society. The interdisciplinary conference will take place in Washington, D.C. in October.
Nicole Patton Terry, Ph.D. and Stephanie Simmons Zuilkowski, Ph.D. (Education) presented at the Nigeria Center for Reading Research and Development annual conference. Patton Terry gave the keynote address,  "Addressing Reading Through Research and Partnership." Simmons Zuilkowski presented the lead paper, "Literacy: The Foundation for Learning and Development." Also at the conference was Adrienne Barnes, Ph.D. (Learning Systems Institute) gave a round table discussion about "The Teaching of Early Grade Reading in Nigeria."
---
Kacy King, Ph.D. (Undergraduate Studies) has been appointed the new director of Student-Athlete Academic Services and assistant dean in the Division of Undergraduate Studies.
Lauren Kendall, DNP (Nursing) and three nursing students attended a "sports-themed"event at Maryland Oaks with the College of Medicine Chapman Community Health Program.
Sally Karioth, Ph.D. (Nursing) hosted FSU's Read a Poem to a College Student eventSept. 28 in the Health and Wellness Center Courtyard.
Jenny Root, Ph.D. (Education) has been elected to the Board of Directors for the Council for Exceptional Children's Division on Autism and Developmental Disabilities (DADD). Her three-year term begins January 2020. DADD focuses on helping to improve the quality of life of individuals diagnosed with autism, particularly young children. To accomplish this goal, DADD aims to increase research in the field and better educate the general population about autism and other developmental disabilities.
---
NOTABLE
Tenley Bick, Ph.D. (Art History) is the 2019–20 Scholar in Residence at Magazzino Italian Art, where she will revise her monograph on Italian artist Michelangelo Pistoletto for publication. The research center offers scholars working in modern/contemporary Italian art a high-profile platform from which to promote their research. Bick is the first American scholar to hold the residency.
Lara Perez-Felkner, Ph.D. (Education) and John D. Ribó, Ph.D. (English) served as a co-masters of ceremony at the FSU Latinx Cultural Celebration, which took place at Ruby Diamond Concert Hall on Sept. 17. The event celebrates the generations of Latinx Americans who have shaped the historical, social and political landscape of America.
Stacy Chambers, Ph.D (Education) was selected to participate in Leadership Florida, a statewide organization dedicated to bringing together emerging and existing leaders from across the state to challenge, prepare and inspire them to build a better Florida.
---
To submit a Faculty & Staff Brief, email Amy Farnum-Patronis at afarnumpatronis@fsu.edu.