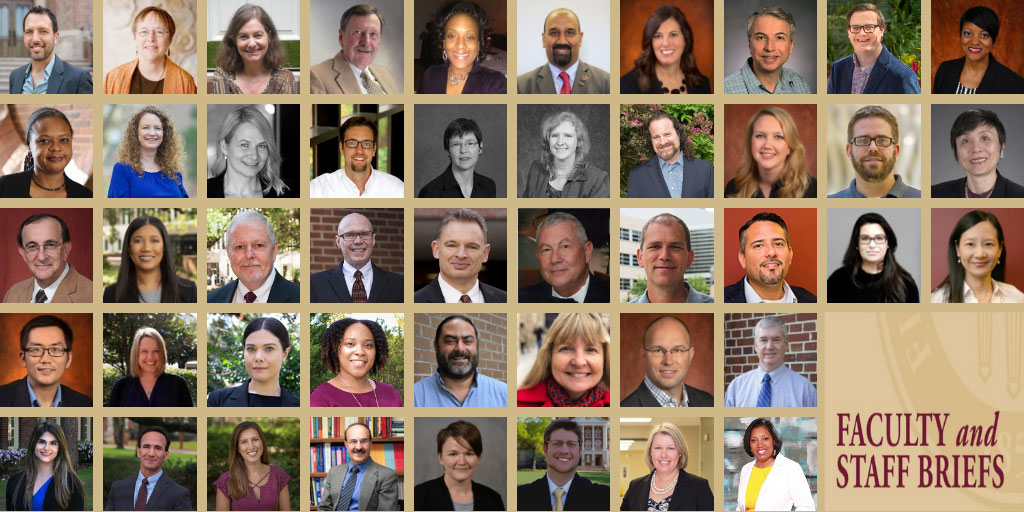 HONORS & AWARDS 
Adam Jolles, Ph.D. (Art History) received two fellowships to conduct research in summer 2019 toward his next book on art photography in the United States after World War II. Jolles won the Minor White Archive Research Grant to undertake research in May at the Princeton University Art Museum and the Harold Jones and Frances Murray Research Fellowship to visit the Center for Creative Photography at the University of Arizona in Tucson in August.
Kathy Burnett, Ph.D. and Melissa Gross, Ph.D. (Information) each received the ALISE Award for Professional Contribution.
Charles McClure, Ph.D. (Information) is the recipient of the 2019 Frederick G. Kilgour Award for Research in Library and Information Technology.
Christy Chatmon, (Information) won the Information Systems Audit and Control Association (ISACA) Tallahassee Chapter Academic Leadership Award.
Ebrahim Randeree, (Communication and Information) won the Florida Association of Career and Technical Educators (FACTE) Joe Mills/Carl Perkins Humanitarian Award.
Jill Elish (University Communications) received an Honorable Mention in the international Cicero Speechwriting Awards competition presented by Vital Speeches of the Day for "Remembering T.K.," a tribute to the late President Emeritus T.K. Wetherell written for President John Thrasher. Elish also received a CASE District III Grand Award in the speechwriting category for the speech "These Are Your Brothers and Sisters." 
Bayard Stern (University Communications) and interns Alejandra Betanco and Hailey Walsh won an international CASE Circle of Excellence Bronze Award for Digital Communications: Student Life – Best Use of Social Media.
BYLINES 
Vanessa Dennen, Ph.D. (Instructional Systems & Learning Technologies) co-edited the book "Social Presence and Identity in Online Learning," which was originally a special issue of the journal Distance Education.
Phil Hiver, Ph.D. (Foreign and Second Language Education) co-authored the book "Research Methods for Complexity Theory in Applied Linguistics," published through Multilingual Matters.
Betsy Becker, Ph.D. (Educational Statistics) contributed a chapter to the latest edition of the Handbook of Research Synthesis and Meta-analysis. She also co-authored the paper "Complex Health Interventions in Complex Systems: Concepts and Methods for Evidence-informed Health Decisions" at the request of the World Health Organization. The paper was published in BMJ Global Health.
Deb Osborn, Ph.D. (Psychological and Counseling Services) received a Presidential Recognition Award from the National Career Development Association (NCDA) for her exceptional contributions which advance the growth, reputation and impact of NCDA. Osborn was honored at the NCDA Conference in Houston, Texas, which took place June 27-29.
David Gussak, Ph.D. (Art Therapy) authored the book "Art and Art Therapy with the Imprisoned: Re-Creating Identity," published by Routledge.
Stephanie Sickler, MFA (Interior Design) authored the book "Soft Goods Guidebook for Interiors," published by Fairchilds Books.
Steven Webber, M.Arch. (Interior Design) authored the book "Interior Design Fundamentals," published by Fairchilds Books.
Amy L. Ai, Ph.D. (Social Work) and Henry Carretta, Ph.D. (Medicine) co-authored the article "Optimism/Hope Associated with Low Anxiety in Patients with Advanced Heart Disease Controlling for Standardized Confounders," which has been accepted for publication in the Journal of Health Psychology.
Shanna Daniels, Ph.D. (Business) and doctoral candidate Samantha Jordan co-authored "The Effect of Paternalism on Incivility: Exploring Incivility Climate as an Important Boundary Condition," published in the Journal of Leadership & Organizational Studies.
Jerry Ferris, Ph.D. and Bruce Lamont, Ph.D. (Business), along with doctoral candidate Samantha Jordan, co-authored "A Framework for Understanding the Effects of Past Experiences on Justice Expectations and Perceptions of Human Resource Inclusion Practices" in the journal Human Resource Management Review.
Wayne Hochwarter, Ph.D. and Jerry Ferris, Ph.D. (Business), along with Andreas Wihler and doctoral candidate Samantha Jordan, co-authored "The Roles of Grit in Human Resources Theory and Research" as a book chapter in "Research in Personnel and Human Resources Management."
Bruce Thyer, Ph.D. (Social Work) authored "Predatory Doctoral Programs: Warnings for Social Workers," published in the Journal of Social Work Education. Thyer also co-authored "The 100 Most Influential Contemporary Social Work Faculty as Assessed by the H-index," published in the Journal of Social Service Research.
Joseph Gabriel, Ph.D. (Behavioral Sciences and Social Medicine) co-edited "Drugs on the Page: Pharmacopoeias and Healing Knowledge in the Early Modern Atlantic World," published by the University of Pittsburgh Press.
Javier Rosado, Ph.D. and Tatiana Fernandez, M.S. (Medicine) wrote an e-book for children that tells the story of several characters who have to say goodbye when the family of a school-age bee, Gabriel, announces that they will need to relocate yet again in search of farm work. The story highlights the unique stressors young children from migrant families face related to their transient lifestyle. Rosado and Fernandez work at the Immokalee Health Education Site.
Shuyuan Ho, Ph.D. (Information) co-authored "Consciousness of Cyber Defense: Boundary Objects for Expansive Learning Through Creation of Contradictions," and "The Privacy Paradox in HCI: Calculus Behavior in Disclosing PII Online" to present at the 2019 Human-Computer Interaction Conference in July. The papers also were included in the Lecture Notes in Computer Science book series.
Zhe He, Ph.D. (Information) authored "Assessing the Validity of a prior Patient-Trial Generalizability Score using Real-world Data from a Large Clinical Research Network: A Colorectal Cancer Clinical Trial Case Study," published in the Journal of Biomedical Informatics and accepted to the AMIA 2019 Annual Symposium. He also published the chapter, "Understanding and Bridging the Language and Terminology Gap Between Health Professionals and Consumers Using Social Media," in the book "Social Web and Health Research," which he co-edited.
Jennifer Proffitt, Ph.D. (Communication) co-authored "Global Capital, Global Labour and Global Dominance: The Case of xXx: Return of Xander Cage," published in the International Journal of Media & Cultural Politics.
PRESENTATIONS
Tenley Bick, Ph.D. (Art History) spoke at the Bibliotheca Hertziana at the Max Planck Institute for Art History in Rome on June 6. She presented research from her book project on Pistoletto as part of the Hertziana's "Rome Contemporary" Research Initiative and research seminar series.
Teisha Sanders, MSW (Social Work) was a panelist at the Alabama Pro-Growth Policy Conference on June 20-21. Sanders and panelists spoke about the transformative power of second-chance hiring and how to change policy to support Alabamians as they release from prison and search for employment in their communities.
Stephen Tripodi, Ph.D. (Social Work) presented "Trauma-informed Care Groups with Incarcerated Women: A Comparative Randomized Controlled Trial" at the International Congress on Law and Mental Health conference July 23 in Rome, Italy.
Nancy Everhart, Ph.D. (Information) presented "Supporting Neurodiversity in the Academic Library: Research, Best Practices, and Personal Experiences" at 2019 Florida Library Association Annual Conference.
GRANTS
Michael Killian, Ph.D. (Social Work) and Zhe He, Ph.D. (Communication and Information) were awarded more than $40,000 in pilot funding from the UF/FSU Clinical and Translational Science Institute (CTSI) to study pediatric transplantation nationally and in Florida.
Melissa Gross, Ph.D. and Don Latham, Ph.D. (Information) were awarded $164,599 in funding from the Institute of Museum and Library Services for their project "Community College Librarian and Student Perceptions of Student Information Literacy Needs."
Neda Akhavan, Ph.D. (Food Science), Robert Hickner, Ph.D. (Exercise Science), Claire Berryman, Ph.D., RD (Nutrition) and Bahram Arjmandi, Ph.D., RDN (Nutrition) received a $175,000 grant from the Alliance for Potato Research & Education to study the effects of white potato consumption on cardiometabolic health in individuals with type 2 diabetes.
SERVICE
Rachel Bailey, Ph.D. (Communication) began her term as vice chair of the Information Systems Division of the International Communication Association.
Russell B. Clayton, began his term as secretary for the Information Systems Division of the International Communication Association. His paper, "Reminiscing with Past Selves: Investigating the Impact of Nostalgic Music on Temporal Comparisons and Cognitive Processing of Radio Advertisements" was one of the top four papers out of 195 submissions in the Information Systems Division.
Jessica Bahorski, Ph.D. (Nursing) was elected to serve as a member of the National Association of Pediatric Nurse Practitioners (NAPNAP) Research Committee for a three-year term beginning July 1.
Eugenia Millender, Ph.D. (Nursing) was elected to the national board of directors as a member-at-large for the American Psychiatric Nurses Association for a three-year term beginning in October.
NOTABLE
Kyle McLean, Ph.D. (Criminology & Criminal Justice) was selected as a member of the 2019 NIJ Law Enforcement Advancing Data and Sciences (LEADS) Academics program. The LEADS program offers a unique opportunity for early-career academics to engage with NIJ LEADS Scholars, all of whom are mid-career officers dedicated to advancing the police profession through science.
Tamara Bertrand Jones, Ph.D. and Sophia Rahming, Ph.D. (Higher Education) were featured in the article "Sisters of the Academy: A 'Hidden Gem' For Black Women in Higher Education" published in Diverse Issues in Higher Education. The article highlighted the organization that Bertrand Jones helped start nearly 20 years ago that aims to help Black women find success in higher education.
Carrie Pettus-Davis, Ph.D. (Social Work) hosted a spoken word narrative event on June 27 at the FSU Globe Theatre (click to watch the recorded video). The presentation supports a multidisciplinary $100 million MacArthur grant submission to transform criminal justice for the 21st century with data-driven solutions.
To submit a Faculty & Staff Brief, email Amy Farnum-Patronis at afarnumpatronis@fsu.edu.