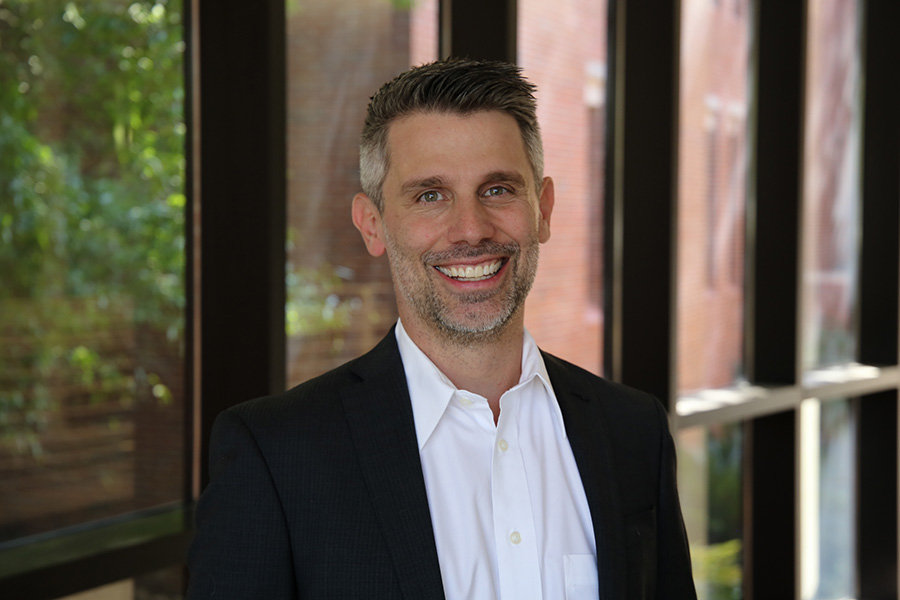 A professor at Florida State University's College of Education has been named an Active Fellow of the National Academy of Kinesiology (NAK), one of the most prestigious achievements that a scholar in the field of kinesiology can attain during their career.
Joshua Newman, the College of Education's associate dean for research and a professor of Sport Management, joins only eight other sport management professors who have been named NAK fellows in the history of the field.
Founded in 1926, the NAK was established to acknowledge leaders in kinesiology and convene an annual meeting where the fellows can develop strategies and initiatives to advance the study and instruction of kinesiology, physical education and related subdisciplines. Membership to the academy is restricted to 200 active fellows.
According to the invitation letter sent to Newman by NAK President Melinda Solmon, induction into the academy is a "sign of the high esteem and respect your peers hold for your scholarship and leadership."
"Induction as a Fellow of the National Academy of Kinesiology is widely considered to be a crowning achievement in the field," said College of Education Dean Damon Andrew. "As someone who works closely with Josh, I know he is most deserving of this distinguished recognition."
Newman was formally inducted during the NAK annual meeting, which took place Sept. 29-Oct. 1 in Providence, Rhode Island.
"To be invited to join our National Academy is truly humbling," Newman said. "NAK has for nearly a century paved the way for students, researchers and practitioners across the human movement sciences — in disciplines ranging from exercise physiology to sport psychology, from exercise science to sports medicine. To be a part of such a talented and visionary group of scientists and teachers is the honor of a lifetime."
In his current role at FSU, Newman leads the College of Education's Office of Research, which manages and supports over 80 funded projects totaling more than $40 million in research expenditures annually.
Newman's own research focuses on social inequalities, cultural politics and political economics and ecologies of sport and physical activity. He has published five books and more than 100 articles and chapters in leading sport management and sport sociology journals and edited collections. He has won the North American Society for the Sociology of Sport (NASSS) Outstanding Book of the Year Award, and his books have twice been selected as CHOICE Outstanding Academic Titles.
Prior to becoming associate dean, Newman was associate chair and director of the doctoral program in the Department of Sport Management at FSU for six years. He also served as founding director of the Center for Sport, Health, and Equitable Development from 2012 to 2021.
Throughout his career, Newman has been actively involved in service to the profession. He has been a reviewer for the National Science Foundation (NSF) and the Social Sciences and Humanities Research Council (SSHRC). He currently sits on the editorial boards of seven journals in his field, including Communication & Sport, the International Review for the Sociology of Sport, and Qualitative Research in Sport, Exercise and Health. He served as president of the North American Society for the Sociology of Sport from 2017 to 2018.
Newman teaches cultural studies, sociology, and the political economy of sport, exercise, and physical activity at the undergraduate and graduate levels. He has served as the committee chair for more than 100 master's students in the FSU Sport Management program, and more than a dozen of his former doctoral students are currently faculty members at major universities in the United States and abroad.
Prior to coming to Florida State, Newman was a lecturer of sport studies at the University of Otago in New Zealand and an assistant professor and program coordinator for sport management at Towson University. He earned his doctorate in kinesiology at University of Maryland's School of Public Health in 2005. While at FSU, Newman has earned university-wide recognition for excellence in teaching and academic advising.
For more information about the College of Education, visit education.fsu.edu.