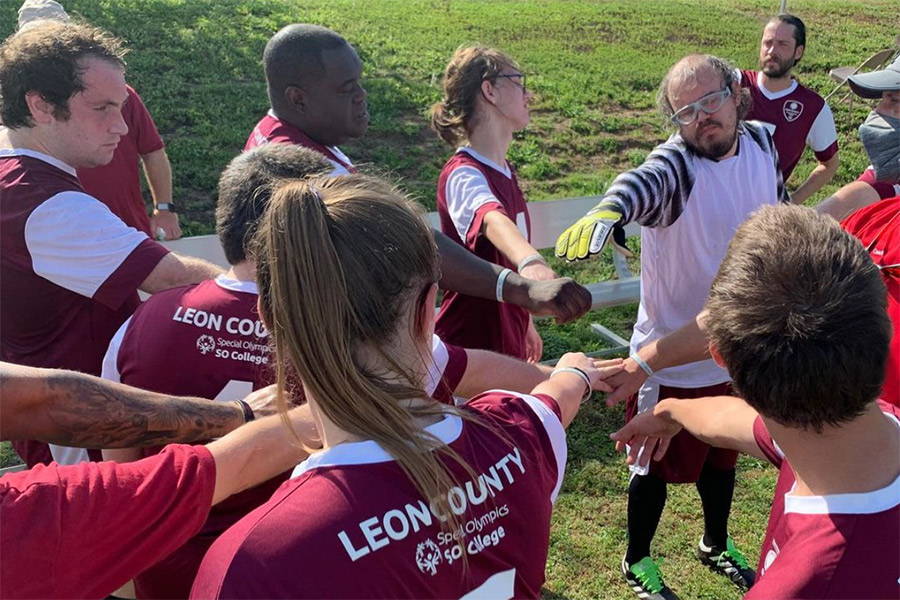 Florida State University was recently named to a list of 25 schools on the ESPN Honor Roll, a part of ESPN's Special Olympics Unified Champion Schools National Recognition Program. FSU is the only university in Florida to receive this recognition in 2021.
Special Olympics Unified Champion Schools is a program for schools that intentionally promote meaningful social inclusion by bringing together students with and without intellectual disabilities to create accepting school environments. The core of this program is Special Olympics Unified Sports® and activities where students of all abilities play on the same court and field.
Unified Sports began locally in 2019 as a partnership with FSU Campus Recreation, the FSU College of Education and Special Olympics Leon County. With sports as the foundation, the three-component model of Unified Champion Schools offers a unique combination of effective activities that equip young people with tools and training to create sports, classrooms and campus climates of acceptance.
"Unified Sports and its partnership with Special Olympics and FSU Campus Rec have provided an experience for everyone involved that they might not get anywhere else," said Brittany Mueller, FSU Campus Recreation Intramural Sports coordinator. "It brings people together with and without intellectual disabilities on the same team through sport."
FSU Intramural Sports began a Unified Sports League in 2019 after a Leon County Unified Basketball team traveled to Wichita, Kansas, and won the 2019 NIRSA (Leaders in Collegiate Recreation) National Basketball Tournament. Next, a Unified Sports team competed with some traditional teams comprised of FSU students in sports such as flag football, kickball and sand volleyball in Fall 2019. Since then, several one-day events and tournaments have been played to expose the FSU population to Unified Sports.
FSU Intramural Sports are in the middle of the first flag football Unified season and will offer Unified basketball in the spring semester.
"Lifelong bonds and experiences keep people coming back and the energy is unmatched to anything like it," Mueller said.
The ESPN recognition comes on the heels of another significant Special Olympics accolade for the university. In August, FSU was selected as a National Banner School by Special Olympics. FSU is the first university to receive this banner recognition and was selected due to the university's commitment to inclusion demonstrated by meeting 10 standards of excellence developed by a national panel of leaders from Special Olympics and the education community.
Special Olympics at FSU promotes inclusion both at Florida State and in the community through sports training, competitions and campaigns for people with and without intellectual disabilities. The College of Education's Department of Sport Management and Special Education Program are leading the way in this space, thanks to efforts from Special Olympics at FSU.
To learn more about FSU's recognition as a Special Olympics National Banner School, click here.