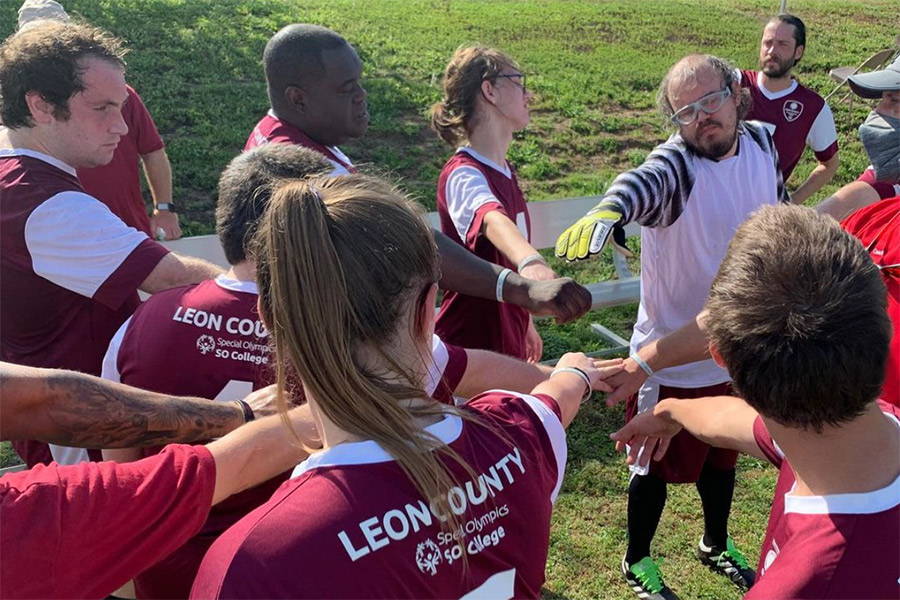 Florida State University has been selected as a National Banner School for 2021-2022 by the Special Olympics, the first university in Florida to achieve this recognition.
Founded in the fall of 2019, the Special Olympics at FSU club promotes inclusion both at Florida State and in the community through sports training, competitions and campaigns for people with and without intellectual disabilities. The College of Education's Department of Sport Management and special education program are leading the way in this space, thanks to efforts from the Special Olympics at FSU student organization.
"Students from FSU have been participating in Special Olympics Florida-Leon (SOFL-Leon) sports for years, but fall of 2019 is when we had our first unified intramural team and marked the beginning of us inviting SOFL-Leon athletes to join our programs," said Melanie Dammel, doctoral student in sport management and graduate student leader for the Special Olympics at FSU club.
As a Special Olympics Unified Champion School, FSU provides an inclusive school environment and exudes a sense of collaboration, engagement and respect for all members of the student body and staff.
Per recognition standards developed by a national panel of leaders from Special Olympics and the education community, a Unified Champion School that receives national banner recognition is one that has demonstrated commitment to inclusion by meeting 10 national standards of excellence.
"[The committee] was blown away by FSU's application," said Danielle Kent, manager for Unified Champion Schools, Health & Fitness with Special Olympics Florida. "FSU is going above and beyond on campus and doing really amazing events that are including the community."
The Special Olympics at FSU club hosts events like FSUnified Day, which aims to promote social inclusion through sports like basketball, flag football, volleyball, soccer and kickball, where individuals with and without disabilities play on Unified Sports teams as teammates and friends. They also participate in the Spread the Word Campaign to promote inclusion for all people.
"We wanted to share ways that we have promoted engagement between people with and without intellectual disabilities," Dammel said. "We submitted this application because we are proud of our work, but we know it is not done. Receiving this recognition will be a tool to hold us accountable, ensuring that we continue to take actions that 'create a better world by fostering the acceptance and inclusion of all people."
Currently pursuing a doctorate in sport management, Dammel's involvement with Special Olympics began in 2018 when she responded to an email from her department looking for volunteers. Her research focus, driven by her experience with the Special Olympics, is on critical pedagogy in sport education and sport for development, specifically Special Olympics Unified Sport.
To learn more about the Special Olympics' National School Recognition Program, visit specialolympics.org/our-work/unified-champion-schools/banner-recognition-program.