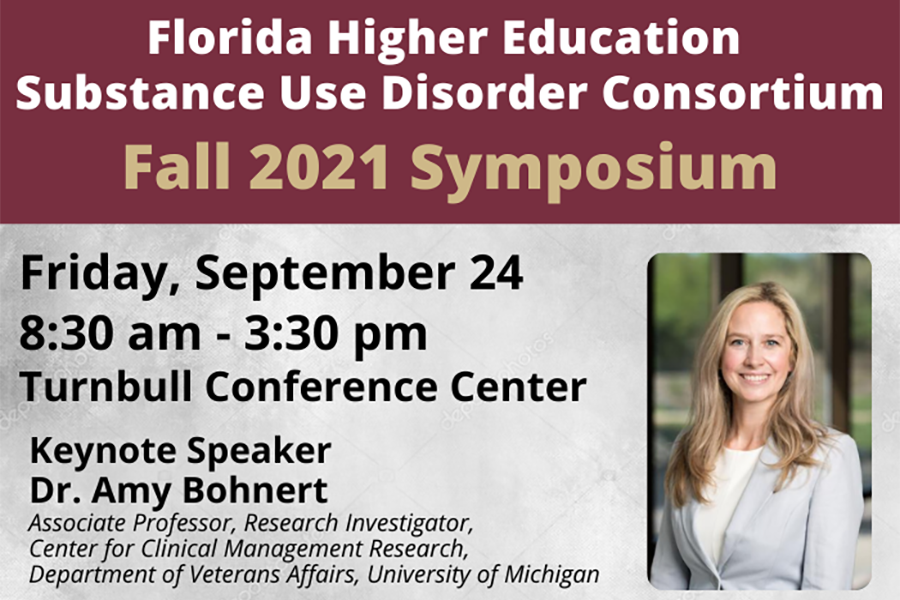 A group of Florida State University researchers is bringing together experts from around the country for a one-day symposium focused on substance use disorder.
The Center for the Study and Promotion of Communities, Families and Children at Florida State University is hosting "Substance Use Disorder Symposium: Emerging Trends and Critical Issues" in collaboration with the Florida State University College of Social Work and College of Medicine and the Federal Substance Abuse and Mental Health Services Administration. The event will take place Friday, Sept. 24, at the Augustus B. Turnbull III Florida State Conference Center and is being offered both as an in-person and virtual event.
"The event represents a concerted statewide effort to design, disseminate and incorporate training on substance use and mental health into social work curriculum as well as across related fields," said Ellen Piekalkiewicz, director for the FSU Center for the Study and Promotion of Communities, Families and Children. "The symposium is an opportunity for participants to learn from experts at Florida State University and from across the country about the latest policy, practice and research approaches to addressing substance use and health challenges in the United States."
The symposium is a result of the Florida Higher Education Substance Use Disorder Consortium, a statewide collaboration consisting of 12 Florida colleges and universities and its partners, including the National Association for Social Work Florida Chapter, DISC Village and Citrus Health Network. The consortium has developed a science-informed social work and behavioral health curriculum that focuses on substance use disorders and co-occurring mental disorders.
The symposium will bring together experts on substance abuse, including keynote speaker Amy Bohnert, a health services researcher and clinical epidemiologist whose research focuses on pain, substance use and mental health conditions. Bohnert has led projects related to overdose and prescription drug safety and seeks to improve patient access and quality of care. She is a professor in the Departments of Anesthesiology and Psychiatry at the University of Michigan and is a research scientist with the Department of Veteran Affairs Center for Clinical Management Research.
The event features panels focused on initiatives from the Substance Abuse and Mental Health Services Administration, the latest research into medical marijuana and the dissemination of substance use disorder curricula for social work programs in Florida.
"I'm excited by this new level of collaboration that this event represents," said Jim Clark, dean and professor at the College of Social Work. "This symposium brings together experts from Florida State University and across the nation to address public health issues that local communities are facing each and every day. Substance use and mental health continue to be challenges faced by people from all walks of life and our university and research communities have powerful tools and expertise that can help to respond compassionately and effectively."
Individuals interested in attending the conference can register online until Sept. 22. To register, visit https://www.eventbrite.com/e/163526555329. Attendees can also earn up to 5.5 hours of continuing education credits.