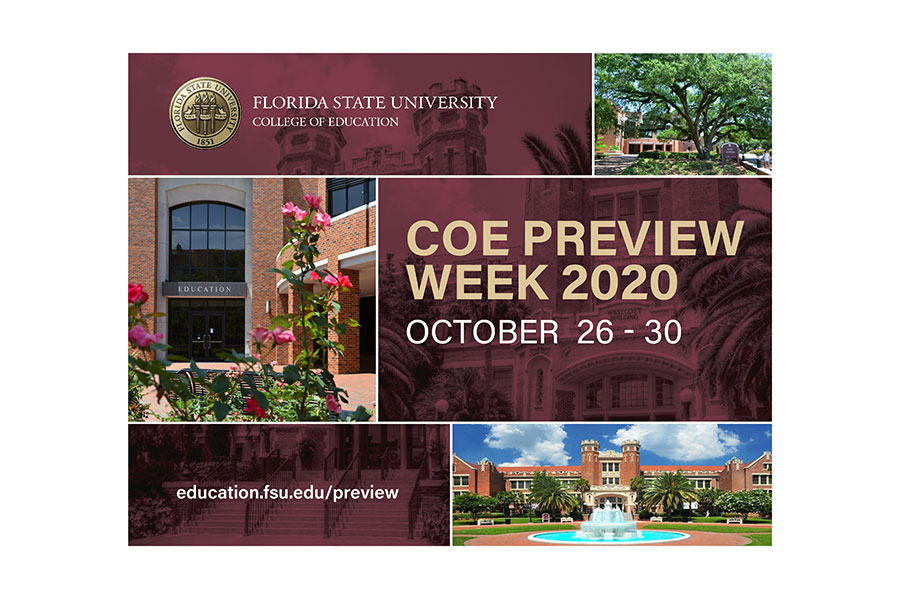 Florida State University's College of Education is hosting COE Preview Week, a virtual graduate programs open house.
At this event, prospective students will be able to learn more about the college's graduate programs and certificate programs from faculty, admissions staff and students. They'll also be able take a virtual tour of FSU's campus, as well as the Stone Building, which is home to the College of Education.
"The College of Education is home to a wide array of online and on-campus programs that prepare students for careers in classrooms, businesses, counseling centers, sports organizations and more," said Damon Andrew, dean of the College of Education. "Our goal is to help students find their path — and their passion — through our student-focused support services and innovation-driven programs."
The week's events also will include information about The Graduate School at FSU, funding, resources for students and a Q&A panel with current College of Education students.
The schedule of events, which are free and open to the public, is:
Tuesday, Oct. 27
Department of Sport Management information session, 9 – 10 a.m.
School of Teacher Education information session, 4 – 6 p.m.
Wednesday, Oct. 28
Student Q&A Panel, 6 – 7 p.m.
Thursday, Oct. 29
Department of Educational Psychology & Learning Systems information session, 9 – 11 a.m.
Interdisciplinary Center for Athletic Coaching (FSU COACH) information session, 2 – 2:45 p.m.
Department of Educational Leadership & Policy Studies information session, 4 – 5:30 p.m.
To learn more about the events and to register, visit https://education.fsu.edu/coe-preview.