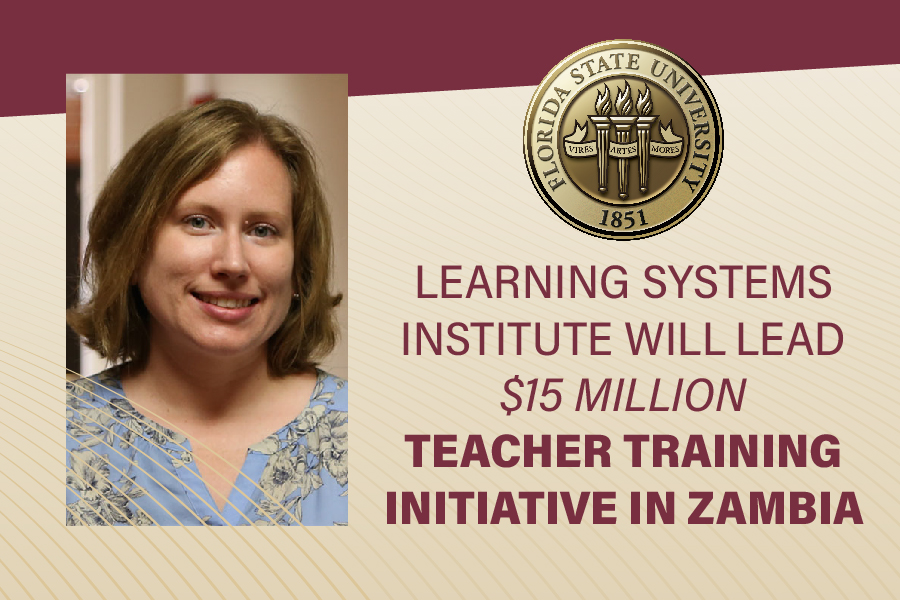 The Learning Systems Institute (LSI) at Florida State University will lead a five-year, $15 million project sponsored by the U.S. Agency for International Development (USAID) to improve pre-service teacher training in Zambia.
LSI faculty, in collaboration with partners School-to-School International and the University of Zambia, will work with 12 universities and colleges of education in the country to improve the training of primary grade teachers.
"This project is an exciting opportunity for FSU to take a lead role in improving primary teacher education at a national level, building on lessons learned in our previous projects in countries such as Nigeria and Ethiopia," said Stephanie Simmons Zuilkowski, an LSI associate professor and the project's director.
Over the five-year period, the "USAID Transforming Teacher Education Program" will give more than 60 Zambian teacher educators the skills to deliver effective instruction to 9,000 college and university students studying to become primary grade teachers.
Despite significant investments in early-grade literacy in Zambia, pre-service teacher education has been largely excluded from previous development programs. This work will connect teacher training with the evidence-based practices already used in Zambian primary schools, ensuring that teachers enter the classroom prepared to help children learn how to read and to provide safe learning environments.
"This is an excellent opportunity for Professor Zuilkowski and the LSI team to use their years of research and experience to help improve teacher training in Zambia and thus the greater educational system in the country," said Vice President for Research Gary K. Ostrander. "We are incredibly proud of the work they do and are excited to see what they will achieve with this new project."
To implement the program, LSI faculty will deliver graduate-level courses on reading instruction in Zambia. Six Zambian teacher education faculty will complete six-month residencies at the FSU College of Education, and four faculty members will receive scholarships to obtain master's degrees in education at FSU. Florida State will also organize study tours for additional Zambian faculty.
With USAID support, FSU faculty and Zambian educators will work together to better connect teacher training with the country's primary school literacy curriculum. The project team will revise pre-service teacher training courses, develop new textbooks for teachers and create centers of excellence dedicated to training new teachers.
The project also will build relationships between teaching colleges and universities and primary schools. Those connections will give teachers-in-training opportunities to practice their skills and provide settings where lecturers can conduct participatory action research about early-grade reading.
"Transforming Teacher Education brings the Learning Systems Institute to a whole new level of engagement in international educational development," said Jeffrey Milligan, director of the Learning Systems Institute. "For the first time in 25 years, LSI will assume overall leadership for a large, nationwide, multiyear USAID project. LSI has a long legacy of international engagement, and this new project positions us to compete effectively for new international projects in the coming years."
The Learning Systems Institute has partnered with USAID on several previous projects. LSI is a partner on the Northern Education Initiative Plus project, which is underway in two northern Nigerian states to train teaching instructors and learning facilitators in early grades reading instruction.
LSI also worked with Bayero University, Kano in Nigeria to establish the Nigerian Center for Reading Research and Development, the first reading research center in the country. As part of that initiative, faculty from Bayero University, Kano visited Florida State to take graduate classes in education and to work with faculty mentors to design and implement a research project they carried out when they returned to Nigeria.
"LSI faculty have extensive experience working with college and university faculty, teachers and government education officials around the world to improve the teaching of early grade reading, including in conflict-affected and complex multilingual settings," Zuilkowski said.
In the past decade, LSI faculty have also worked on USAID-funded education activities in Honduras, the Philippines, Uzbekistan, Ethiopia and Indonesia, as well as U.S. Department of State projects in Indonesia, India, Ukraine, Brazil, Colombia, Ecuador, Peru, Pakistan, Egypt, St. Lucia, Grenada and Suriname.
On behalf of the American people, USAID promotes and demonstrates democratic values in over 80 countries around the globe, and advances a free, peaceful, and prosperous world. In support of America's foreign policy, the Agency leads the U.S. Government's international development and disaster assistance through partnerships and investments that save lives, reduce poverty, strengthen democratic governance, and help people emerge from humanitarian crises and progress beyond assistance.