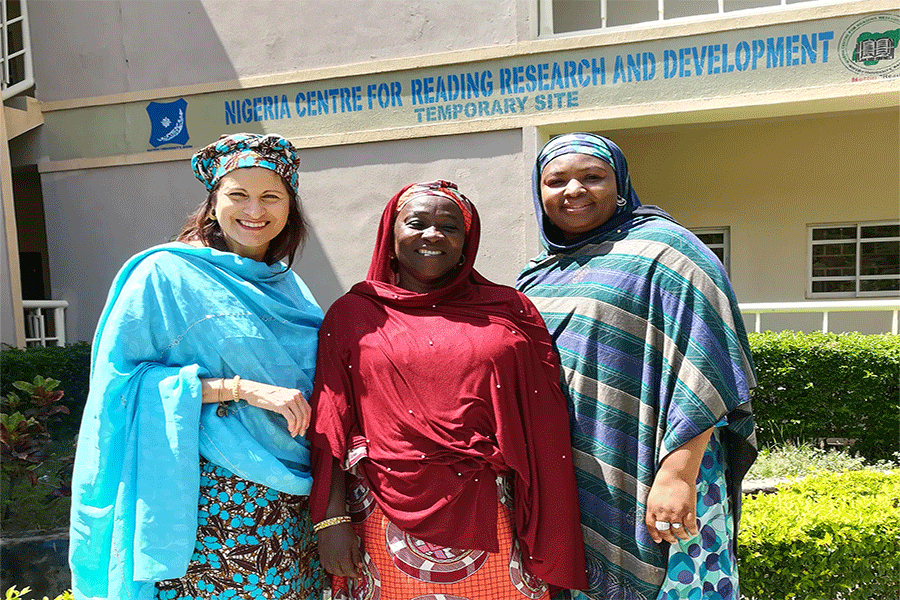 A first-grade classroom in northeast Nigeria can be a difficult place to learn.
Classes might be filled with 100 students, and although many children speak a regional language called Kanuri, teachers often give classes in Hausa, a wider-used lingua franca. Many of the students' parents can't read. Teachers may not be adequately trained. And classes are happening in a region where Boko Haram has launched attacks against schools and kidnapped students.
It's in this challenging environment that researchers from Florida State University's Learning Systems Institute are working to improve the educational landscape. Supported by $2.6 million in funding, researchers have embarked on a series of projects to improve teacher training and literacy to help these students gain some ground.
The Learning Systems Institute, an internationally recognized, university-based research and development organization, has a long history of work in Nigeria. On a trip to the region this year, Associate Professor of International and Multicultural Education Stephanie Simmons Zuilkowski saw a gleaming new school. She complimented the headmaster on the facility, and he informed her it was brand-new. It had been rebuilt after Boko Haram burned down the building for the third time.
"They just come back, and they build it again, and they keep on going," Zuilkowski said. "It's impressive. It speaks to people's commitment to not letting Boko Haram win."
TEACHER TRAINING
Millions of students across northern Nigeria will benefit from a pair of projects funded by the United States Agency for International Development (USAID).
The institute is a partner in the Northern Education Initiative Plus, a project to train about 20,000 teaching instructors and learning facilitators in reading instruction for young students. The project is implemented by the international development organization Creative Associates International.
The intervention helped teachers move from theory to practice in their classrooms. Instruction changed from simply exposing students to texts to classes that focus on developing skills.
One lesson involved writing letters on bottlecaps and teaching students that each cap represented a sound. The method teaches students to listen for individual sounds and to assign that sound to a letter. When students recognize the letter-sound correlations, they can combine the bottlecaps to create words. For the teachers, it was practice delivering lessons on phonics and vocabulary.
"They talked a lot about it, theoretically, but even the teacher-educators themselves had no idea how to actually do that in practice," said Adrienne Barnes, an LSI research faculty member and the principal investigator for the project. In February, LSI members will visit the country to assess its impact.
Institute researchers are involved in other efforts to train the next generation of teachers in the country by establishing a reading research center at Bayero University in the city of Kano. As part of that USAID initiative, students from the university visit Florida State for a six-month period to take graduate classes in education and to work with a faculty mentor to design and implement a research project they carry out when they return to Nigeria.
It's an important step toward long-term, sustainable progress in the country, said Zuilkowski, the principal investigator. Projects that rely on foreign experts eventually end. This project will create local experts in childhood reading and research, and their understanding of the on-the-ground conditions will lead to reading interventions specifically designed for Nigerian students.
"They are getting a really in-depth understanding of the current state of the research about what we know about how kids learn how to read," she said. "We're already starting to see that different organizations are reaching out to them when they return to work as consultants on their projects, which is really exciting because that tells us that other organizations value what we are doing and the skills the faculty are getting."
A NEW CURRICULUM
The institute is also giving primary students in northeast Nigeria a chance to take elementary school classes in their mother tongue.
When students in that region start school, they often come from Kanuri-speaking homes. Their instruction, however, is in Hausa and English. An LSI project funded by the United Kingdom's Department for International Development through UNICEF developed a curriculum for Kanuri-speaking students.
FSU researchers took a curriculum for early literacy and mathematics classes that had been developed in Hausa and worked with local translators and teachers to adapt it into Kanuri and test it with second-grade students. The curriculum is now being used in first, second and third-grade classrooms in two northeast Nigerian states.
Local partnerships were especially important for this work, Zuilkowski said. The researchers who were trained by FSU were able to go into areas that would have been dangerous for her and her colleagues in order to gather information on educational outcomes that was essential for testing the effectiveness of the intervention.
When the final product was ready for publication, the creators needed to name it. The local educators who worked with FSU researchers proposed "KARI," which stands for "Kanuri Arithmetic and Reading Intervention." It has a second meaning. In the Kanuri language, "kari" means "light" or "torch."
"They were very excited with the name," said Ana Marty, an LSI research faculty member and the principal investigator for the project. "It's like this torch and this light that is coming to the schools with these materials. The children are learning to read in their language that they know from home. They come to first grade speaking Kanuri and now they see these materials and they can understand them because it's the language that they know."
As LSI continues its work around the globe, future plans in Nigeria could include creating a professional development program for teachers in the country. For more information on LSI, visit lsi.fsu.edu.