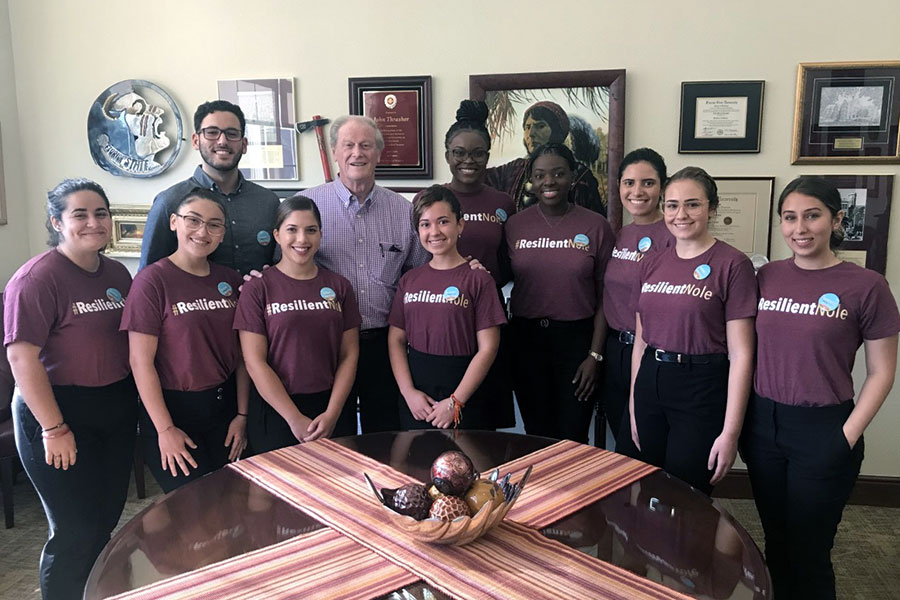 Florida State University launched the Student Resilience Project just last year, but its impact is already long-lasting and wide-ranging.
The online toolkit, which teaches students stress reduction techniques and coping skills and provides an interactive platform for learning how to heal from trauma and improve mental health, started as a required course for new FSU students and has grown exponentially.
Now, a professional certification in trauma and resilience that grew from the project is proving to be a resource not only for professionals but for students who want to use the information to literally change the world.
"People across disciplines reached out to us," said Karen Oehme, director of the Institute for Family Violence Studies that developed the curriculum. "We didn't realize that students would also see value in the course for their own activities and careers."
One student who saw particular value in the training was Richard Brito, a senior majoring in psychology and minoring in public administration with intentions to earn his master's degree in social work. In 2018, Brito, a student ambassador for FSU's Student Resilience Project, brought Medical Brigades to FSU, a campus chapter of Global Brigades, the largest student nonprofit group dedicated to helping vulnerable communities worldwide.
"The work of Global Brigades is dynamic and important," Brito said. "Teaching students about trauma and resilience through the Resilience Project and the professional certification helps us provide better services to the communities we serve on our trips abroad. It's wonderful how the projects dovetail. They are like pieces of the same puzzle."
Students in the Global Brigades program are trained throughout the academic year in preparation to travel abroad during the summer semester and help people with human necessities, such as access to water, building repairs, and health and small business education.
When FSU launched a professional certification in trauma and resilience through the FSU Center for Professional and Academic Development in July, Brito knew the training would benefit his fellow students volunteering on the frontlines of human rights.
"The professional certification taught me so much," Brito said. "I needed those lessons I learned on the impact of trauma, hope for healing and avoiding secondary traumatization, and I realized that the student volunteers would benefit from learning the same material."
Brito appealed to President John Thrasher and Provost Sally McRorie for assistance in getting funding to support students to take the certification.
"I brought a group of students to see both of them," Brito said, "Before the meeting was over, they both asked, 'How can we help?' They were all in. The provost even offered to connect us to administrators who can help us with funding the student flights abroad for the week in the Brigades programs."
This summer, the various chapters of the Brigades program will travel around the world, armed with the knowledge provided by the certification program. The Medical Brigades and Dental Brigades, for instance, will head to Greece to treat refugees who are seeking asylum from terrorism, and the Water Brigades will travel to Ghana to provide clean water infrastructures.
"Students will return to the states with a lifetime of experience from their foreign trips, and these experiences will be able to be shared with the rest of the student body at Florida State University," Brito said. "Not only are these experiences crucial, but they also serve as a lesson that will help empower students to strive for greatness."
Currently, project partners are refining the Student Ambassador Program through the now-recognized student organization known as Resilient Noles and working to acquire funding in order to provide the professional certification in trauma and resilience to students who participate in any of the Global Brigades programs. In addition, Oehme has set up a scholarship fund for students who want to take the professional certification course.
For more information on FSU's Professional Certification in Trauma and Resilience, visit learningforlife.fsu.edu.