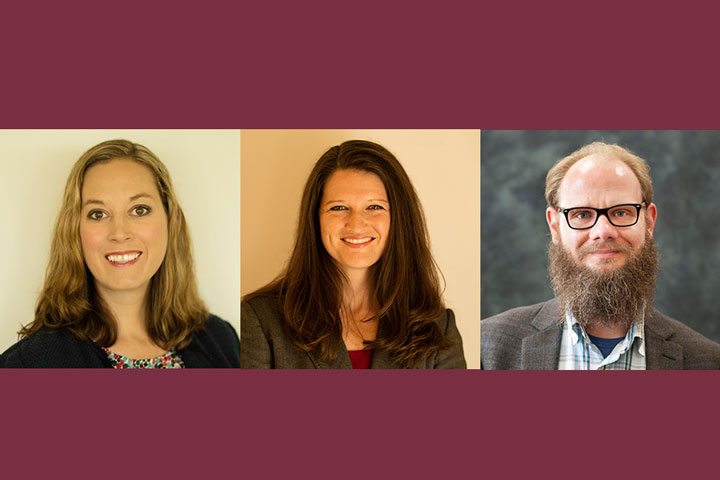 Researchers at Florida State University's Pepper Institute on Aging and Public Policy are being recognized nationally for their important work on aging issues, which are taking on greater significance as the world's population grows older and people live longer.
Three members of the institute's affiliated faculty have been elected this year as fellows of the Gerontological Society of America (GSA), the world's oldest and largest interdisciplinary organization devoted to research, education and practice in the field of aging. The newly elected fellows are: Associate Professor Miles Taylor and Assistant Professor Dawn Carr, both of the Department of Sociology as well as Associate Professor of Psychology Walter Boot.
"These well-deserved recognitions further solidify the Pepper Institute's place on the map at FSU as a major research hub on the social aspects of aging and their policy implications," said Anne Barrett, director of FSU's Pepper Institute on Aging and Public Policy.
Fellowship — the highest class of membership within the society — is an acknowledgment of outstanding and continuing work in the field of gerontology. Fellowship recognition can come at varying points in a career and can acknowledge a broad scope of activity: research, teaching, administration, public service, practice and notable participation within the society.
The majority of Taylor's work to date focuses on racial and economic variations in health among older adults and on outcomes with broad demographic and population health relevance, including functional health, chronic conditions and mortality. Her research interest lies in how early disadvantage translates into better or worse health as individuals age and how these processes may be changing historically as baby boomers enter later life.
In addition to older adult health disparities, Taylor has done extensive research in areas such as family relationships and health and military service and the life course.
Taylor received the 2017 Busse Research Award, given to one social/behavioral and one biomedical scientist each year to recognize significant contributions to research on aging. She will talk about her research and receive the award at the 21st World Congress of Gerontology and Geriatrics in San Francisco in July.
Carr's election as a GSA fellow is especially noteworthy for an assistant professor at such an early stage in her career. This recognition of her research on social engagement and healthy functioning in later life signifies her as a leading expert in this area and recognizes her previous and continued commitment to education in the field of aging and service to GSA.
Carr's research adds to the understanding of the factors that bolster older adults' ability to remain healthy and active as long as possible. Her recent work focuses on understanding the complex pathways between health and active engagement during later life, particularly with respect to the ways in which engaging in paid work, volunteering and caregiving shapes cognitive, psychological and functional health and the onset of disability.
She is particularly concerned about issues of inequality, including barriers and facilitators of these activities as well as the differential effects these activities have on well-being.
Before joining the FSU faculty in 2016, Carr was a researcher at the Stanford Center on Longevity, a postdoctoral fellow in the Carolina Program for Health and Aging Research at the University of North Carolina at Chapel Hill, and a researcher at Scripps Gerontology Center.
Carr called it a "true honor" to be selected as a fellow in an organization that brings top scholars together to engage in critical disciplinary and interdisciplinary research to improve the lives of older adults.
"I credit many of the opportunities I've had in my emerging career to the mentorship I've received from members of the Gerontological Society of America," Carr said. "I can only hope that I will be able to pay forward all that I've received from this group of scholars by supporting the next generation of gerontologists."
Boot has been an integral part of the Pepper Institute's multidisciplinary work, contributing his expertise on cognitive aging. He also does research on transportation, an important focus of the institute. Pepper partners with the Florida Department of Transportation on the Safe Mobility for Life Coalition, which aims to improve the safety, access and mobility of Florida's aging road users through education and advocacy.
In April 2017, Boot and another Pepper-affiliated faculty member, Professor of Psychology and Director of FSU's Institute for Successful Longevity Neil Charness, published a study that found no evidence to support the claims of the growing "brain training" industry that brain games can stave off memory loss or cognitive disorders as people age.
Taylor, Carr and Boot join four other Pepper-affiliated faculty members as GSA Fellows: Charness; Barrett; William Weissert, director of the Master of Public Health program within the College of Social Sciences and Public Policy; and Professor of Social Work Amy Ai.
The Pepper Institute on Aging and Public Policy within the College of Social Sciences and Public Policy serves as the hub for multidisciplinary research on aging at Florida State University. The institute brings together faculty and students from a range of disciplines, among them political science, sociology, public health, medicine and psychology. Research centers on four areas: pathways to later life, aging and health disparities, communities and transportation and aging and health policy.