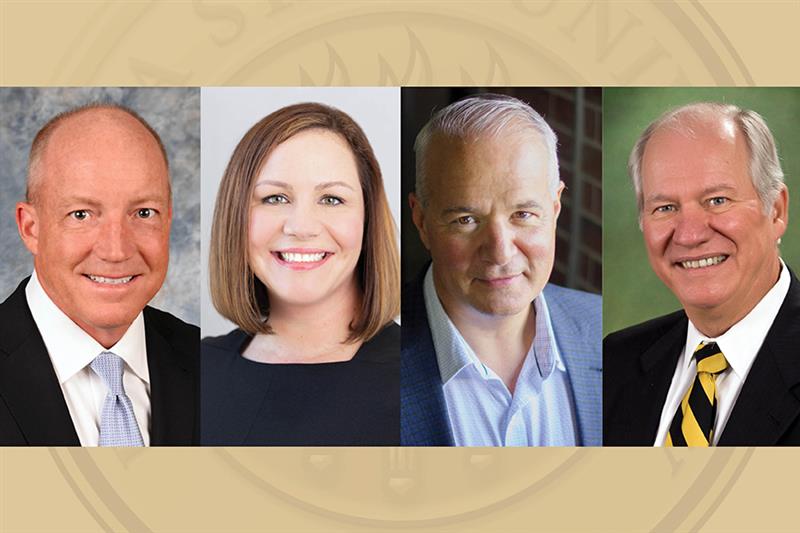 The Florida State University College of Business inducted three new members into its Alumni Hall of Fame at a black-tie dinner Thursday evening at the Donald L. Tucker Civic Center.
The college bestows the recognition on alumni who have excelled in their careers and made a significant impact on Florida State University and the College of Business. The new inductees increased the Alumni Hall of Fame membership to 58 since its creation in 2003.
"Like previous Alumni Hall of Fame inductees, these individuals demonstrate, among other assets, exceptional energy and integrity, leadership and apprenticeship, benevolence and preeminence — qualities we strive to instill in our students and each other," said Michael Hartline, dean of the College of Business. "Each of them upholds the values, excellence and character of Florida State University."
Also during the ceremony, nationally distinguished business executive Dena Jalbert was named the 2021 recipient of the College of Business Recent Alumni Achievement Award. Jalbert is founder and CEO of Winter Park-based Align Business Advisory Services and a champion of the advancement of women in business.
The Recent Alumni Achievement Award honors extraordinary alumni who graduated with an undergraduate or graduate degree within the past ten years. Late last year, the college's Recent Alumni Board chose to honor Jalbert, who earned an MBA from the College of Business in 2010.
FSU's new College of Business Alumni Hall of Fame inductees are:
Peter Collins (BS Finance '92; MBA '97)
Collins spent five years as managing director of Jacksonville-based Rock Creek Capital before he co-founded Tampa-based Forge Capital Partners, where he serves as CEO of the company's real estate private equity fund. Over the last 20 years, he has overseen more than $1.5 billion of real estate and corporate transactions. 
Collins hailed the college for its "tremendous impact on my life" for more than 25 years.
"I was deeply honored and quite surprised when Dean (Michael) Hartline called me and told me that I would be inducted into the College of Business Alumni Hall of Fame," he said. "I know many members of the Alumni Hall of Fame, and to be in their company is humbling."
Collins previously served as a manager with Florida's State Board of Administration and worked on major economic issues involving the Florida Retirement System Trust Fund, the Florida Hurricane Catastrophe Fund and the Florida Division of Bond Finance.
He joined the Florida Council of 100 board of directors in 2019 and he recently ended a term as chair of Florida's Pension Investment Advisory Council.
An Eagle Scout, he has served as president and as an executive board member of the Boy Scouts of America's Southern Region, Area 4. He also is a recipient of the organization's prestigious Silver Beaver, Silver Antelope and National Outstanding Eagle Scout awards.
In late August, Collins won unanimous election as chair of the FSU Board of Trustees. He also has served as an FSU Foundation trustee and on the College of Business Board of Governors.
Additionally, he has stood as a major financial supporter of the college and university, and he played an instrumental role in the creation of the Peter and Jennifer Collins Real Estate Graduate Fellowship.
Ted Ostrander (BS Business Administration '70)
Ostrander made his mark at Leesburg-based Lassiter-Ware Inc., where after military service in 1983, he turned a seven-person office into one of Florida's largest independent insurance agencies, with 130 employees and locations in five counties. He retired as chairman and CEO of the company, which today manages more than $200 million in insurance premiums in Florida and the Southeast.
"I always look back and say, 'What did I accomplish?' I didn't invent something or anything like that," Ostrander said. "I am proud of our success, our growth. But I think I'm prouder of my employees and their dedication to the company."
Ostrander won the prestigious Mitchell Stallings Award in recognition of his work as an advocate for insurance agents and the industry. That included his service as chairman of the National Alliance CIC Board of Governors, as chairman of the Florida Association of Insurance Agents and as a member of the Florida Hurricane Catastrophe Fund advisory board. 
He served as president of his local chamber of commerce and as a member of the Central Florida Boy Scouts' board of directors. He also served as chairman and director of Central Florida Health Alliance; a vestry member and senior warden for his church; and as a finance committee member for the Episcopal Diocese of Central Florida.
Ostrander remains active in the College of Business, especially with the No. 1-ranked Dr. William T. Hold/The National Alliance Program in Risk Management and Insurance. He mentors students and serves as chair of the panel that guides the program, the RMI Executive Council.
He also remains a major contributor to the college, funding a space in Legacy Hall, the college's future home and later giving a gift that benefited Legacy Hall and the RMI program.
John Rivers (BS Marketing '89)
After a 20-year career in health care, Rivers retired as president of a $1.5 billion company and embarked on a lifelong dream of opening a restaurant. That came through his self-proclaimed "barbeque ministry," which worked to lift those in need and help build better communities.
Today he's founder and CEO of 4R Restaurant Group, a Winter Park-based company that boasts 22 Florida locations. These include his flagship 4 Rivers Smokehouse, with locations in Tampa, Tallahassee, Gainesville, Coral Gables and throughout Central Florida.
Rivers is a member of the FSU Alumni Association's prestigious Circle of Gold, which recognizes individuals for their service, achievements and dedication to the university. Rivers and his wife, Monica, have donated generously to Legacy Hall, the future home of the College of Business.
He's also a former member of the College of Business Board of Governors.
"Florida State played a pivotal role in my personal development, from coming in as a young, naive, insecure 18-year-old to coming out not just with a degree but a sense of what it's like to be part of a community that truly cares for its members," he said. 
Rivers also launched the 4R Foundation, whose 4Roots Farm plans an Orlando farm campus that aims to address food insecurity for Central Florida children through a healthy and sustainable regional food system.
Author of "The Southern Cowboy Cookbook," Rivers was honored as Restaurateur of the Year by the Florida Restaurant and Lodging Association. Orlando Magazine ranked him among its "50 Most Powerful: 15 to Watch," and that publication lists him among its Top 5 most powerful philanthropists in its "50 Most Powerful People of 2021." 
Also, his 4 Rivers Smokehouse chain won recognition from Southern Living magazine as "The South's Best BBQ" for 2020.